Phoenix Suns Could Waive Chris Paul, Los Angeles Lakers Next Stop?
Posted on: June 8, 2023, 10:41h.
Last updated on: June 8, 2023, 11:40h.
The Phoenix Suns had a discussion with point guard Chris Paul about his future, according to a report by Shams Charania. It looks like the team will cut Paul in a financial move, which could open the door for a move to the Los Angeles Lakers.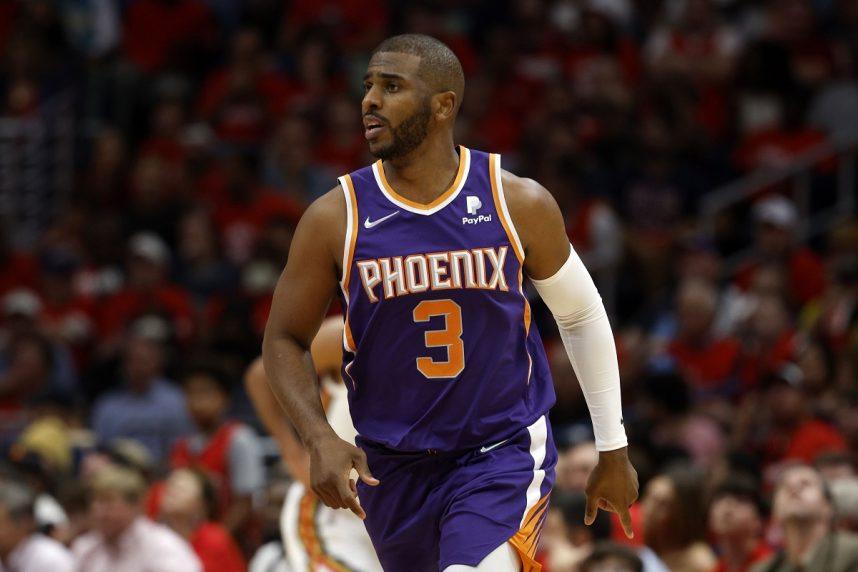 The Suns' front office is doing a lot of housekeeping this week. The team is also exploring trade options for center Deandre Ayton, and possibly waiving backup shooting guard Landry Shamet to clear cap space.
The Suns recently hired Frank Vogel as their new head coach. The team also gave assistant coach Kevin Young a hefty raise, making him the league's highest-paid assistant coach at $2 million per year.
Vogel also added Dave Fizdale to his staff. Fizdale served as a top assistant under Vogel with the Los Angeles Lakers. Fizdale is close friends with All-Star forward Kevin Durant, and the two finally get to work together with the Suns.
The Suns are +850 odds to win the 2023-24 NBA championship, according to DraftKings' look-ahead futures board for next season.
CP3: Future in Phoenix at a Crossroads
Paul, 38, has two more seasons remaining on his contract with the Suns. He's set to become an unrestricted free agent in 2025 at the age of 40. Paul expressed his interest to play for several more seasons.
Paul is due $30.8 million in the 2023-24 season, but his contract is only partially guaranteed this upcoming season. He's due $30 million in the 2024-25 season, but his final contract year is non-guaranteed.
If the Suns waive Paul before June 28, then only $15.8 million of his contract is guaranteed.
The Suns told Paul and his agent, Steven Heumann from CAA Sports, that they could trade Paul, cut him outright, or stretch/waive his guaranteed salary.
If the Suns waive Paul and stretch out his contract, they will pay him $3.16 million per season over the next five seasons. The move will clear much-needed cap space and allow the Suns to use a taxpayer midlevel exception worth $12.2 million to sign a veteran.
If Paul clears waivers, he will become a free agent. He could also resign with the Suns at a lower salary if he wants to chase a championship and continue to play alongside shooting guard Devin Booker and Durant.
Paul has never won a championship, and he's at a juncture in his career when chasing a title might be more important than getting paid.
Lakers the Betting Favorite to Sign Paul
Paul is a 12-time NBA All-Star point guard who's been plagued with injuries during the back nine of his career, especially during the postseason. He missed multiple games in the second round against the Nuggets due to a groin injury.
Paul averaged 13.9 points, 8.9 assists, and 4.3 rebounds last season. He was fourth in the NBA in assists, but posted the lowest scoring average in his 18-season career. The New Orleans Hornets selected Paul out of Wake Forest with the #4 pick in the 2005 NBA Draft and he was named the 2006 NBA Rookie of the Year. He also played for the Los Angeles Clippers, Houston Rockets, and Oklahoma City Thunder.
Paul is a lock for the Hall of Fame. He's currently ranked third in all-time assists and steals behind John Stockton and Jason Kidd. If Paul plays for a few more seasons, he has a shot at passing Kidd.
The Los Angeles Lakers want to upgrade their starting point guard this off-season. Dallas Mavericks guard Kyrie Irving has been linked to the Lakers in off-season rumors, but the team stated it has no interest in Irving.
The Suns would be foolish to cut Paul and then pay him $15.8 million to play for the Lakers next season.
DraftKings posted a prop bet on where Paul will log his first minute of the 2023-24 season. The Lakers are the betting favorite to land Paul at +500 odds, followed by the Philadelphia 76ers (+700), Boston Celtics (+800), Suns (+1000), Los Angeles Clippers (+1000), Miami Heat (+1000), and the Mavs (+1000).