Philippines Prison Guards Lose Bonus Money After Prisoners Discovered with Betting Slips and Drugs
Posted on: August 7, 2017, 05:00h.
Last updated on: August 7, 2017, 04:48h.
Prison guards at the Philippines' Cebu Provincial Detention and Rehabilitation Center (CPDRC) each lost out on a $200 bonus after they were blamed for inmates possessing betting slips and drugs found in a raid on Tuesday. Local police conducted the operation and found 20 gambling tally sheets, as well as lists of code names, number combinations, and $350 worth of betting money during the sting, which was dubbed "Operation Greyhound."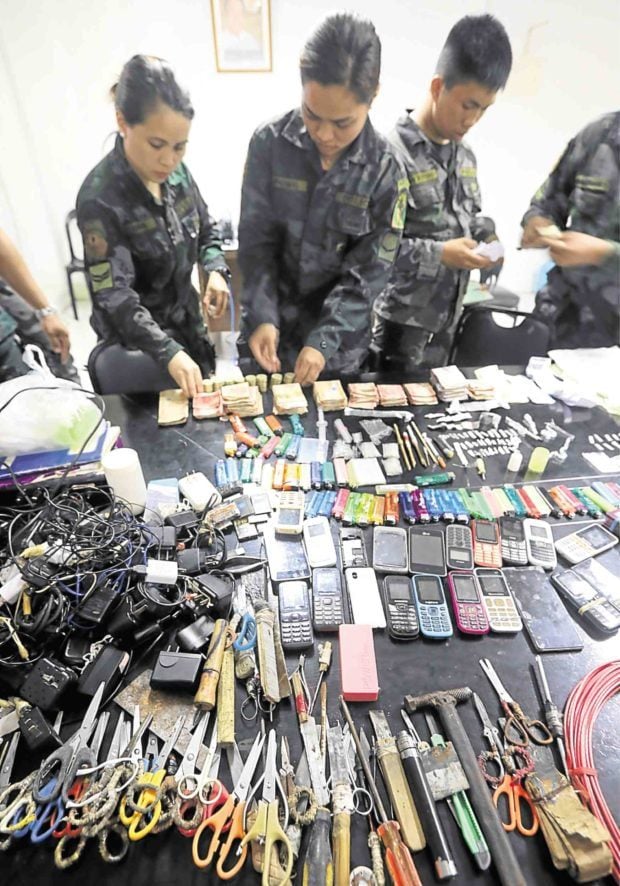 Illegal gambling operators at the prison used winning combinations for Swertres, a three-digit numbers game operated by the Philippine Charity Sweepstakes Office (PCSO), which has been running three draws daily of Swertres to discourage people from patronizing illegal numbers games, called "jueteng" and "masiao."
In addition to the betting sheets, authorities also found 15 slips of papers with code words and a figure of a star, leading them to believe that these were the inmates who got the winning combinations. They have not found out who was behind the ring or the winners.
Police also found 230 grams of crystal methamphetamine worth $4,700, 47 mobile phones, assorted drug paraphernalia, knives as well as other weapons, portable DVD players, and other assorted electronic gadgets during the two-hour search at the prison in Barangay Kalunasan, north of Cebu City.
"The items we found are enough proof that the inmates are involved in gambling inside CPDRC," said Supt. Mario Baquiran, head of the police's Provincial Public Safety Company.
This was the fifth raid this year and Baquiran said he decided to conduct another after receiving a tip last week that 2 kilograms of illegal drugs were smuggled into the prison.
Wrath of Governor
Governor Hilario Davide III had ordered the bonus money for all area government employees, saying it was a reward for "superior achievements and accomplishments." But after the multi-transgressions at the prison, he excluded the guards at CPDRC, while issuing a stern warning for those workers.
"Better shape up, those assigned at the CPDRC," he said during an anniversary celebration at the Cebu Provincial Capitol. "Heads will roll. I can assure you, heads will roll."
A possible clearing out of guards may occur, since authorities believe some may have behind smuggling the drugs into the facility. Visits to the jail were ordered suspended as well.
Crackdown Smackdown
Philippine President Rodrigo Duterte has made eradicating illicit wagering high on his priority list, right behind drugs and corruption. He recently teamed with China's President Xi Jinping to apprehend those running unauthorized gambling sites.
Those efforts paid off almost immediately. They cracked a trans-national cyber gambling operation in April, shutting down four illegal websites run out of the Philippines, arresting 99 people, and freezing more than 1,000 bank accounts.
But even legal resorts have had their share of problems this year. Resorts World Manila was attacked by a lone gunman in June. He shot off an automatic weapon on the gaming floor and set fire to some of the gaming tables after dousing them with propane. Smoke inhalation from that fire was ultimately the cause of death for 37 employees and customers trapped inside. The establishment was closed for most of the month to correct problems and repair the fire damage.