Pennsylvania State Police to Resume Seizures of Illegal Gambling Devices and Skill Games
Posted on: January 22, 2020, 12:03h.
Last updated on: January 21, 2020, 04:09h.
Pennsylvania State Police are once again free to seize what law enforcement believes to be an illegal slot machine or so-called "skill gaming" device.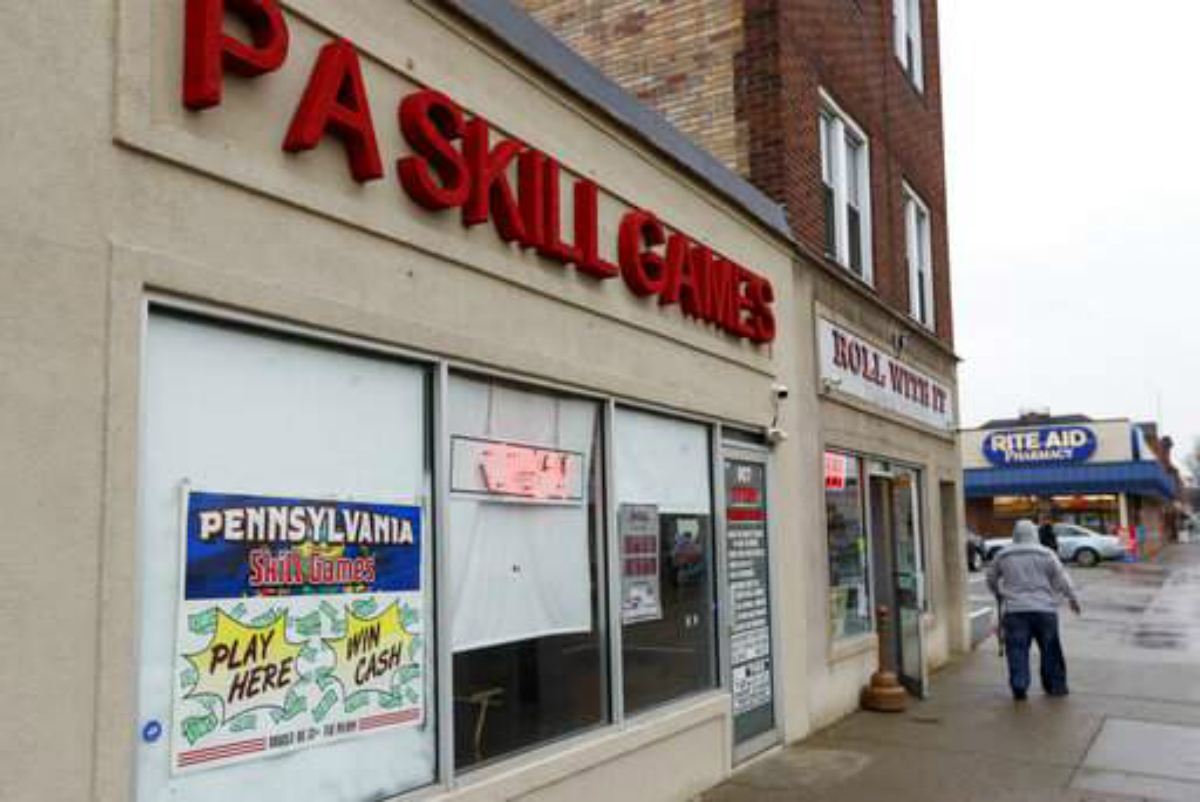 Commonwealth Court Judge Ellen Ceisler denied a request from Williamsport skill games distributor Miele Manufacturing that a previous suspension of such raids be extended.
Miele has partnered with Georgia-based gaming manufacturer and software developer Pace-O-Matic. Together, they operate in the Keystone State as Pace-O-Matic of Pennsylvania (POM of PA) to place their skill gaming machines inside convenience stores, bars, restaurants, and other establishments, such as the one pictured above.
Ceisler's ruling does not make their machines in question illegal, but allows police to continue to remove them from businesses in the interim.
Company Welcomes Ruling
Opponents of the games, which includes Gov. Tom Wolf's (D) administration and several of the state's licensed casino operators, say they're nothing more than cleverly disguised slots operating under the ruse of offering a skill component.
Proponents say the element of skill – which can be as simple as the player identifying a winning reel instead of the machine simply paying the credit – disqualifies the terminals as gambling machines, and they therefore fall outside the regulations of the state's Gaming Act.
Commonwealth Court Judge Patricia McCullough said the devices are unlicensed gambling devices, but are "not subject to the Gaming Act" because the law doesn't govern unlawful gambling.
Parx Casino said in response, "The Commonwealth Court's clarification … provides concrete and clear legal justification for law enforcement at the state and local levels to confiscate such machines and prosecute those responsible for manufacturing, distributing, leasing, or owning these machines."
POM of PA says Ceisler's decision not to extend the emergency stay has more to do with illegal gambling hubs – not their skill gaming machines. "The injunction was denied for locations that have illegal gambling devices commingled with our legal POM games," attorney Matt Haverstick argued.
"Ultimately, the court was concerned that the injunction might hamper the Bureau of Liquor Control and Enforcement's ability to conduct investigations into illegal gambling and slot machines where a POM machine may also be located," Haverstick added. "That is a position that POM of PA supports, as we have been on the front lines pointing out the proliferation of illegal gambling devices."
Pennsylvania State Police Capt. James Jones did testify that his troopers aren't targeting skill-based devices, but do confiscate them during raids of other suspected illegal gambling machines.
Skill Gaming Seizures
The legal challenge on whether POM of PA's skill gaming machines constitute illegal gambling is ongoing. Wolf claims the devices are siphoning $200 million annually from the lottery and pay no taxes. Some of the bars say the gaming machines are helping offset reduced income from Wolf's freeing of the beer six pack sales to gas stations and grocery stores.
Though Pennsylvania police say they are more interested in unearthing underground gambling hubs than confiscating POM of PA's skill gaming machines, they have raided locations where only their terminals exist.
In POM of PA's own legal response to Ceisler, Haverstick explains, "Several (although not all) of the seizures that were the subject of the December 12, 2019 application for injunctive relief occurred at locations that housed only POM's devices."