Pennsylvania Online Gaming Forces at Loggerheads, New US AG Jeff Sessions Causing Concern
Posted on: March 13, 2017, 01:05h.
Last updated on: March 13, 2017, 01:11h.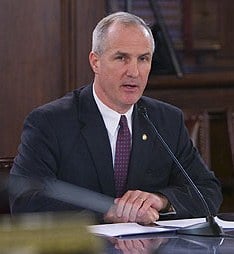 As Pennsylvania's lawmakers discussed the efficacy of legalizing and regulating online gaming at a joint Senate hearing in Harrisburg last week, counter legislation was being prepared that aimed to scuttle any such ambitions.
On Friday, five state representatives introduced HB 801, which would amend the state's gambling law to include a provision ensuring that "the [gambling] board shall not promulgate rules and regulations allowing any form of internet gambling.
"No individual or entity shall solicit, invite, collect or accept cash or any other form of currency through the Internet for the purposes of wagering or betting," continued the bill.
"No individual or entity shall organize, or cause to be organized, any type of gambling event that is held over the Internet."
Shifting Sands
The bill, which has been sent to the House Gaming Oversight Committee for consideration, is unlikely to gain much traction. Similar bills have been presented by main sponsor State Representative Thomas Murt (R-125) over the past two years with little support.
The bill is almost identical to one that first surfaced in 2014, which was introduced by State Representative Paul Clymer (R-145, Retd.) and was directly supported by LVS and Sheldon Adelson.
The news that LVS is likely to sell off its interest in Pennsylvania, the Sands Bethlehem, to MGM, is unlikely to diminish Adelson's support for such legislation. The state is widely predicted to be the most likely by far of any other to legalize online gaming next, and Adelson has declared he will spend "whatever it takes" to prevent regulated internet gambling from taking root in America.
And while LVS is probably leaving Pennsylvania, Adelson may have a powerful  new ally in the form of Parx Casino, the state's second-biggest casino after the Sands. While Parx had previously parked itself on the fence on the issue, it came out as strongly opposed to online gambling at the joint hearing last week.
Debating Sessions
The state's lawmakers, however, are more concerned with newly appointed US Attorney General Jeff Session's and how they should interpret his declaration that he would "revisit" the 2011 DOJ opinion that permitted states to regulate the games.
"With the fluid situation in Washington, internet gambling is an unreliable and possibly nonexistent source of revenue," David Cookson of the Adelson-backed Coalition to Stop Internet Gambling assured the joint committee on Tuesday.
But Philadelphia attorney Thomas Decker, a former member of the Pennsylvania Gaming Control Board, wasn't so sure. He said it was unlikely that the opinion would be overturned, and even if it were, it would have "no legal impact" on states embracing online gaming.
"Everyone is sort of waiting to hear what they (the DOJ) have to say," added Representative Aaron Kaufer, (R-120). "The concern is this could all be for naught for all we know."
Similar Guides On This Topic