Pennsylvania House Republicans Soliciting Support for Expanded Gambling 
Posted on: June 16, 2016, 02:53h.
Last updated on: June 16, 2016, 02:56h.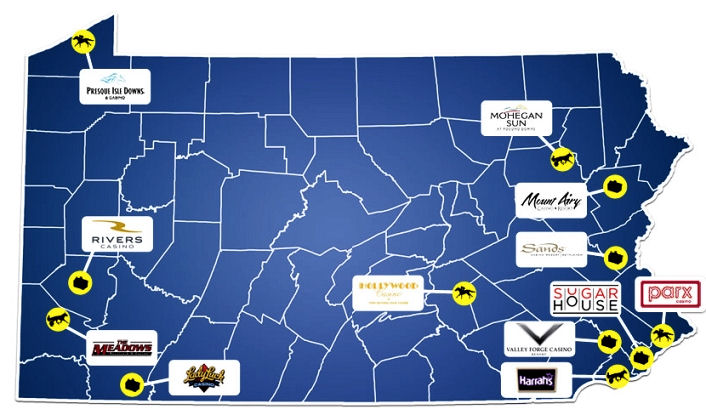 Pennsylvania House Republicans are trying to muster up support to expand gambling laws in the Keystone State in order to fund ballooning expenditures and an upcoming budget increase from Governor Tom Wolf (D).
Late last month, an amendment to expand gambling was added to a bill that set guidelines for how revenues from casinos were distributed in the state. The proposal was quickly shot down but Republican lawmakers remained steadfast in determining if they could find enough backing in the chamber to give gaming another try.
According to The Associated Press, conservatives are trying to persuade their House colleagues on both sides of the political aisle to get behind casino-style gambling at airports, bars, off-track wagering facilities, and casino-operated websites.
Should the Pennsylvania GOP feel they have adequate support, a vote on State Rep. John Payne's (R-District 106) House Bill 649 could take place during the week of June 20.
Budget Crunch
Republicans are doing everything in their power to avoid raising taxes, something Wolf is asking them to do in order to bridge a $1-$1.5 billion budget gap.
Lawmakers need to come to terms on how to fund Wolf's spending plans, and are hoping to avoid repeating history. During the previous legislative calendar, the Pennsylvania General Assembly and Wolf were 267 days late in passing a budget as the Republican-controlled legislature and governor refused to compromise.
Gambling is one potential middleman. It allows Wolf to spend more on education, while not raising taxes.
But there are plenty of opponents, and they're citing the same old anti-online gambling talking points.
"One problem with online gambling is accessibility. It offers folks the opportunity to gamble wherever and whenever they please, including at work and school," Northampton County District Attorney John Morganelli wrote in an op-ed published by Lehigh Valley Live.
"Another issue is the lack of fiscal awareness. Essentially, there is no way to track the money that is being traded online because virtual cash leaves no paper trail," Morganelli opined.
Payne disagrees.
"I have children and grandchildren and understand how important it is to get this right," Payne said last fall. "We must have a thorough set of guidelines and penalties in place to end the 'wild west' atmosphere that currently exists and protect authorized consumers."
DFS Passes Committee
Payne is looking to any and all forms of gaming revenue to fund the state budget, and no topic in gaming is more talked about in 2016 than daily fantasy sports (DFS).
On June 15, House Bill 2150, the Fantasy Sports Consumer Protection Act, passed the House Gaming Oversight Committee unanimously. Payne, who chairs the gaming committee, believes DFS along with expanded gambling could provide a substantial boost to Harrisburg's bottom line.
HB 2150 would cost DFS operators like DraftKings and FanDuel $50,000 per license, with each license valid for five years. Daily fantasy companies would pay five percent taxes on their adjusted quarterly revenues.
Introduced and authored by State Rep. George Dunbar (R-District 56), HB 2150 has been forwarded to the House Rules Committee for additional consideration.
Similar Guides On This Topic