Downtown Las Vegas' Huntridge Theater Offers A Peek Inside After Renovations
Posted on: September 21, 2023, 07:55h.
Last updated on: September 23, 2023, 09:29h.
On Thursday, the new owner of the historic Huntridge Theater in downtown Las Vegas released the first renderings of how his venue's theater, cabaret space, and lobby will look once $15M-$18M renovations are complete in about two years.
The Huntridge, located at Charleston Boulevard and Maryland Parkway, was purchased for $4M in March 2021 by J Dapper.
The Las Vegas developer said he expects to begin renovations early next year, pending approval from the Las Vegas City Council. Council members are expected to address the matter at their October 18 meeting.
Named after international business magnate Leigh S. J. Hunt, on whose land it was built, the Huntridge was designed by S. Charles Lee, architect of the Fox Theater in Beverly Hills and the Hollywood Melrose Hotel.
Huntridge History
Operated by the Commonwealth Theater Company, it opened on Oct. 10, 1944. It hosted first-run movies and many of their premieres, drawing stars including Frank Sinatra, Judy Garland, and Marlene Dietrich.
In 1947, Bud Abbott and Lou Costello appeared live on the Huntridge stage to promote their movie "Buck Privates Come Home."

In 1951, operations were taken over by a consortium partially owned by actresses Loretta Young and Irene Dunne. Another company, Nevada Theater Corp., took over that same year and reportedly made the Huntridge the first desegregated theater in Las Vegas.
By the '70s, the theater was in decline, which allowed Vegas headliner Elvis Presley to rent it out to screen movies.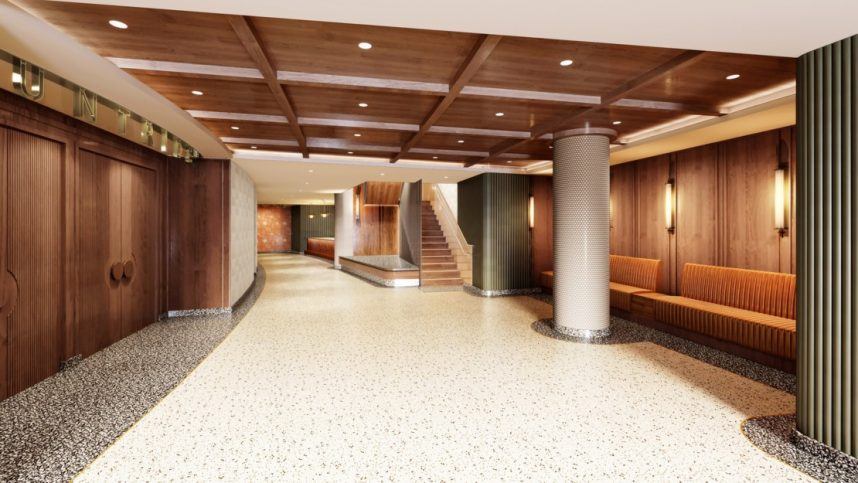 After serving as a movie house for five decades, the Huntridge was converted to a concert venue in 1992 by new tenant Richard Lenz, a former audio engineer who knocked down a wall erected in the '80s to divide the Huntridge into a twin cineplex.
Finding a Second Life
The experiment was a success, and the Huntridge became a bustling live music venue hosting the likes of the Beastie Boys, Green Day, No Doubt, Nine Inch Nails, and Las Vegas locals, the Killers.
Lenz got the Huntridge listed on the national and state registers of historic places in 1993. Two years later, its roof collapsed during a sound check before a Circle Jerks concert. Though the theater was rebuilt and reopened in August 1996, it never quite regained momentum, dragged down by competition for audiences and artists with newer casino venues, including the House of Blues and the Joint.
In 2002, the Huntridge was acquired by Eli Mizrachi, owner of an adjacent furniture store. Mizrachi closed the Huntridge on July 31, 2004, in preparation for renovations that never occurred. By 2008, he discussed plans to convert the theater into office and retail space. The city sued Mizrachi in 2014, alleging his group breached grant provisions by failing to pay for maintenance work and keeping the theater closed for years. The case was settled in 2016 for an undisclosed sum.
The Las Vegas City Council approved a plan in 2019 to sell the Huntridge to Dapper, who had been trying to acquire the property for many years but was thwarted by the city's legal case.