Parisian Macao in Legionnaires' Disease Breakout Scare
Posted on: April 25, 2017, 06:00h.
Last updated on: April 25, 2017, 08:18h.
Sheldon Adelson's lavish $2.7 billion Parisian Macao has been linked to a possible outbreak of legionnaires' disease this week.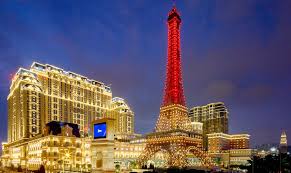 Health officials in Hong Kong and Macau are investigating whether three Hong Kong nationals who succumbed to the disease, all of whom recently stayed at the Parisian, caught the infection at the hotel.
The men, aged 84, 66 and 70, contracted the disease between January 9 and April 10. Two had stayed overnight at the hotel, while the other had merely paid a visit.
One remains in critical condition, another in a "serious condition," while the third has recovered, Hong Kong health authorities said.        
Legionnaires' disease is a serious lung infection caused by legionella bacteria, which is usually found in rivers and lakes, mainly harmlessly and in low numbers. But when it gets into artificial water systems, like air conditioning systems, for example, it can multiply rapidly.
That's why big buildings like destination casino resorts can be vulnerable to legionella, because they have larger and more complex water supply systems. The Parisian, for example, has a water park that includes fountains, jacuzzis and swimming pools.   
Source of Infection a Mystery
But according to the UK's National Health Service website, "the two things that legionella bacteria need to grow and reproduce are: a water temperature of 20-45C (68-113F) [and] impurities in the water that the bacteria can use for food, such as rust, algae and limescale."
For a resort that's only six months old, the Parisian has not had a great deal of time to accumulate much rust. Could it be the casino is the victim of a bizarre coincidence?
Health officials are taking no chances, however, and have ordered the Parisian to turn off its water fountain, while the jacuzzi, pool and water systems had been cleaned and disinfected.
"Since [Friday] evening, we have begun investigations on the maintenance of the [facilities] and collected water samples for testing," said Macau's health bureau in an official statement. "We expect results to be ready in 10 days."
Macau Boasts Eighth Month of Growth
Sands China, which operates the Parisian, declined to comment when GGRAsia asked whether the infections had impacted hotel bookings for the upcoming Labor Day weekend, a peak period for Macau's casino sector. The company did confirm, however, that it was "cooperating fully" with the health bureau's investigation.
Once the scare has blown over and the fountains are back on, Sands China can console itself with the fact that things are looking rosy again for Macau's casino industry, which last month saw its eighth consecutive month of growth.
The casino hub's bounce back, driven by mass market gambling, has taken hold. And the Parisian, along with the other new casino resorts like the Wynn Palace and Studio City, has been a catalyst for that recovery.   
Similar Guides On This Topic