Paddy Power Founder Secretly Lobbied Against FOBTS, Contrary to Own Interests
Posted on: December 6, 2016, 06:00h.
Last updated on: December 6, 2016, 05:46h.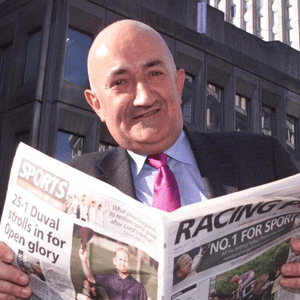 Stewart Kenny, former CEO and co-founder of Paddy Power, fought the introduction of fixed-odds betting terminals (FOBTs) to Ireland, contrary to his company's own interests, according to documents seen by UK newspaper The Times.
Despite Paddy Power today owning almost 1,400 FOBTs in roughly 350 betting shops thoughout the UK, and positioned to benefit greatly from a 2009 proposal to introduce them into Ireland, Kenny wrote to the Irish government to warn against it.
Paddy Power brings in around £93 million ($117 million) a year from FOBTs in the UK.
In his letter, he labeled the machines "dangerously addictive" and "particularly enticing to younger gamblers in disadvantaged areas," an assertion that the Association of British Bookmakers has always vigorously denied.
In No One's Interest
"There is no public demand, other than from sections of the betting industry, for FOBTs to be legalized in Ireland," he wrote. "It is in no one's interest, neither betting shop customers nor wider society… Let us learn from the mistake in the UK of allowing them into betting offices, once they are in it is impossible to get rid of them or even curb their more addictive elements."
Kenny, who left the Paddy Power board this summer, added that the British government was "as addicted to the tax revenue as vulnerable customers are to losing money in them."
The hugely controversial machines, dubbed "the crack cocaine of the high street by British media," a phrase repeated by Kenny in his letter, allows gamblers to wager up to £100 per spin on virtual casino games like roulette and have been blamed for a rise in problem gambling, antisocial behavior and crime.
Bookies Say Concerns are Overblown
The government's Department of Culture, Media and Sport has launched a long-promised review into the machines, which it says seeks to strike the right balance between "allowing the industry to contribute to the economy and enabling people to bet responsibly whilst ensuring consumers and communities are protected."
But the ABB recently snubbed an All-Party Group parliamentary hearing on the machines, branding it a "kangaroo court" with a "predetermined" agenda.
"Fixed Odds Betting Terminals have been played in betting shops for over 15 years and yet problem gambling levels have remained stable before and after their introduction, at 0.5 percent of the population," said the ABB in official statement.
Bookmakers point out the retail betting sector is in decline and they will be forced to close betting shops if the deployment of machines is curtailed.
Similar Guides On This Topic