Packer Resignation from Crown Board Invites Takeover Speculation
Posted on: December 23, 2015, 01:52h.
Last updated on: December 23, 2015, 01:52h.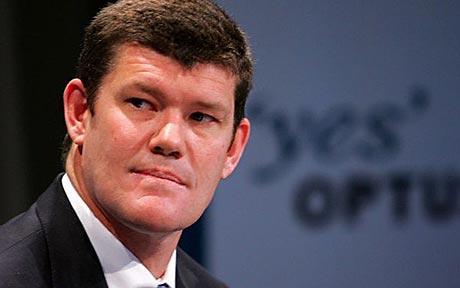 Australian billionaire James Packer has stepped down as director of Crown Resorts, fueling speculation that he's about to take the company private.
The news, which came just four months after he surprised many by resigning as company chairman in order to "spend more time with his children," saw shares in Crown Resorts jump by 5.7 percent.
Packer owns 53 per cent of Crown, which is valued at around AUD$9 billion (US$6.5 billion), through is family business CPH (Consolidated Press Holdings).
Analysts believe that the casino mogul may limbering up for a takeover of Crown by CPH and his resignation from the board would remove any conflict of interest in this event.
Crown "Biggest Priority"
"I have taken this decision over several months following the smooth transition by Rob Rankin into the company chairman's role and the stable and cohesive functioning of the board and the senior management team during the period that I have transitioned overseas," said Packer in an official statement this week.
"Now is the right time for me to focus my endeavors on my new role with Crown, as I outlined to shareholders when I stepped aside as chairman in August. I intend to devote my energies to a number of key development projects in Sydney, Melbourne and Las Vegas, as well as Crown's online platforms."
"Of course, I remain incredibly passionate about Crown and its world-class integrated resort business. Crown is my biggest professional priority and represents the vast majority of my net wealth."
Dwindling Profits
Packer took over the family business from his father, the media mogul Kerry Packer, who died almost exactly a decade ago.
Packer junior moved the core focus of the business away from media, building Crown into one of the world's largest gaming and entertainment groups.
He will remain as co-chairman of Melco Crown Entertainment and of Alon in Las Vegas.
Through Melco Crown, Packer has interests in Macau and the Philippines, including the newly opened $4.5 billion integrated casino resort on the Cotai Strip, Studio City.
Alon, meanwhile, represents Packer's first foray into Las Vegas, if you exclude his doomed 2008 investment in Fontainebleau Resorts.
The Alon project is being built on the pocket of land on which the New Frontier Hotel and Casino once stood and is scheduled to open in 2018.
In August dwindling revenues in Macau meant that Crown reported financial results well below forecasts, with normalized net profits falling by 17 percent to $525 million for the period. Despite this, Packer said he remained upbeat about Macau's prospects.