Online-Only Sports Betting Now Legal in Tennessee as Gov. Lee Returns Bill Unsigned
Posted on: May 24, 2019, 11:07h.
Last updated on: May 24, 2019, 11:07h.
Sports betting became legal in Tennessee on Friday afternoon, when Gov. Bill Lee returned HB0001 unsigned 10 days after receiving it from the General Assembly.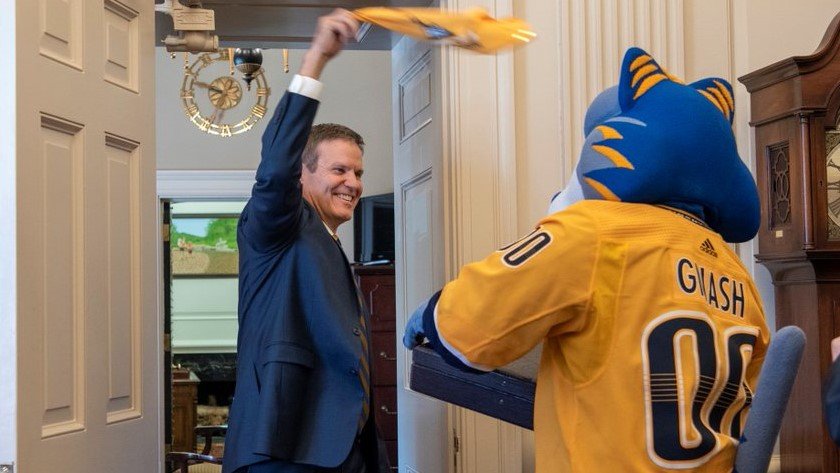 The move had been expected as the governor's spokesman indicated last month. In a statement Friday, Lee said he did not think sports betting was in the state's best interests, but he was willing to compromise this time.
(B)ut I appreciate the General Assembly's efforts to remove brick and mortar establishments," he said. "This bill ultimately did not pursue casinos, the most harmful form of gambling, which I believe prey on poverty and encourage criminal activity."
Lee added he would veto any future attempts to expand gambling in the state.
Tennessee now becomes the 12th state in the country to legalize sports betting, and it will be the first in the nation that will allow online betting only. It's also the fourth state this month to enact a sports betting law, following Montana, Indiana, and Iowa.
However, while other states anticipate opening sportsbooks by September, Tennessee officials note in the amended bill's fiscal note that they do not expect the first bets to take place there until January.
Financial Impact
Under terms of the bill, which went through several amendments and finally passed both chambers on April 30, the state will levy a 20 percent tax on each sportsbook's gross gaming revenue. Of that, 80 percent will go into the state's Lottery for Education Account, 15 percent will go into the state's general fund, and the remaining 5 percent will be set aside for gambling addiction treatment and programs.
For a full fiscal year, officials believe sports betting will generate more than $40.7 million for education, $7.6 million for the general fund, and $2.5 million for gambling addiction.
In addition, the state will require an annual licensing fee of $750,000 for each sportsbook. While the law does not restrict the number of licenses, the fiscal note anticipates 15 sportsbooks for the first year and about 12 in ensuing years.
Sports betting will be limited to those age 21 and older, and while they don't have to be residents, they must be located in Tennessee at the time they place their bets. The sportsbooks will be required to use geofencing to ensure the bettor is inside state lines.
College In-Game Bets Banned
In addition to the online-only aspect of the law, another feature of Tennessee's law that's unique is the outright ban on in-game proposition bets for any collegiate sporting event. Others have banned bets on collegiate games taking place in their state, like New Jersey, and others, such as Iowa, have banned in-game prop bets for their state schools.
The law also requires sportsbooks to use only official league data for their betting activities. Some have criticized that move, saying it will be costly to the sportsbooks to get the information they need.
In a joint op-ed column in Nashville's The Tennessean, Gambling.com Group CEO Charles Gillespie and Chalkline Sports Founder Daniel Kustelski acknowledge sportsbooks will not like the mandate to buy league data. However, they also note that the state can amend the law or regulations if it indeed becomes burdensome.
The two, though, see the good in the law outweighing the bad, saying online-only creates a truly open marketplace in the state.
"This free market approach allows healthy competition that will ultimately benefit the customer by creating more, and better, sports betting options," they wrote.