Oddsmakers Believe Duke's Zion Williamson a Slam Dunk for Top Pick in Thursday's NBA Draft
Posted on: June 19, 2019, 11:59h.
Last updated on: August 2, 2021, 01:07h.
The NBA Draft takes place Thursday night in New York, and there promises to be very little drama at the beginning. That's because it's a certified lock that Duke freshman Zion Williamson will be the top pick by the New Orleans Pelicans.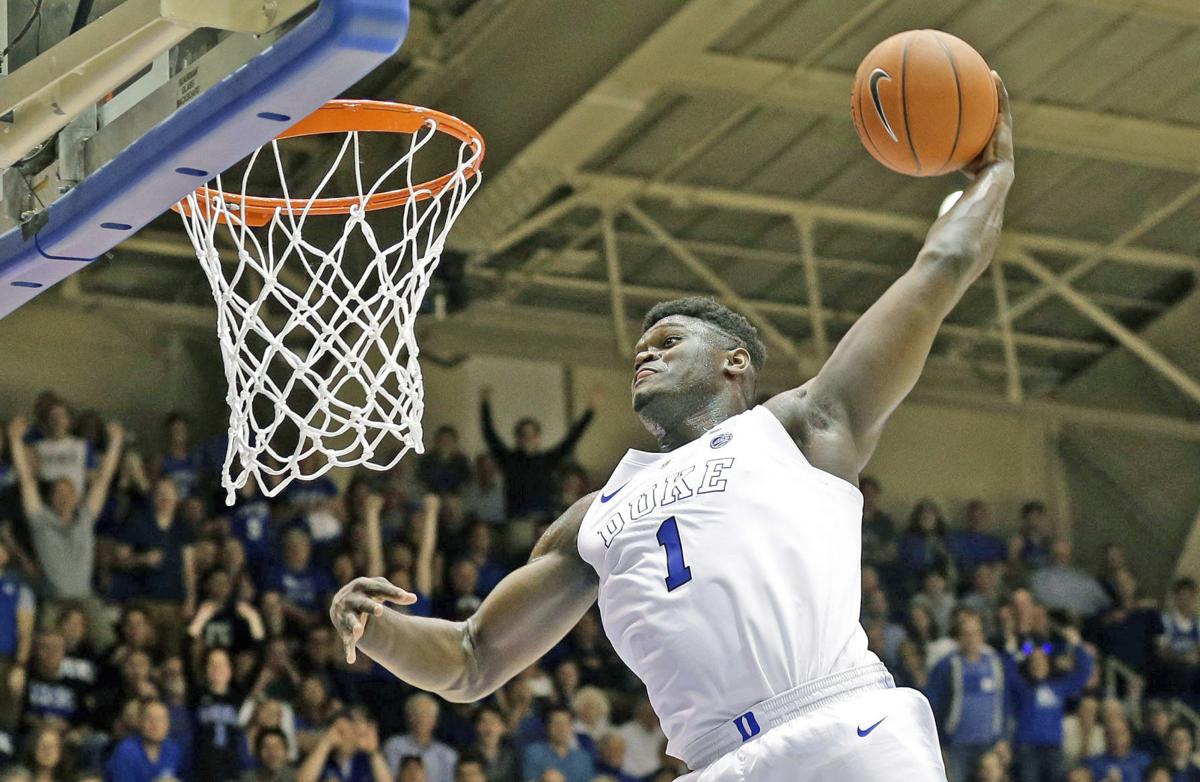 The athletically freakish 6-7 forward averaged 22.6 points and 8.9 rebounds a game for the Blue Devils last season and lit up social media on a regular basis with some of the highlight reel plays he made. A consensus All-American, Williamson also earned the Wooden Award and the Naismith Award, both of which honor college basketball's player of the year.
Now, he's ready to move up to the next level. There's been a tremendous level of hype on the youngster since he declared to play for Duke last year, and that only looks to get escalated after he walks onto the Barclays Center stage shortly after 8 pm ET Thursday night.
I don't know if I'm going to cry," he told reporters Wednesday. "I don't know if I'm going to have this giant smile on my face. I guess we'll see tomorrow night. I know I am very excited about it, though."
Odds for the 18-year-old's reaction to hearing his name called as the first pick would have offered a better return than what sportsbooks are offering for the first pick overall.
FanDuel's sportsbook lists Williamson at -8000 to be the top pick, meaning a $100 bet wins $1.25. PointsBet has him at -10000, meaning bettors will win $1 for each $100 they bet.
Prop Bets Galore
Where the draft may be interesting from a betting perspective is in the wide selection of prop bets available through the sportsbooks.
Both FanDuel and PointsBet list an over/under on the number of freshmen who will be selected in the top 10. At 5.5 freshmen, PointsBet has the over favored -244 to +175. FanDuel's odds at the same number are -230 to +150.
Both sportsbooks also offer over/under draft pick propositions on at least a dozen players. For Virginia forward De'Andre Hunter, FanDuel offers -102 odds for him to get picked in the top five and -126 odds after that. At PointsBet, Hunter's odds are +101 for the first five picks and -130 for afterward.
DraftKings Sportsbook offers head-to-head season scoring props between the likely top three picks: Williamson, Murray State point guard Ja Morant, and R.J. Barrett, another Duke forward. Williamson is a -167 favorite against his former teammate, who has +140 odds and a -265/+210 selection against Morant. Barrett is a -167/+140 selection versus Morant.
Rookie of the Year, Title Odds
Much like the NBA Draft odds, Williamson starts off as the likely pick for next season's NBA Rookie of the Year Award. However, the odds are significantly higher.
Caesars sportsbook lists Williamson at -450 to win the award, compared to -450 at PointsBet. Both books have Morant and Barrett at +450 each as well as Hunter at +1200.
Darius Garland, a Vanderbilt freshman guard whose lone collegiate season was cut short due to a knee injury last fall, is listed at +1000 at both books.
One thing Williamson won't do is turn the Pelicans into title contenders overnight. With the impending trade of Anthony Davis from the Pelicans to the Los Angeles Lakers, New Orleans has a 60-1 odds at Caesars and the Westgate SuperBook. FanDuel and PointsBet list the Pelicans, who have two of the top four picks in Thursday's draft, at 100-1.
With Davis, the Lakers have become the favorite to win the title, with odds as low as 3-1 at the SuperBook.
Similar Guides On This Topic