Oakland Raiders Owner Mark Davis Scheduled to Attend Las Vegas Meeting to Discuss NFL Franchise
Posted on: April 16, 2016, 10:00h.
Last updated on: April 15, 2016, 10:57h.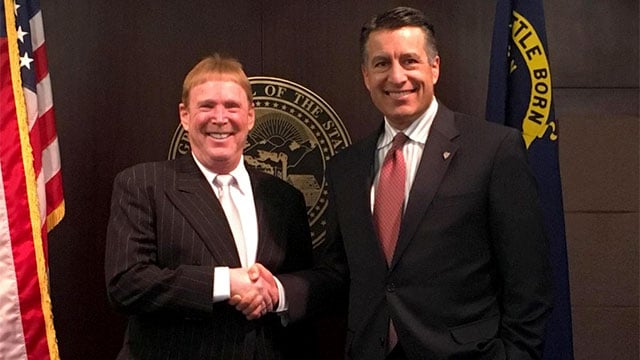 Oakland Raiders owner Mark Davis will attend an upcoming meeting in Las Vegas to discuss the possibility of relocating his NFL franchise from Northern California to Sin City.
On April 28, the Southern Nevada Tourism Infrastructure Committee will welcome Davis to hear his proposal regarding a potential move and building of a $1.3 billion domed stadium just steps from the Strip and McCarran International Airport.
Not everyone is fully convinced Davis is actually interested in bringing his football team to Nevada.
Writing in the Las Vegas Review-Journal, sports columnist Ed Graney opined, "Mark Davis has played this get-out-of-Northern-California card more than once." That being said, Graney seems to be under the impression that this time is different.
Davis has already toured the proposed 42-acre site for the stadium and met with billionaire Sheldon Adelson, the man whose Las Vegas Sands Corp. is leading the campaign to bring the Raiders to the desert. His continued visitation and decision to attend the meeting later this month would seem to prove Davis isn't simply using Vegas to entice Oakland or other cities to cater to his interests.
Homeless Raiders
It's difficult to pinpoint where the odds are in regards to the Oakland Raiders relocating to Las Vegas, but they certainly seem strong that the team will be moving somewhere after the 2016-2017 NFL season.
Their current stadium, which also hosts MLB's Oakland Athletics, is the smallest venue in the NFL. It's also in need of serious repairs including sewage maintenance, as well as a comprehensive makeover to modernize the structure built in the 1960s.
Oakland officials seem to have no interest in aiding in those efforts, and would instead favor building a baseball-only facility. The Athletics host 81 home games each year compared to just eight for the Raiders, one reason why Oakland doesn't want to subsidize the $400 million ask by Davis to build a new football stadium.
But it will also take some convincing on the part of Davis and Adelson to sway the Southern Nevada Tourism board to elect to partially fund the $1.3 billion construction project.
The lead opponent to the plan is MGM Resorts International, co-owners of the newly opened T-Mobile Arena. MGM believes hotel occupancy revenues would be better spent refurbishing the Las Vegas Convention Center.
Aside from Las Vegas, the Raiders could have their eyes on San Diego and Los Angeles, the latter being where the franchise played from 1982-1994.
Betting on Oakland
The Raiders aren't likely to compete for the Super Bowl this winter, nor are they even expected to make the playoffs. However, that isn't keeping bettors from picking Oakland on their over/under total wins line in Las Vegas.
According to ESPN, there's been as much activity on the Raiders this spring than any other team in the NFL. Lines opened with the Raiders at 7.5 wins out of their 16 regular season games, and fans flocked to take the over.
Of course, gambling and sports betting is the very reason the NFL has long opposed placing a team in Las Vegas. NFL Commissioner Roger Goodell says a decision to move to Vegas would need to be considered and approved by 75 percent of team owners.