Rappers Chris Brown and Soulja Boy Agree to Box in Las Vegas
Posted on: January 9, 2017, 06:00h.
Last updated on: January 9, 2017, 05:47h.
Rappers Chris Brown and Soulja Boy have verbally agreed on social media to a boxing match in order to settle their beef over a girl.
It all began when Soulja Boy, who is primarily known for his 2007 Billboard Hot 100 #1 hit "Crank That," started "hearting" Instagram photos of Brown's ex Karrueche Tran. The two exchanged a series of vile social media tweets and videos mocking one another.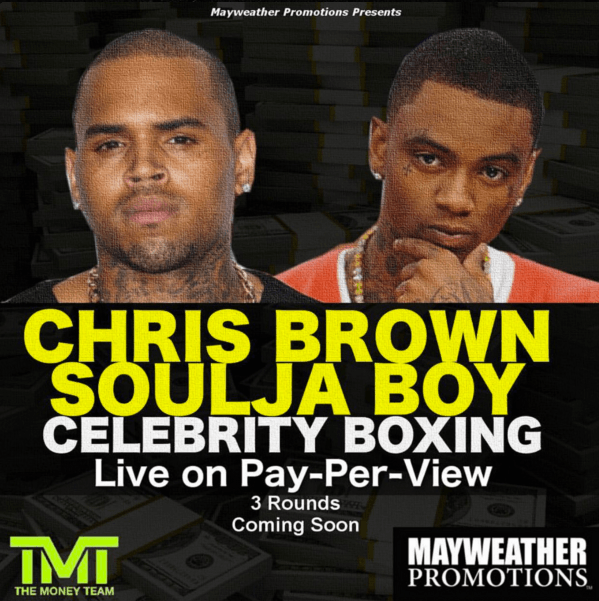 The feud is now quite literally coming to blows. The pair recently agreed to a three-round boxing match in Las Vegas that could be a pay-per-view televised event.
Paddy Power is taking bets on the potential fight, with odds opening at 5/6 for both men. It's worth noting that bets won't be considered void until January 1, 2019, meaning if the Brown-Soulja Boy prizefight fails to occur, wagers are simply interest-free loans for the Irish bookmaker.
SBRsportsbook puts Soulja Boy as the favorite (-145) to Brown at +125.
Brown has proven he can hit in the past, though to members of the opposite sex. In 2009, an argument with then-girlfriend Rihanna turned violent and the singer later pled guilty to felony assault.
Apparently unaware that boxing takes place in a ring and not on a court, Brown said of the fight, "He's going to cry in the court."
The tale of the tape: Brown 6'1″/180 pounds. Soulja Boy 5'9″/150 pounds.
Mayweather and MGM
Though at first glance the alleged boxing match might be seen as nothing more than Twitter and Instagram bickering between two not-so-upstanding celebrities, the bout received elements of credibility when Floyd Mayweather's company decided to promote the event. The retired boxing champ who is considered one of the greatest of all time has also agreed to train Soulja Boy for the contest.
"It's going down! Signed my contract," the 26-year-old Soulja Boy said of Mayweather's involvement.
Mayweather tweeted an image that read, "Put the guns down and put on the gloves. Chris Brown vs. Soulja Boy live on pay-per-view."
"Pretty Boy" Mayweather has a long relationship with MGM Resorts. His final 12 fights, which date back to 2007, were all contested at the MGM Grand Garden Arena on the Vegas Strip.
The fight is expected to take place in March, but it's unclear if MGM would be willing to host such an event considering the "talent" involved.
Be Like Mike
Not to be outdone, the 27-year-old Brown has hired legendary fighter Mike Tyson to train him for the bout. But Soulja Boy is questioning whether "The Hangover" actor will teach Brown how to bite someone's ear off, as the boxer did during his competition against Evander Holyfield in 1997.
"Soulja Boy, what the (expletive) are you talking about, the only thing I'm going to teach him is to bite somebody's ear? Yeah, that's right. I'm going to teach him every dirty trick in the book," Tyson responded online.
It's perhaps hard to imagine this fight actually becoming a reality, but if it does, we'll update the odds and keep close tabs on the clash.
Similar Guides On This Topic