Notre Dame-Louisville Closes Out Opening Week of College Football Monday with Irish Favored by 18
Posted on: September 1, 2019, 09:37h.
Last updated on: September 2, 2019, 02:51h.
We're still a week away from the start of the National Football League's 2019 season, so that means college football gets a primetime audience on Labor Day. The only game takes place in Louisville, as the host Cardinals play Notre Dame.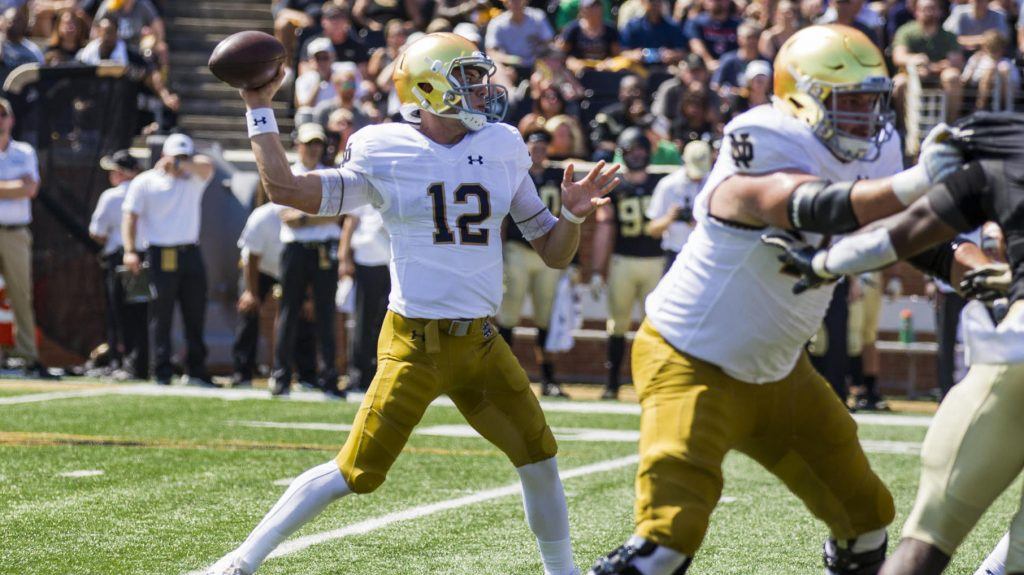 The game features two teams with divergent expectations for the season.
Notre Dame comes into its season opener as the No. 9 team in both the Associated Press and the coaches' polls. The Fighting Irish are looking to get back to the College Football Playoff after falling to eventual national champion Clemson in last season's semifinals.
At William Hill, the Irish have +3500 odds to win their first title since 1988. That means a $100 bet would net $3,500.
A major challenge that Notre Dame faces in winning the national title is its status as an independent team. With no conference affiliation, the Fighting Irish get just 12 regular season games and will not get a 13th contest that most title contenders get in a conference championship. That extra game gives the selection committee one more data point for those other teams, and that extra game usually comes against a highly ranked opponent, giving it even more credence.
It also means Notre Dame has to go 12-0 to really merit consideration, and beyond that, the Irish have to win convincingly the games where they're heavily favored.
Quarterback Ian Book is eager for the challenge.
"That's why you come to Notre Dame, to play in those big games," Book said. "We've got a lot to prove this year and we're excited."
Louisville on the Rebuild
Louisville, meanwhile, comes off a 2-10 campaign, the Cards first losing season since 2009 and their worst year since 1997.
It would be an understatement to say the wheels fell off. The Cardinals lost their last nine games, and they lost the final eight by an average of 31.8 points. UofL didn't just have a tough time against its on-field opponents. The Cardinals also ended up just 1-11 against the spread.
Coach Scott Satterfield got the job in December to turn around the Cardinals. While there are questions on both sides of the ball, the biggest are on defense, which was the ninth-worst among Football Bowl Subdivision teams last season. Louisville gave up an average of 485 yards a game, and the 6.9-yard per play average was sixth-worst in FBS.
Our defense is all predicated on everyone being there in their gaps and we've gotten a ton better with that," Satterfield said last Monday at his first weekly press conference. "If you get out of a gap in this defense, then you're going to get gashed. The thing we talk about whenever that does happen, that we have to get the guy on the ground. Then play the next play. We don't want to give up those big chunk plays."
If the Cards can limit mistakes on defense, then Satterfield may be able to get his team to play beyond oddsmakers' expectations. Currently, DraftKings lists Louisville's over/under on its win total at 3.5 in a 12-game season. Over 3.5 wins is a -118 favorite, meaning a $118 bet wins $100. The under prop is even money.
Irish Spotting 18 to Cardinals
On Labor Day, Notre Dame is an 18-point favorite at DraftKings, FanDuel, and William Hill heading into Cardinal Stadium. At most books, the game started with the Irish as a 20-point favorite.
While the spread has dropped in recent days, most still expect the Irish to cover. As of Saturday night, William Hill reported that 71 percent of the tickets placed and 78 percent of the money wagered went on Notre Dame.
The game kicks off at 8 pm ET, and ESPN will broadcast it.