Northern New Jersey Casino Expansion Bill Advances, Despite Taxing Questions
Posted on: February 9, 2016, 01:16h.
Last updated on: February 9, 2016, 01:16h.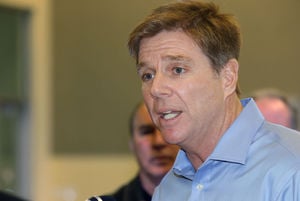 Northern New Jersey's casino expansion plan was approved by the state Assembly's judiciary committee this week, bringing the state one step closer to a public referendum on whether to break Atlantic City's longstanding monopoly on casino gaming there.
The bill seeks to permit two licenses in the northern part of the state, where lawmakers believe new casinos would attract footfall from the New York metropolitan area, bolstering the Garden State's ailing gambling industry. But there are concerns that the bill is missing key details. Chiefly, the amount of tax the new licensees would pay to the state, as well as to Atlantic City as compensation for losing its monopoly.
Lawmakers have said the resort town would receive up to $200 million to help offset the likely losses, but an exact figure has yet to be decided, a fact that has alarmed many politicians, particularly in Atlantic City.
"Wouldn't you want to know how much money is coming back to the state?" Assemblyman Chris Brown (R-Atlantic) asked the committee. "If you were running a business, before you opened another franchise and competed against yourself, these are some very basic questions that you would want to know."
Cannibalization Fears
Assemblyman Ralph Caputo (D-Essex), a main sponsor of the bill, agreed. "When you go to the public and try to sell the referendum, you have to have this in place," Caputo said. "Otherwise, you're not in a very strong position."
Taxes notwithstanding, many in Atlantic City oppose the proposal. Brown has warned that North Jersey casino expansion would "kill" Atlantic City, while Senator Jim Whelan (D-2nd Dist.) believes that it would further cannibalize an already saturated market in the same way that casinos in Pennsylvania, Delaware, and Maryland have cannibalized Atlantic City's.
"What happens to North Jersey casinos when New York City inevitably gets one?" he asked.
November Ballot
The bill would need to be approved by three-fifths of both chambers in order to go to a public ballot, which would take place in November. Should the bill become law, Atlantic City's current licensees would be offered first refusal on the two licenses.
If there are no takers, the field would then open up to proposals from outside of the state, although developers would not be permitted to build a casino within 72 miles of Atlantic City.
East Rutherford, home to the New York Giants and New York Jets, is one possible location, with the Hard Rock International and the Meadowlands Racetrack known to be interested. There have also been proposals for a project on the waterfront in Jersey City, directly across from Lower Manhattan.
There will now be a 20-day rest period before the bill is heard in the Senate.