NJ Senate President Steve Sweeney Wants Atlantic City Redo
Posted on: August 6, 2014, 07:24h.
Last updated on: August 6, 2014, 07:33h.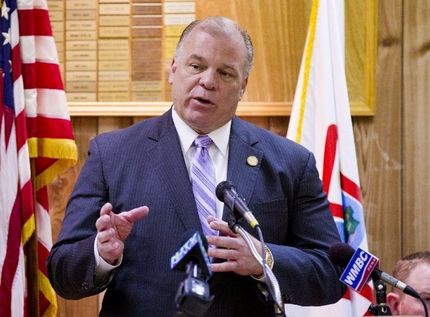 Atlantic City is far removed from its glory days, when it was considered second only to Las Vegas in the American casino scene. And now, New Jersey Senate President Steve Sweeney (D-Gloucester) has asked the city, the gaming industry, and officials from around the state to come up with ideas for how Atlantic City can "reinvent itself," saying that the city has been far too dependent on casino revenues for far too long.
As casinos continue to close in the resort city at a staggering rate, it is becoming more and more apparent that a return to those glory times isn't coming. That's enough for many, like Sweeney, to call for the city to find new ways to generate revenue and get back on its feet.
Gaming Revenues In Spiral Since 2006
"Since its peak, the market for gaming has changed," Sweeney wrote in an op-ed published in The Record. "Convenience gaming has proliferated throughout the United States with casinos in the backyards of one-time day trippers to Atlantic City."
In particular, Pennsylvania used to be an excellent market for Atlantic City casinos to draw on. But that state began introducing casinos in 2006, and the effects on Atlantic City were immediate and devastating. The city's revenues peaked that year at about $5.2 billion. But they've now fallen for seven consecutive years, and while the 2008 recession made things worse, it's clear that increased competition in Pennsylvania, Delaware, Maryland, New York and other nearby states has been the main cause of the sustained decline. Last year, the 12 casinos operating in the city brought in just $2.9 billion, the lowest total in 25 years.
That decline has created mounting pressure on the gaming industry in Atlantic City, and that finally became too much to bear in 2014. In January, the Atlantic Club casino closed, with the Showboat closing this summer and Trump Plaza expected to shut down in September. The Revel could also close if a buyer isn't found in a bankruptcy auction.
To Sweeney, this means that changes have to be made both inside and out of Atlantic City.
"It is time we consider whether to give voters the option of expanding gaming outside of Atlantic City in the near future," Sweeney wrote. Sweeney has been a proponent of a North Jersey casino, which could be a way to draw in customers who might head over the border to current and future New York casinos. Under his plan, Atlantic City would still be the "premier gaming destination" in New Jersey, and any new casinos would have to be designed to avoid taking customers away from the city as much as possible.
Casinos Outside Atlantic City Not Yet a Popular Plan
But New Jersey residents may not be interested in such a plan. According to a recent poll by Fairleigh Dickinson University's PublicMind, 50 percent of New Jersey adults are against expanding casinos outside of the city, while 42 percent are in favor.
Regardless of the future of gambling outside of Atlantic City, though, Sweeney believes that the city must expand beyond gaming if it wants to secure its future.
"But Atlantic City is going to have to expand beyond just gaming," Sweeney wrote. "For too long, the city relied almost solely on gambling revenues to keep the engine running. That format was bound to run into problems eventually. We must totally reinvent how Atlantic City bills itself to the world."