New York Giants Bench Eli Manning, Odds Increase
Posted on: November 29, 2017, 03:00h.
Last updated on: November 30, 2017, 06:40h.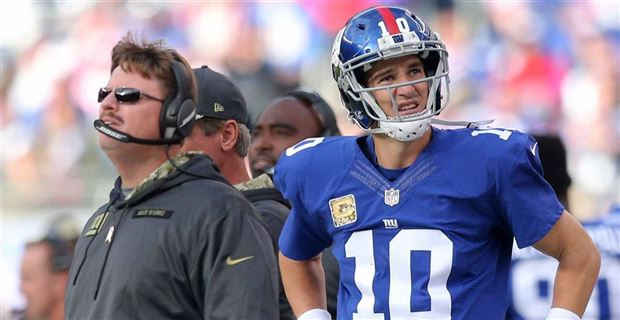 Eli Manning has been the starting quarterback for the New York Giants since 2004 but had his job unceremoniously taken from him Tuesday afternoon.
Coach Ben McAdoo announced backup Geno Smith would be behind center when the team travels to play the Oakland Raiders on Sunday.
The two-time NFL Super Bowl winning quarterback choked back tears when he talked to reporters after the decision that ended his streak of 210 consecutive starts was announced.
"I'm not happy about it, but I'll be a good teammate," he said. "It's been a hard day to handle this, but (I'll) hang in there and figure it out."
Sportsbooks are already voicing their opinion of the move. The Giants opened as a 7-point underdog to the Raiders, but after news of Manning's demotion lines had gone anywhere from 7 ½ to 8 points.
The 2-9 squad had decent odds to win the Super Bowl before the season began. They were 25-1 picks, but as the losses mounted, the odds rose to as high as 5000-1. They were taken off the board in the last two weeks.
They have been a bust for bettors this year in prop bets as well. Their over/under for wins was set at 9, which they will woefully miss. They are also 4-7 against the spread.
Motive for Move
Many believe the reason for sidelining Manning was a desperate attempt by McAdoo to save his job. Reports of his firing have lingered all season, though ownership said no decision would be made until after the season.
The second-year coach has deflected questions regarding his status and said in a Tuesday press conference it played no part in the decision.
"This has nothing to do with my future," he said. "This is what's best for the team moving forward. "We have five games left to play. We have three quarterbacks on the roster. We have two that we have yet to see in significant game action for us and we want to go take a look at both of those players."
The team has been decimated by injuries this season, especially at wide receiver. Starters Odell Beckham Jr. and Brandon Marshall were lost for the year with injuries. Manning and the team struggled ranking 29th in points scored.
Rough Year for Quarterbacks
Several high-profile signal callers have been lost for the year. Arizona's Carson Palmer suffered a broken arm, Miami's Ryan Tannehill, Minnesota's Sam Bradford and Houston's Deshaun Watson were all sidelined for the season with major knee injuries.
They joined Andrew Luck who had shoulder surgery in January and was expected to come back midseason but had a setback in his rehab and was put on injured reserve.
Green Bay's Aaron Rodgers and Tannehill's backup Jay Cutler also got hurt and were feared gone for the season. Rodgers broke his collarbone, but has been practicing with the team and may return sometime in December.
Cutler cracked a rib but the injury was not as serious as first thought. All in all, it has been a tough season in the NFL for many players and fans alike.