New York Casino Expansion Could Prompt North Jersey Casino
Posted on: October 30, 2013, 05:30h.
Last updated on: November 18, 2013, 03:50h.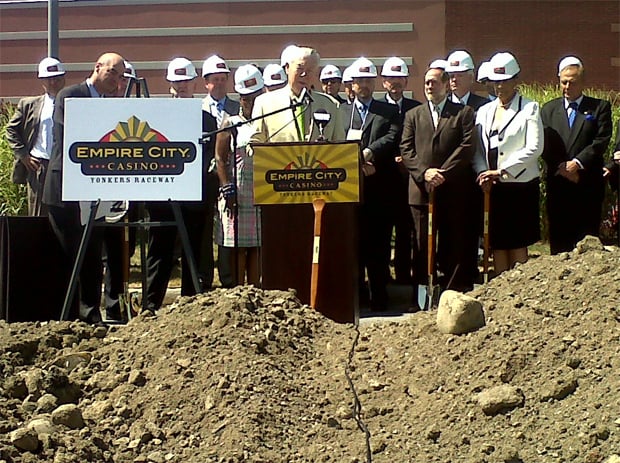 In a lot of ways, the battle for the northeastern casino market has turned into an arms race between the states. And that means that when one neighbor unveils a new weapon, it's only a matter of time before another answers in kind. That's why there's now a great deal of speculation that the latest round of casino expansion planned for New York could ultimately lead to a brand new casino in North Jersey, as New Jersey continues to try to hold on to their shrinking share of the regional casino market in that area.
The new threat of casinos in New York hasn't materialized yet – and it may never happen at all. New Yorkers are going to the polls on Election Day in November to decide whether or not to approve the building of new, "Las Vegas-style" casino resorts in upstate New York. But passage seems at least reasonably likely, which could add yet more regional competition to the mix.
One Upsmanship – But Is It Working?
And should more casinos be added in other states, it's likely that New Jersey would see that as an invitation to add a new casino of their own. In particular, politicians and industry insiders are imagining the possibility of a casino in the Meadowlands, an area in northeast New Jersey that is already the site of the Meadowlands Sports Complex: home to the Meadowlands Racetrack, MetLife Stadium (which houses the New York Jets and the New York Giants), and the Izod Center, which formerly hosted the New Jersey Nets (which have since become the Brooklyn Nets) and the New Jersey Devils hockey team.
Are you still with us?
According to some in North Jersey, the state is losing plenty of potential revenue by not having a casino in that region of the state. Plenty of gamblers, they say, are headed to the Empire Casino in Yonkers, NY or nearby Pennsylvania casinos in Bethlehem and the Poconos. These locations are a lot more convenient to access for many New Jersey residents than the casinos in their own state.
"Do you think people from northern New Jersey are going to drive all the way to Atlantic City when they want to play the slots for a few hours?" asked Jeffrey Gural, operator of the Meadowlands racetrack. "Gas is $4 a gallon. You tell me."
But while the threat of more regional casinos may be the spark that finally pushes the state to seriously consider a Meadowlands casino, the idea has been in the works for a while. And in reality, the biggest battle could be the one between Atlantic City and North Jersey. Many Atlantic City officials fear that a new casino in northern New Jersey could be the death knell for the city's already flailing land gaming industry.
Atlantic City Revival Still Needs a Come to Jesus
The revival of Atlantic City has been a major policy point for New Jersey Governor Chris Christie, who says that he doesn't want any new casinos to be built outside of the city at least until his five-year plan for revitalizing the casino industry there is given a chance to work. While that effort may not have had quite the results Christie was hoping for so far, losses have at least slowed in Atlantic City – and the governor's office says that he would have followed the same plan even if he had known New York was planning to build new casinos.
"[The plan to build new casinos in New York] doesn't change that we set out at the beginning of the administration to give Atlantic City the best chance we can to maintain or grow our presence in the competitive casino market," said Michael Drewniak, a spokesman for the governor.
LAND CASINO SATURATION IN AMERICA:
Across the United States, gaming analysts warn that the brick-and-mortar casino industry is nearing its saturation point. In early 2013, Alex Bumazhny, a Fitch gaming analyst, told Bloomberg News that land-based gaming was "close" to this level already, and University of Nevada, Reno professor Mark Nichols concurred, saying "…everybody is pretty much the same and everybody is on the same playing field. Then it just comes down to location."
With Atlantic City's land gaming revenues down a whopping 50 percent since neighboring Pennsylvania opened its casino doors in 2006,  and with even newer casinos in Illinois and Maryland struggling to meet profit goals, it's hard to argue with this apparent new reality.
Several states are now looking to burgeoning legal and regulated online state-by-state gambling to pick up the slack. With Nevada already offering online poker, and Delaware and New Jersey perched to offer full casino games before year's end, the gambling industry – as well as state coffers across the country – will certainly be waiting and watching to see how this new aspect plays out.