New Jersey to Take Over Atlantic City's Finances, Governor Chris Christie Says It's a  Five-Year Plan
Posted on: January 28, 2016, 01:22h.
Last updated on: January 28, 2016, 01:25h.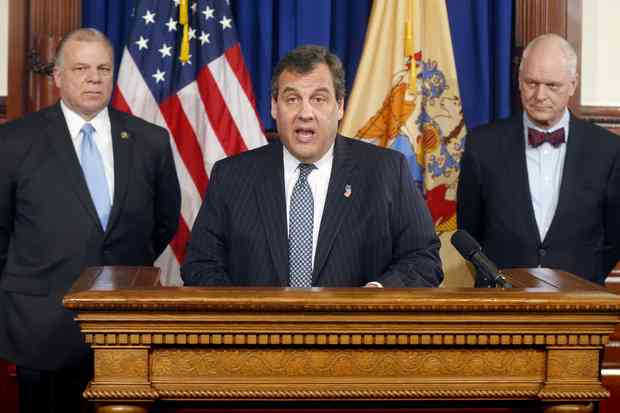 Atlantic City, teetering now for a good long time on the edge of bankruptcy, will no longer have to think for itself. New Jersey Governor Chris Christie (R) made the announcement earlier this week that the city's finances are being turned over to state guardianship for the next five years.
Christie exited his 2016 presidential campaign trail briefly to tackle two pressing issues facing his state, in fact.The first matter of concern was snowstorm Jonas that dumped two feet of snow over the region and caused significant flooding along the Jersey shore.
The storm cleanup stretched throughout the state and up and down the coastline, but when all the roads were clear and residents dug out, one area remained underwater: Atlantic City and its all-on-red financial outlook.
On Tuesday, Christie unveiled a joint plan with State Senate President Stephen Sweeney (D-District 3) and Atlantic City Mayor Don Guardian (R) to seize the insolvent gambling resort town and take control of the city's financial governing.
"We all know what this was about, going from twelve casinos to eight and having the resulting decline of nearly 65 percent in the city's property tax base is a challenge that no other city has endured in as short a time frame," Christie said during a press conference, accompanied by Sweeney and Guardian. "Greater state involvement makes sense and all three of us up here agree to that."
Christie hopes to have the bipartisan legislation introduced and passed next month. Should the proposition become law, Trenton politicians would govern Atlantic City for the next five years.
Game Plan
Sweeney will soon introduce the legislation that will ideally be expedited through the state legislature and land on Christie's desk before March. The bill will include the following directives, as agreed upon by Christie, Sweeney, and Guardian.
The state's Division of Local Government Services and Local Finance Board will have executive authority over decision-making as it relates to finances.
The immediate tasks will focus on restructuring municipal debt, amending or terminating municipal contracts found to be unfavorable, consolidating municipal services with the county or other municipalities, and potentially dissolving or transferring all municipal authorities, departments, and commissions.
State leaders will look to privatize municipal services and sell or lease city-owned assets.
Atlantic City government leaders will need to pass ordinances to aid in the financial recovery.
We Built This City
The primary reason Atlantic City is in such dire straits is due to the tumbling local gambling industry. The East Coast gaming monopoly it long enjoyed is over, thanks to numerous nearby states legalizing land-based casinos.
Some local leaders and council members in Atlantic City feel that New Jersey needs to do more by way of bailouts before the last resort of such a dramatic takeover by the state, however. Critics of Christie's plan says the state reaped the benefits of the city's gambling for decades and should help pay the town's $240 million debt, $33.5 million budget shortfall, and the $160 million it owes the Borgata in overpaid property taxes.
Guardian had recently threatened bankruptcy should the state move to overtake his city. A bankruptcy filing would have significant consequences statewide and potentially lead to a credit downgrading for New Jersey.
Christie apparently pulled some magic in convincing Guardian to his and Sweeney's side.
"While there's been much rumored about bankruptcy, that is clearly not my preference," Christie said. "We will move swiftly to pass this comprehensive legislation and I will sign it so we can get on with Atlantic City's next and most important phase of the restructuring."