New Gambling Overhaul Bill Presented In Florida
Posted on: March 3, 2015, 01:20h.
Last updated on: March 3, 2015, 01:20h.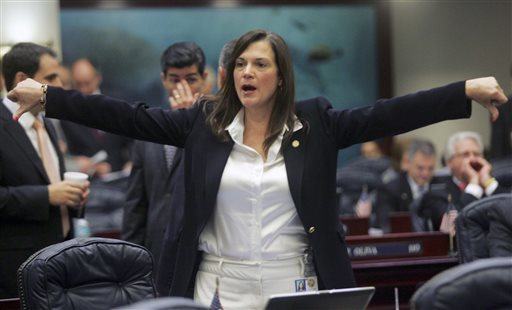 Florida's gambling industry has been in desperate need of an overhaul, as a mish-mash of various laws and regulations have created an uncertain situation for operators and legislators alike.
Now, a new package of legislation from House Republican Leader Dana Young (R-Tampa) would seek to update gaming laws in the state in order to create a system that everyone in Florida can (hopefully) live with.
Major Resort Casinos Would Be Welcome in South Florida
Perhaps the biggest addition under Young's legislation would be the two destination resort casinos that would be allowed in South Florida. This is something that major gaming firms, including Genting and the Las Vegas Sands, have been pushing for in a state that currently only allows full casino gambling to be offered by the Seminole Tribe of Florida. The new resort operators, however, would be required to buy gaming permits from active operators such as race tracks in order to build their facilities.
The bill would also give help to the pari-mutuel operators in South Florida. Dog tracks would be allowed to operate slot machines even if they do not continue to race dogs, an activity that has lost popularity and is increasingly used only as a justification for operating gaming machines. Tax rates would also be reduced for casinos.
The bill would also create a state gambling commission to oversee the gaming industry in Florida. The proposal also asks to create a constitutional amendment that would prohibit all new forms of gambling in Florida unless voters were willing to approve it via a statewide referendum.
"Under the scenario presented in my bill, Florida takes back control of existing gaming in our state and provide a clear blueprint for the path it will take in the future," Young said at a news conference. "The bill provides for an unprecedented contraction of gaming in the state."
Opponents See Bill as Gambling Expansion
However, not everyone agreed with that assessment. In fact, at least one opponent said that rather than contract gaming, Young's bill would open the doors to wider gambling throughout the state.
"This bill would cause the biggest expansion of gambling in Florida history," said No Casinos director John Sowinski. "It invites wall to wall casino gambling in Florida, and the social costs and crime that go with it."
No Casinos is a group backed by Florida's entertainment industry, including operators like Disney and Universal. They also pointed out that with casinos in some other parts of the country struggling, adding more casinos in Florida might not be the lucrative move that supporters claim it would be.
However, the bill doesn't contain much in the way of provisions including the Seminoles. Right now, the Seminoles operate the Seminole Hard Rock Hotel & Casino and other venues under a compact with the state that is set to expire on July 31. Right now, the Seminole Tribe pays the state over $200 million each year for exclusive rights to blackjack within the state.
Governor Rick Scott spent time last year negotiating with the tribe, and nearly reached a seven-year renewal of the compact, but the two sides couldn't finalize an agreement.
"We are certainly open to continuing dialogue with the tribe as to how they fit in the larger picture," Young said. "But since there's no agreement at this point, we have not included them in this bill."