Nevada AG Adam Laxalt — Noted Online Gambling Opponent, Sheldon Adelson Ally — Wins GOP Gubernatorial Primary Without Breaking a Sweat
Posted on: June 13, 2018, 11:35h.
Last updated on: June 13, 2018, 11:59h.
Nevada's Attorney General, 39-year-old Adam Laxalt, has secured the GOP party ticket for his state's gubernatorial election in November. He will face Clark County Commissioner Steve Sisolak, who won the Democratic Party nomination during Tuesday's primary. For Laxalt, it was smooth sailing and an early AP call for his spot, just one hour after polls had closed at 7 pm PT.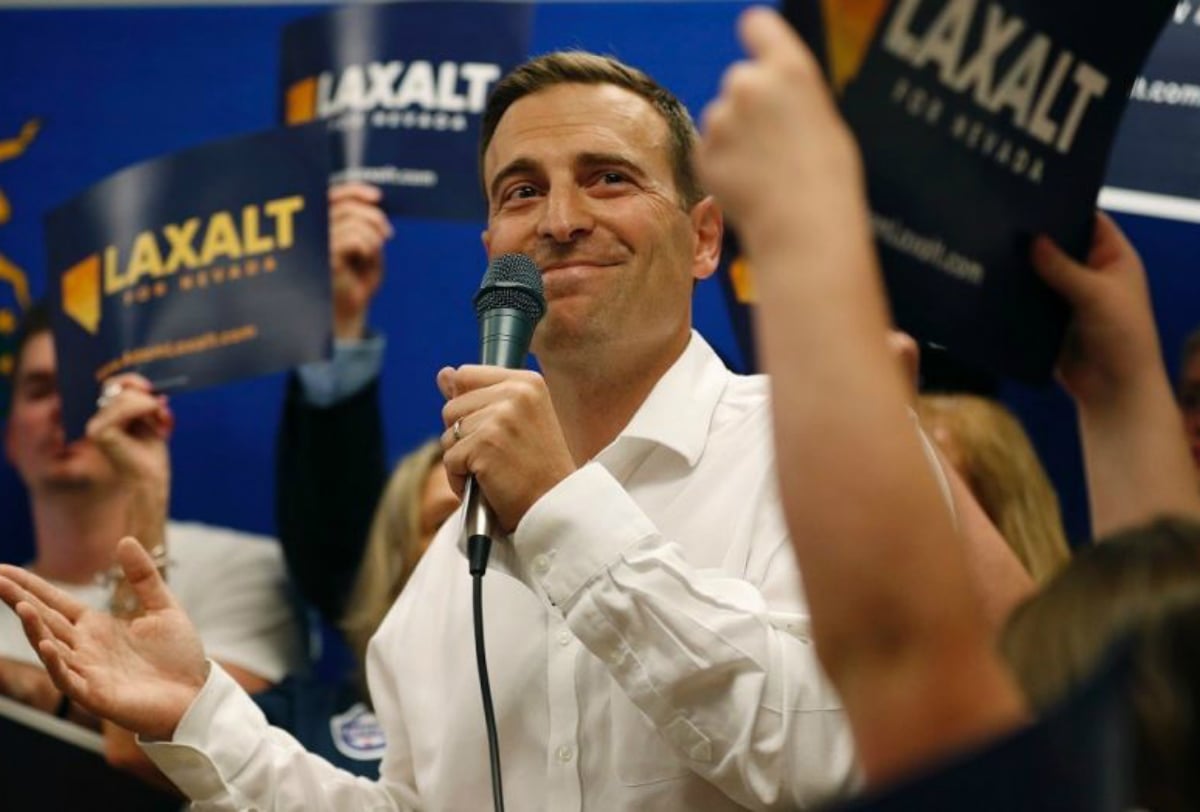 He defeated State Treasurer Dan Schwartz — along with six more also-rans — with more than 75 percent of the vote, in what was an almost pre-determined contest.
Laxalt will hope to become Nevada's fourth consecutive Republican governor. Current Gov. Brian Sandoval's (R) tenure will come to a mandatory close in January 2019, having served two full four-year terms.
The Laxalt-Sisolak race is expected to be one of the costliest gubernatorial elections in state history. But keeping his campaign adequately funded shouldn't be an issue for the attorney general.
Las Vegas Sands billionaire and GOP mega-donor Sheldon Adelson will back Laxalt over his Democratic opponent for numerous reasons. Adelson, his wife Miriam, and Sands gave Laxalt's primary campaign $50,000.
Adelson has been an outspoken and heavily bankrolled proponent of the Restoration of America's Wire Act (RAWA), which would return the Wire Act to its pre-2011 interpretation in an effort to ban online gambling. Laxalt has also supported that reversal stance, and was one of 10 state attorneys general who signed a letter in late 2016 addressed to then-Vice President-elect Mike Pence, encouraging the incoming administration to review the matter.
Laxalt's support of restoring the Wire Act put him at odds with Sandoval.
I am very concerned that anyone representing the state's legal interests would speak out against current state law in our leading industry," Sandoval said back in 2014 of Laxalt's views, which came only a year after Nevada legalized internet gaming and subsequently launched online poker in 2013.
Nevada remains one of three states that currently have some sort of online gambling up and running. Pennsylvania legalized internet casinos last fall, but sites haven't gone live.
Nevadans can also place sports bets via the internet. Though New Jersey and Delaware have legalized online gambling, their recent regulation of sports betting has yet to include remote intrastate betting. Other states are now scrambling — in the wake of the recent SCOTUS PASPA overturn ruling — to get both land-based and online sports betting moving ahead.
Aligning with Adelson for RAWA
Adelson has used his hefty political power to attempt to influence lawmakers into supporting RAWA — with little success to date, however. Sen. Lindsey Graham (R-South Carolina) and former US Rep. Jason Chaffetz (R-Utah) both unsuccessfully fought for RAWA.
The measure would have overturned a 2011 opinion issued by the Department of Justice that concluded that "interstate transmissions of wire communications that do not relate to a 'sporting event or contest' fall outside the reach of the Wire Act."
The distinction essentially allowed states to legalize and regulate gambling websites.
Despite being the chief legal advisor to the most gambling-friendly state in America, Laxalt separated from the DOJ. The Nevada AG said the 2011 opinion "went far beyond the narrow effect that such an interpretation would ordinarily have."
The DOJ was responding to a Wire Act inquiry from the Illinois and New York lotteries, which wished to begin selling tickets online.
Laxalt vs. Sisolak
Born in Reno, Adam Laxalt graduated from Georgetown University Law Center. He's a veteran who served in the Navy during the Iraq war.
President Donald Trump has thrown his support behind Laxalt.
Adam is smart, works hard, and knows how to win," the president tweeted Tuesday. "Will fight hard to lower your taxes and fight crime!"
Laxalt was elected Nevada attorney general in 2014, and was sworn into office in January 2015. His birth father is the late US Sen. Pete Domenici (R-New Mexico), and his grandfather is 95-year-old Paul Laxalt (R-Nevada), Nevada's 22nd governor, who also later became a prominent US senator for the Silver State.
Laxalt was given his mother's surname when Domenici refused to acknowledge the AG as his son until five years ago, when he admitted to an affair with GOP staffer Michelle Laxalt.
Steve Sisolak has served on the Clark County Commission since January 2009. Originally from Wisconsin, he obtained his MBA at UNLV in 1978 and has been a resident ever since.
The Democrat was front and center in the wake of the October 1 shooting last fall that left 58 victims dead. Sisolak launched the GoFundMe campaign the morning after the massacre, and more than $11.8 million in donations poured in. Considerable controversy has surrounded the length of time it took to begin distributions of the funds, as well as how determinations were made about who would receive what.
Sisolak has been endorsed by former Nevada US Sen. Harry Reid (D).