Nevada Senator Harry Reid Bids Farewell to Washington, DC
Posted on: December 9, 2016, 05:00h.
Last updated on: December 9, 2016, 02:04h.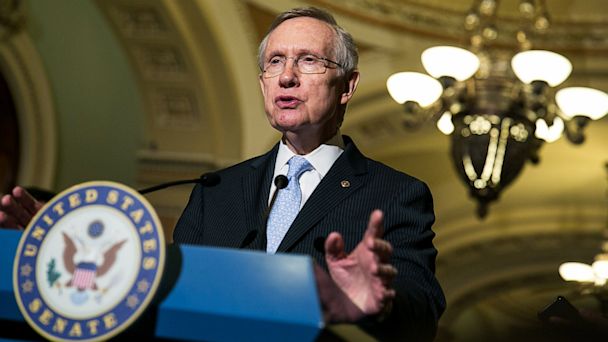 Longtime Nevada Senator Harry Reid (D) was celebrated this week in Washington, DC, by many of his colleagues, as the politician looked back on 34 years serving in the Congress.
From Vice President Joe Biden to 2016 Democratic presidential candidate Hillary Clinton, lawmakers came out to bid adieu to the Silver State Senator who first went to Washington in 1983. He became a Senator in 1987.
A former chairman of the Nevada Gaming Commission, Reid worked hard on Capitol Hill to support and protect gaming interests in Las Vegas and throughout his state.
Jack Gordon, an alleged mob associate, tried to bribe Reid in 1978 while he was still Gaming Commission chairman. Reid tipped off the FBI, and Gordon was later found guilty and sentenced to six months in prison. Two years later, a bomb was found strapped to Reid's car, and while no arrest was ever made, Reid suspected Gordon's associates put the device on the vehicle.
Reid accomplished much in the Senate, always looking out for Nevada. Since 2000, Reid has secured over $100 million in federal money to fund renewable energy programs in the state. His last most notable piece of legislation was the Affordable Care Act (ACA), aka Obamacare.   
"I did not make it in life because of my athletic prowess," Reid said yesterday. "I didn't make it because of my good looks. I didn't make it because I'm a genius. I made it because I worked hard, and I tell everyone whatever you want to try to do, make sure you're going to work as hard as you can."
Reid "Hopeful" on Trump
President-elect Donald Trump and Reid both know the inner workings of the casino industry, but that's about as much in common as the two have. Reid has been outspoken in his dislike of Trump, but told NPR this week, "I've learned to accept the Trump election."
Trump promised his supporters that he would repeal Obamacare if he were elected. However, the future 45th president has seemed to ease that stance in favor of modifying parts of the ACA.
Reid, who has received many millions in campaign contributions from casino companies throughout his career, is willing to give Trump a chance before making his final verdict.
"It's not as if Donald Trump and I have been enemies our whole lives. He's done fundraisers for me. When I was elected last time he sent me a letter saying, 'you're awesome,' a handwritten note," Reid explained.
"I'm hopeful. Hopeful that he will lessen his rhetoric and work toward a safer, more productive America," Reid concluded. Much kinder words from when Reid called Trump a "human leech" in September.
Good Riddance
Not everyone in Congress is sad to see Reid go. In fact, most on the right are gladly accepting his Capitol Hill withdrawal.
But in Nevada, the gaming industry is looking for its next prominent voice in DC. Former Nevada Attorney General Catherine Cortez Masto (D), who Reid endorsed, will become his successor after defeating challenger US Rep. Joe Heck (R-Nevada).
Cortez also previously headed the Las Vegas Convention and Visitors Authority, and is expected to back Vegas initiatives in Congress. However, a junior Senator will certainly not have the clout that Reid did.