Nevada Black Book: How Gambling's Most Infamous Registry Grew in 2015
Posted on: December 31, 2015, 01:00h.
Last updated on: December 16, 2015, 02:38h.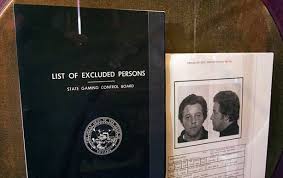 The Nevada Black Book is quite different than the so-called "little black book" womanizers might call upon.
In fact, Nevada's version is a registry of the most infamous swindlers to ever step foot in Las Vegas.
Formally known as the Nevada Gaming Control Board (GCB) Excluded Person List, the Black Book was created in 1973 with two originating members, Hawaiian crime syndicate racketeers Alvin George Kaohu and Wilford Kalaauala Pulawa.
Over the last 42 years, just 32 additional criminals have been added to the Black Book, which is why there's an old adage in Nevada that winning an Oscar is easier than landing on the GCB's index of forbidden actors.
From 2008 to 2014, only four names were added to the list, but in 2015 two individuals became the newest members of the Nevada Black Book.
The Run (to Jail)
2015 inductee Anargyros Karabourniotis, or Archie Karas as he's more commonly known, is unquestionably the Black Book's most villainous recruit over the last decade.
Famous for "The Run," his early 90s winning streak where he allegedly turned $50 into $40 million, Karas has long been the subject of legal investigations. Authorities have been closely monitoring his movements for years, primarily keeping close tabs on his questionable play at blackjack tables.
In 2013, he was arrested and later found guilty for cheating at the Barona Casino near San Diego for using tiny amounts of black dye to mark high-value cards.
Karas spent 73 days in jail before making bail, the first time the longtime suspected charlatan had ever spent the night behind bars.
Karas had been arrested four previous times in Las Vegas for cheating at blackjack, prompting the GCB to vote unanimously in September to impose a lifetime ban on the 64-year-old.
"The Nevada Gaming Control Board has investigated Karas on multiple occasions resulting in four arrests," GCB Chief of Enforcement Karl Bennison said in 2013. "Karas has been a threat to the gaming industry in many jurisdictions."
Tasia Musa
While Karas hogged headlines and went about business in what seemed to be straight out of a Hollywood movie, South African-born Tasia Musa went about his fraudulent ways in a much more covert style.
Musa's operations were so under the radar that the media still doesn't know specifically what violations the now-34-year-old committed.
The GCB voted unanimously in late January to include Musa to the Black Book after commissioners were informed he had numerous convictions for gambling-related crimes.
Burn the Book?
Most honest gamblers likely approve of barring repeated casino offenders from the tables, but one notable person in opposition is none other than former Las Vegas Mayor Oscar Goodman.
Goodman, who oversaw Sin City from 1999 to 2011, told the Las Vegas Sun of the Black Book, "A statute was enacted that allowed authorities to enter people's names on this list, and that means these people are excluded from entering any part of a casino complex… They can't go to a boxing match, they can't use a restroom facility at these hotel-casinos … It's totally unconstitutional."
There is currently no legal recourse for Black Book members to free their identity from the pages.
The only way to erase ones name is to die.