Net Income at Major Las Vegas Strip Casinos Soars 191 Percent in Latest Fiscal Year
Posted on: January 15, 2018, 07:00h.
Last updated on: January 15, 2018, 04:39h.
Las Vegas Strip casinos that grossed at least $1 million in annual gaming revenue are coming off a very prosperous 12-month run. That's according to the 2017 Nevada Gaming Abstract, released late last week, which shows that net incomes surged 191.4 percent between July 1, 2016, and June 30, 2017 for these gaming venues.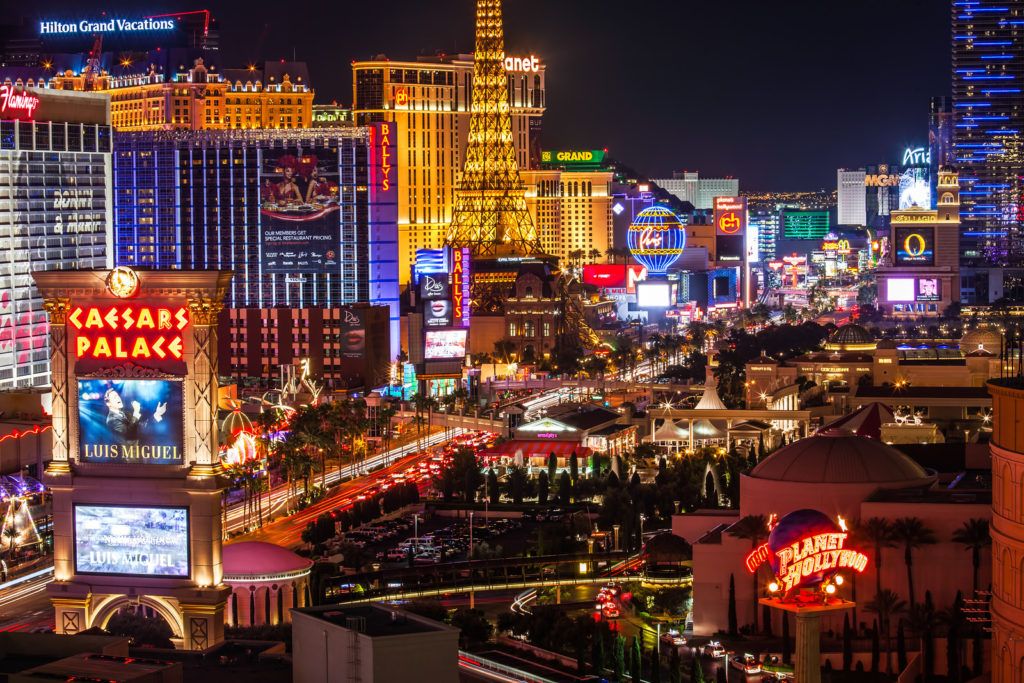 According to the Nevada Gaming Control Board, Clark County was home to 161 casinos (presumably this figure includes taverns with gaming licenses) that reported gross gaming win of $1 million or more. Net income for Strip casinos totaled $813.8 million, with non-Strip county casinos responsible for $512.8 million.
In addition to reviewing balance sheets and income statements, the Gaming Abstract examines "data concerning average rate of room occupancy, revenue earned per room per day, gaming revenue earned per square foot of gaming floor space, and various ratios." The study is published each year in mid-January.
Total resort revenue on the Strip came in at $17.76 billion, a 3.9 percent premium on the 2016 fiscal year. Gross gaming revenue on the Strip climbed 3.1 percent to $6 billion.
Statewide, 272 casino floors grossed $1 million or more. The gaming industry collectively won $11.1 billion, and paid Nevada more than $852.2 million in taxes and fees.
Of these casinos, 62 grossed $12 million or more and accounted for 72.5 percent of the industry.
Despite operators continuing to look for ways to bring in younger demographics, slot machines, which have not proven popular with millennials, remain king in Las Vegas. While skill-based gaming concepts and e-sport lounges continue to land square footage inside certain properties, the all-mighty slot machine remains a force to be reckoned with. That presumably won't change anytime soon, as the terminals are responsible for more than 63 cents of every buck a casino wins.
Clark County Gaming Revenue Breakdown
Slots 63.4 percent
Table games 32.6 percent
Sportsbooks 2.1 percent
Poker 0.5 percent
2017 by the Numbers
In addition to Clark County gaming taking in more money this fiscal year, rooms, food and beverage, and "other" all posted gains on 2016.
Clark County casinos sold $5.76 billion worth of room nights. And those rooms were occupied 88.15 percent of the time, with the average nightly rate hovering around $155. In 2016, Clark County hotels were occupied at 87.46 percent, and at a $138.48 rate.
The next largest revenue source was food, with receipts at Clark County casino restaurants totaling $3.5 billion. Beverage sales came in at $1.6 billion, and "other," possibly including gift shops, accounted for $3 billion.
Shooting Impact
Gaming and hospitality experts don't believe the October 1 shooting that killed 58 people will deter tourism long-term. However, cancellations in the leisure segment did escalate in the days and weeks following the horrific event.
Asian arrivals also dropped, with Caesars CEO Mark Frissora attributing what's considered a longer period of appropriate mourning in countries like China for the decline.
Gaming revenue at Strip casinos subsequently dropped in October (-6.05 percent) and again in November (-6.06 percent).