Mike Huckabee, Fierce Anti-Gambling Proponent, Back in GOP Ring for 2016
Posted on: May 5, 2015, 01:59h.
Last updated on: May 5, 2015, 02:07h.
Mike Huckabee is no stranger to the world of presidential politics, having previously run for the Republican nomination in 2008. Now, the former Arkansas governor is going to take a second run at the GOP nomination for president of the United States.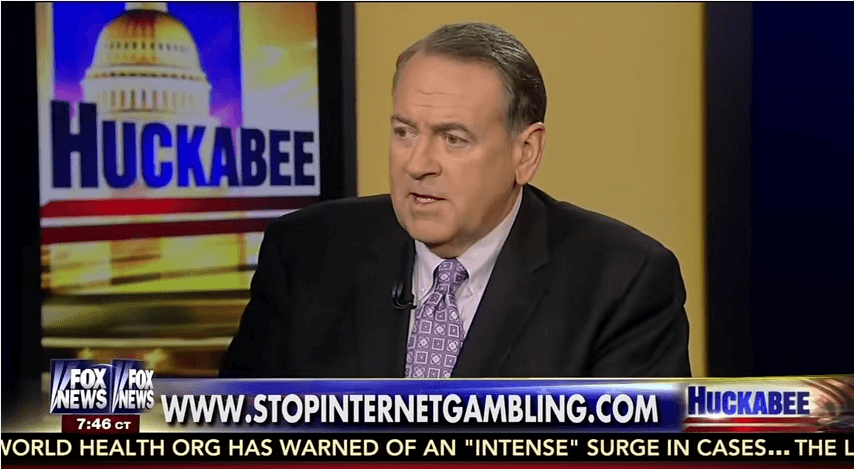 Huckabee officially announced his candidacy on Tuesday, once again positioning himself as a small town, blue-collar candidate that can offer both populist appeal and, as a Southern Baptist minister, connect with the evangelical community. Huckabee made the announcement in his hometown of Hope, Arkansas.
"I truly am from Hope to higher ground," Huckabee told an enthusiastic crowd. "So it seems perfectly fitting that it would be here that I announce that I am a candidate for president of the United States of America."
Ran Strong Campaign in 2008
In 2008, Huckabee rose to the top tier of Republican candidates after winning the Iowa caucuses. Huckabee would ultimately fall far short of the nomination, as John McCain pulled away from him and Mitt Romney to secure the GOP presidential bid; however, Huckabee did win eight primaries and caucuses, including contests in Georgia, Louisiana, and Tennessee.
Huckabee was able to gain support not only because of his evangelical roots, but because he was successfully able to position himself as an appealing everyman who could connect with voters, particularly conservatives who tend to vote in GOP primaries.
He'll be trying to do the same in the 2016 campaign, though there will be special challenges this time around.
First, there's the fact that there are many more serious candidates for the Republican nomination in 2016, which will make the task of building a winning coalition tougher for every candidate. Already, Senator Ted Cruz (R-Texas), Senator Rand Paul (R-Kentucky), Senator Marco Rubio (R-Florida), Dr. Ben Carson, and businesswoman Carly Fiorina have announced their candidacies, while Wisconsin Governor Scott Walker, Louisiana Governor Bobby Jindal, and former Texas Governor Rick Perry are all potentially running as well.
But Huckabee may also have trouble positioning himself as the "candidate of the people" after spending years hosting a self-named television show, Huckabee, on Fox News. On the other hand, that also raised his profile, as the program drew about 1.3 million viewers each week, and the conservative news network certainly holds the interest of his target demographic.
Hosted Anti-Online Gambling Segment on TV
When it comes to his stance on Internet gambling, Huckabee's television program may provide the most insight. On the November 22 episode of his show, Huckabee had former Senator Blanche Lincoln (D-Arkansas) on to talk about the issue.
While she may not seem like a likely ally of online gambling antagonist Sheldon Adelson, Lincoln is a member of his Coalition to Stop Internet Gambling (CSIG).
During the episode, Huckabee and Lincoln talked about the potential for an online gambling ban, with Huckabee coming out strongly in support of measures such as the Restoration of America's Wire Act, which would effectively ban states from regulating Internet gambling.
"Online gambling websites are preying on every kid with a smartphone or a tablet," Huckabee said. "This is frankly one of the most important topics that I don't hear anybody talking about."
Huckabee went even further, suggesting that this was an issue that there shouldn't be any debate over.
"Frankly, this is one of those few things that I think, anyone who doesn't support this in the Congress, they should be thrown out," he said.