Michael Phelps Returns to Old Form, and Vegas Isn't Betting Against Him
Posted on: August 9, 2016, 03:38h.
Last updated on: August 9, 2016, 03:39h.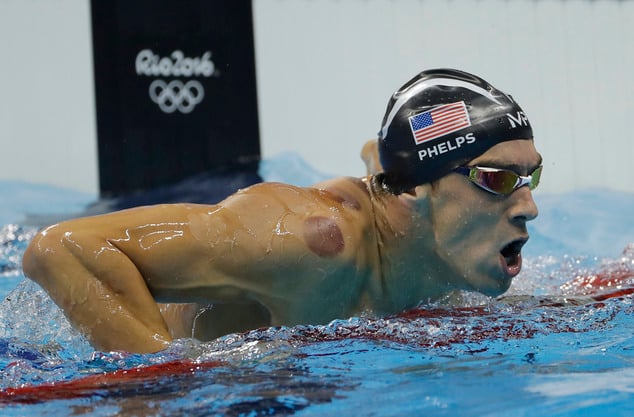 The most decorated Olympian in the history of the games, Phelps now owns 19 gold medals, two silver, and two bronze.
On Sunday night, Phelps won the 4×100 freestyle relay with Nathan Adrian, Ryan Held, and Caeleb Dressel.
Nevada sportsbooks are offering sports gamblers a chance at their own gold this year during the Olympics. For the first time since 2000, Olympic lines are back at the books.
When it comes to Phelps, the oddsmakers are playing it safe. Phelps is the favorite in every event he's entered at Bovada.
After initially retiring following the 2012 London Olympics, Phelps found a resurgence of motivation to get back in shape and make the trip to Rio.
"It was hard because I didn't know if the passion or the fire was still inside of me," Phelps told Anderson Cooper before the games. "I kind of feel like my old self again. I'm swimming times like I used to. I'm swimming races like I used to. So everything is coming back to me."
Vegas Believes
Michael Phelps will race tonight in the 200m butterfly finals. The finale will feature South African Chad le Clos, a 24-year-old who has an uncanny ability to get under Phelps' skin.
During the heats, video of Phelps and le Clos awaiting their races went viral. Phelps was seen giving an intense stare toward le Close as the South African loosened up with a boxing routine right in front of the Olympic great.
Phelps is listed at +105 for the event, while le Clos is predicted to finish fourth with odds at +450.
The drama will likely be off the charts as Phelps seeks to quiet the outspoken le Clos.
Here's where Phelps stands in his other events:
EventOdds:
4×200 Freestyle (Team)-700
200m Individual Medley -135
100m Butterfly-140
4×100 Medley (Team)-350
Example wager: In the 200m individual medley, to win $100 you will need to bet $135.
Phelps Rebranding
Though no human has been more successful at the Olympics, Phelps' personal reputation has come with its challenges.
Now over a decade ago, Phelps was first arrested for driving under the influence of alcohol in 2004. Five years later, a photograph surfaced showing Phelps smoking marijuana out of a bong.
In 2014, he was once again arrested for DUI.
His 2016 comeback is seen by some as an attempt to repair his image and entice sponsors to fund his future retirement. Now 31-years-old, Phelps pulled in upwards of $10 million a year during his prime according to estimates by the Wall Street Journal.
The marijuana incident was the most costly to Phelps. Mazda and Kellogg's immediately severed ties with the Olympian, and Procter & Gamble, Visa, and Subway opted not to renew their contracts.
The vast majority of Americans follow swimming only once every four years. Phelps' performances in the coming days has much more riding on the line than simply adding medals to his storied resume.
Most Read