Michael Phelps Finishes Olympic Career With 23rd Gold Medal
Posted on: August 15, 2016, 03:27h.
Last updated on: August 15, 2016, 03:28h.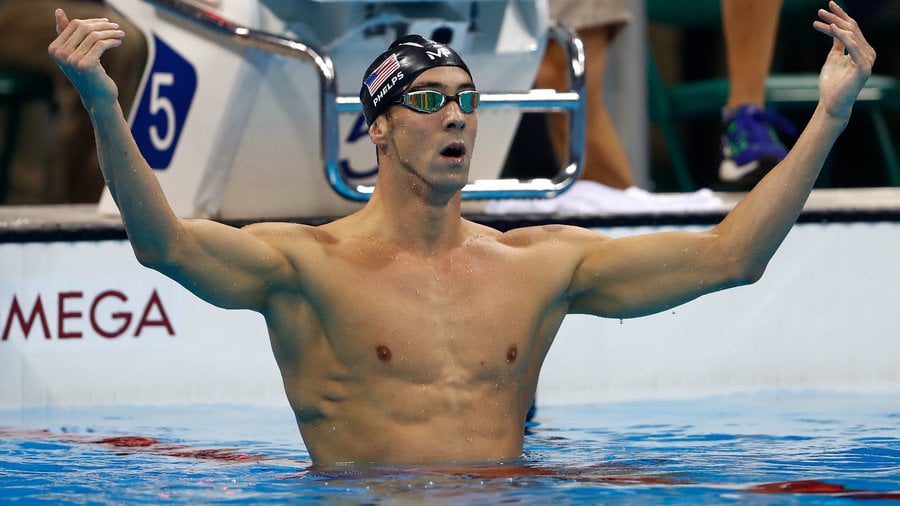 Michael Phelps has swum his last Olympic race. That is if you believe the legendary athlete.
Sixteen years since his first Olympiad and 28 medals later, Phelps says the 4x100m medley relay was the final leg in his storied career.
The most decorated Olympian in history, Phelps has been adamant in post-race interviews that he's finished. He said the same thing following the 2012 London Olympics, but the 31-year-old says this time is different.
"Done, done, done, and this time I mean it," Phelps told Matt Lauer. "I wanted to come back and finish my career how I wanted and this was the cherry on top of the cake."
With 23 gold medals, Phelps has 14 more than any other Olympian. His 28 total medals are 10 more than Larisa Latynina's 18, the second most ornamented Olympic athlete.
History in the Books
Nevada and Las Vegas got in on the game for the Olympics in 2016. For the first time since 2000, sportsbooks offered lines on a variety of Olympic disciplines thanks to the Nevada Gaming Control Board amending regulations in 2015.
For the oddsmakers, that meant learning a host of unfamiliar sports. But when it came to Phelps and the pool, the decisions were pretty straightforward.
If you wanted to win any substantial money without placing a substantial bet, you would need to go against Phelps.
Phelps won five of the six events he entered. He placed first in the 200m butterfly, 200m medley, 4x100m freestyle, 4x200m freestyle, and 4x100m medley.
He was understandably a heavy favorite at the books in the Silver State. For example, the 4×200 freestyle team event was requiring bettors to wager as much as $700 on the US for a return of just $100.
The lone event he didn't win, the 100m individual butterfly, had Phelps listed at -140 before the sprint.
Those who bet on Singapore's Joseph Schooling to win gold were handsomely rewarded. A $100 bet on a Schooling upset of Phelps returned about $1,000 at most Nevada sportsbooks.
Lochte Robbed
Another American swimmer didn't have quite the same success in Brazil as Phelps. Ryan Lochte, a 12-time Olympic medalist in his own right, had a somewhat disappointing 2016 Summer Games.
He participated in only two events, and while he was part of Phelps' 4x200m freestyle gold relay team, he failed to medal in the individual 200m medley.
Things only got worse following the conclusion of the swimming competition. Over the weekend, Lochte and several teammates were robbed at gunpoint by thugs in Rio de Janeiro.
"We got pulled over in our taxi and these guys came out with a badge, a police badge. No lights, no nothing, just a police badge. They pulled us over, they pulled out their guns," Lochte told NBC.
"And then the guy pulled out his gun, he cocked it, put it to my forehead and he said, 'Get down,' and I put my hands up . . . He took our money, he took my wallet."
Rio has been riddled with controversy in its preparation and hosting of the 2016 Olympics. With six days to go until closing ceremonies, Lochte's run-in with street criminals will have everyone on an even higher alert.
Most Read