MGM Beats Q3 Earnings Despite Cyberattack, Unveils New $2B Buyback Plan
Posted on: November 8, 2023, 05:37h.
Last updated on: November 8, 2023, 05:37h.
Shares of MGM Resorts International (NYSE: MGM) rose slightly during Wednesday after-hours trading session after the largest operator on the Las Vegas Strip delivered estimate-beating third-quarter results despite the adverse effects of a September ransomware attack.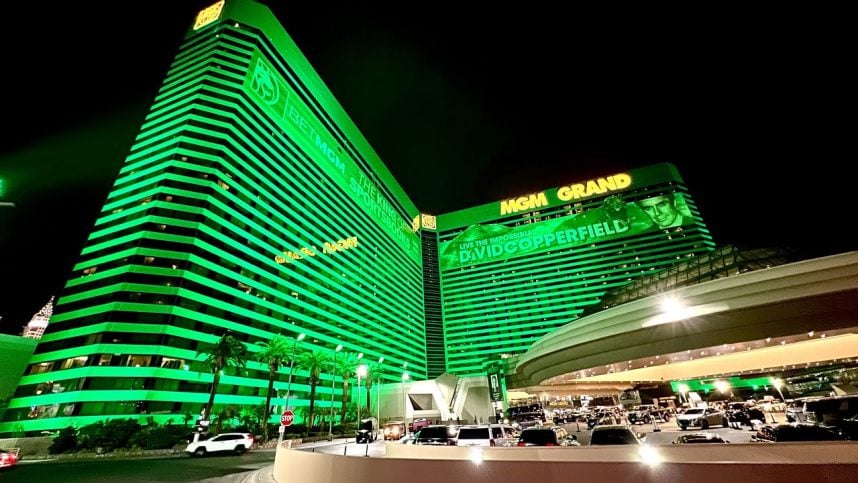 The Cosmopolitan operator said it earned 64 cents a share on revenue of $3.97 billion during the July through September period. Analysts expected earnings of 49 cents on sales of $3.89 billion. Last month, the gaming company told investors its third-quarter earnings before interest, taxes, depreciation, amortization, and restructuring or rent costs (EBITDAR) would be pared by $100 million and that it incurred one-time costs of at least $10 million due to a September cyberattack.
We started the quarter with great momentum across our businesses. While we were faced with a difficult cybersecurity issue in September, our employees rose to the occasion with incredible resilience and determination. With the incident now behind us, we are a stronger company having been through the challenge," said President and CEO Bill Hornbuckle in a statement.
During the September quarter, MGM posted net revenue on the Las Vegas Strip of $2.1 billion, down from $2.3 billion a year earlier. The company noted that decline was primarily attributable to cyber event and the sale of the Mirage, which was completed nearly a year ago.
Net revenue at MGM's domestic regional casinos declined to $925 million from $974 million a year earlier with the operator citing the ransomware attack and sale of Gold Strike Tunica in February as reasons for that drop.
MGM Back to Buyback Table
Over the past several years, MGM has been a steady buyer of its own shares, signaling to analysts and investors it sees value in its own stock. It still does. Not only did the Bellagio operator repurchase $572 million worth of its own stock during the third quarter, it announced a new $2 billion buyback plan today.
The buyback announcement arrived just nine months after MGM's board authorized a repurchase program of the same amount, indicating the gaming company is making good on its buyback pledges — something it's not legally bound to do.
"We continue to view share repurchases as an attractive opportunity to return value to our shareholders," said CFO Jonathan Halkyard, in the statement. "Year-to-date, we have repurchased approximately $1.7 billion in stock. Our buyback program totals $6.2 billion since the beginning of 2021, reducing our share count by over 30%."
Since suspending its dividend during the early stages of the COVID-19 pandemic, MGM has opted for buybacks as its primary form of shareholder rewards. Share repurchases are more tax-efficient for investors and serve the aim of increasing earnings per share (EPS).
MGM Odds and Ends
With the Las Vegas Grand Prix less than two weeks away and rumors intensifying that Strip operators are slashing room rates and that Formula One is doing the same with ticket prices, MGM sounded an optimistic tone on F1's much ballyhooed return to Sin City.
Hornbuckle said the operator sold out the Bellagio Fountain Club for the event and sold another 10,000 tickets on top of that, noting that race weekend is expected to be a record event for MGM Strip casinos.
In other news, MGM expects a deal to avert a labor strike to be in place by the end of today and noted it could make fresh investments in the MGM Grand if the Oakland Athletics proceed with their move to Las Vegas.