MGM Resorts President Bill Hornbuckle Voices Concerns on Las Vegas Raiders Parking Scheme
Posted on: September 22, 2018, 08:00h.
Last updated on: September 21, 2018, 01:33h.
MGM Resorts is none too pleased with the parking plan proposed by the Las Vegas Stadium Authority (LVSA) for the 65,000-seat indoor football venue being built near the Strip.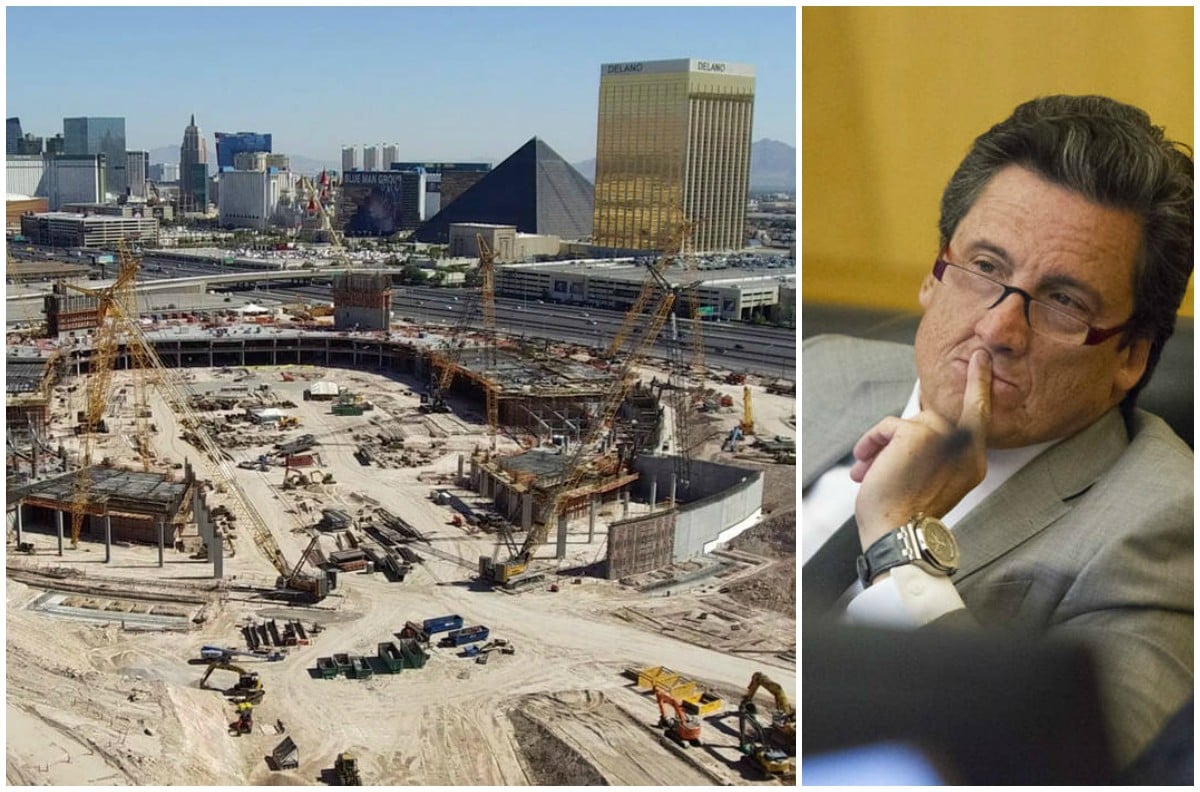 On Thursday, LVSA board member and MGM President Bill Hornbuckle said the four planned parking lots, all of which will be at least a mile away from the stadium, will lead to fans crowding the casino company's nearby resort garages. Fans who do park in the designated stadium lots will be shuttled to the field.
Despite that what would be perceived as an opportunity, I still remain concerned," Hornbuckle explained during the LVSA meeting. "We're petrified that we're going to be choked out. Our company remains extremely concerned."
Hornbuckle, one of eight voting LVSB members, said his main fear is that MGM's garages become filled with visitors who walk to the stadium, and not into their resort casinos.
Location, Location, Location
The $1.8 billion future home of the NFL's Raiders and UNLV Rebels football teams is under construction just west of I-15 between Hacienda Avenue and Russell Road. The stadium is within a mile of several MGM Resorts properties including Mandalay Bay, Luxor, Excalibur, New York-New York, MGM Grand, and the ironically renamed Monte Carlo, Park MGM.
While Las Vegas casinos' decision to begin charging for parking in recent years has caused much controversy, in MGM's position near the stadium, it perhaps makes business sense. "This community knows all too well that we charge for parking so the essence of MGM not benefiting from this is not lost on us," Hornbuckle added.
MGM jacked up its rates in January, with daily self-parking now running $15 for four to 24 hours at "luxury" properties that includes Mandalay Bay, Park, MGM Grand, and New York-New York. Luxor and Excalibur, defined as "core properties," charge $10 for the same times.
MGM officials haven't said whether higher gameday pricing will be implemented once the stadium is in operation.
Stadium Progress
The LVSA was updated on the stadium's construction during the Thursday meeting. Don Webb, the chief operating officer of LV Stadium Company, the entity formed through the passage of Nevada Senate Bill 1 and signed into law by Governor Brian Sandoval (R), said the development remains on schedule.
Both the Raiders and Rebels are expected to begin play in the new stadium in 2020. The NFL franchise is contracted with Oakland-Alameda County Coliseum through this season.
Raiders owner Mark Davis is expected to sign a one-year extension with Oakland to keep the team there until the Las Vegas stadium is ready. But local officials there, who remain upset he's taking the NFL franchise to Nevada, might consider greatly increasing the rent.
The speculation has prompted murmurs regarding the Raiders potentially playing one season in a temporary home. San Antonio has voiced its candidacy, and has offered up its 64,000-seat Alamodome, which annually hosts college football's Alamo Bowl.
Similar Guides On This Topic