MGM Resorts Pays $225,000 Settlement to Come Back to New Jersey
Posted on: August 25, 2014, 06:59h.
Last updated on: August 22, 2014, 02:24h.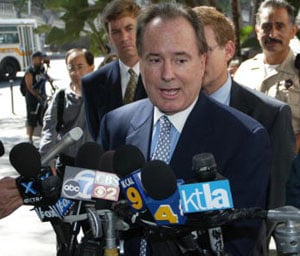 MGM Resorts International is eager to regain a New Jersey gaming license for the first time since 2010, when it attempted to sell its stake in the Borgata and ceased operations in the state.
It has been announced this week that the company will pay a $225,000 settlement to New Jersey regulators to resolve a decade-old issue relating to the shady dealings of one of its board members.
As well as serving on the MGM board for nine years, attorney Terry Christensen was a 40-year legal adviser and personal confidant to billionaire casino mogul Kirk Kerkorian, the company's major shareholder.
Christensen had been president of Tracinda, a private investment company set up by  Kerkorian, in 1987, and he had also helped set up MGM Grand Air and MGM Grand Corp.
However, in 2006 he was indicted and charged, with celebrity private investigator Anthony Pellicano, with bugging the phone of Lisa Bonder, Kerkorian's ex-wife. Christensen received a three-year prison term while Pellicano got 15 years.
However, the beef with the New Jersey Division of Gaming Enforcement (DGE) appears to be that MGM continued to consult Christensen on a number of matters after his resignation from the company's board and subsequent criminal conviction.
Under New Jersey Gaming law no one with a criminal conviction may be involved in the running of a casino
Christensen Affair
An eight-page letter from DGE director David Rebuck to MGM Resort's Atlantic City attorney was recently posted on the DGE website.
It states: "MGM and Tracinda have agreed to pay in recognition of the seriousness of the failures to address Christensen's ongoing and continued involvement in their affairs following first his indictment and then his conviction… Christensen continued to be involved with MGM and Tracinda and matters related to them from the time of his indictment, following his conviction and through the fall of 2009."
Rebuck also states that Christensen held an office at Tracinda until 2009, from where he continued to be consulted by MGM on various board issues, such as a potential strategic partnership with Malaysian casino developer Genting Berhad.
Under New Jersey Gaming law no one with a criminal conviction may be involved in the running of a casino, which is why New Jersey gaming regulators have in the past also been anxious about MGM Resorts' relationship with Macau partner Pansy Ho, because of her family's alleged Triad connections.
MGM Wants Back In
In seems that much of the DGE's investigation into the Christensen affair was conducted years ago, but it was put on hold in 2010 when the company left New Jersey.
MGM resorts put its 50 percent of the Borgata into trust while it attempted to sell its stake, although a sale was never forthcoming, and the resort is currently operated by joint partners Boyd Gaming.
However, MGM Resorts also owns land opposite the Borgata, where it once planned to develop a resort, and is now apparently desperate to be back in New Jersey.
It's believed that a New Jersey Casino Control Commission will convene next month to discuss the reinstatement of MGM Resorts' New Jersey gaming license.
MGM Resorts Senior Vice President Alan Feldman said the settlement "part of the process of cleaning up some old items prior to the licensing hearing next month."
According to Rebuck, MGM Resorts will pay $150,000, while Tracinda will pay $75,000 of the settlement.