MGM Grand Launches Skill-gaming Indoor Golf Concept Golfstream
Posted on: March 20, 2017, 01:00h.
Last updated on: March 20, 2017, 10:42h.
MGM Grand is has unveiled its new skill-gaming indoor golf suite, Golfstream, which opened at the casino's millennial-friendly Level Up skill-gaming entertainment lounge over the weekend.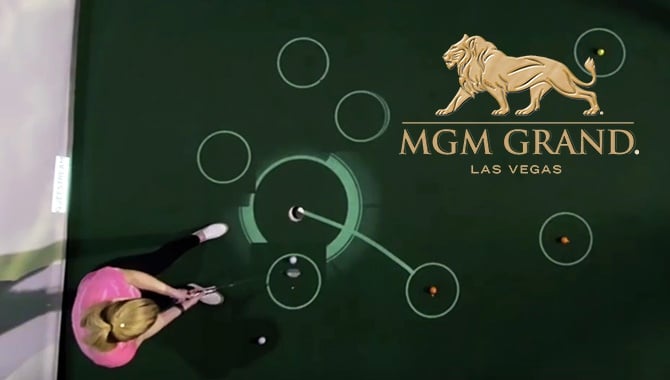 MGM is touting the suite as a "first-of-its-kind golf experience [that] uses augmented reality and laser guidance … in a new approach to skill-based contests," allowing users to play at real-world virtual golf courses while supping a cocktail or two.
Golfstream's putting surface can be altered automatically to change the reads of putts, while lasers can help show the line, or create exotic putting propositions.
Meanwhile, longest-drive and closest-to-the-pin competitions involve hitting the ball into the screen, which will then calculate direction and distance.
The suite even comes with a caddie to help operate the games and ensure there's a steady supply of food and drink to your table.
Millennial Heaven
Of course, if you ask any golfer about the joys of betting on the outcome of a game, you'll soon see why virtual golf is the next logical phase in skill-based gambling.
Casinos in New Jersey and Nevada began rolling out skill-based gaming terminals late last year; video game-slot hybrids designed to attract the millennial generation, which is largely unmoved by the prospect of endless rows of slot machines. Level Up, which opened in December, however, takes it to the next level, if you'll excuse the pun.     
The 12,000-square-foot Level Up space between the Hakkasan Nightclub is a true millennial playground, a palace of esports and skill-gaming, which MGM hopes strikes the perfect balance between arcade gaming and gambling.
It includes, for example, the world's first Frogger machine that can be played for money. Even traditional gambling games, like blackjack and roulette, are set up differently, with a dynamic that's geared towards socializing, as well as lower minimum bets to make them millennial-friendly.
And then there are activities than aren't remotely connected to gambling at all, such as foosball and ping pong, QuadAir Hockey, Bubble Hockey, Sigma Derby, Giant Pac-Man and Connect Four. There's even an arm wrestling table.
New Breed of Gambler
While visitors flock to Vegas in greater number than ever before, fewer than ever are gambling; instead, they come for the restaurants, the shows and the nightlife.
According to the Association of Gaming Equipment Manufacturers, the amount wagered on slots machines has fallen from a 2007 high of $355 billion to $291 billion in 2014.
Level Up seeks to provide the missing link between gambling and other forms of entertainment and, in doing so, perhaps provides us a glimpse of the casinos of the future.   
Similar Guides On This Topic