MGM National Harbor Asks Non-Reservation Guests to Stay Away
Posted on: December 12, 2016, 10:00h.
Last updated on: December 12, 2016, 12:30h.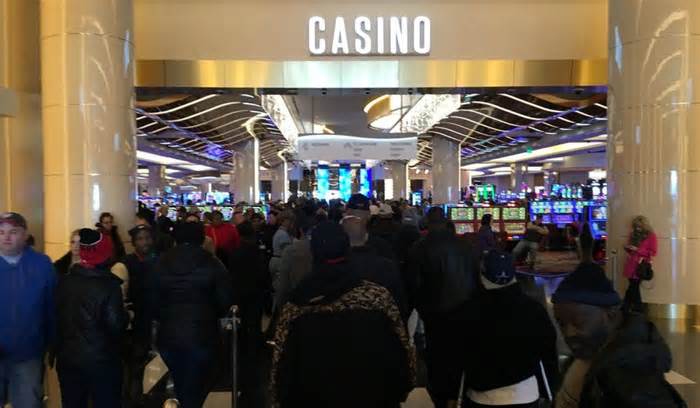 MGM National Harbor had no problem attracting plenty of guests during its opening weekend. The $1.4 billion resort some 10 miles southeast of Washington, DC, was filled to capacity, forcing MGM to ask non-reservation guests to steer clear of the venue.
The resort opened on Thursday night at 10:30 pm, and troves of gamblers and curious wanderers have been flocking through the doors ever since. By 11 am on Friday, just 12 hours into National Harbor's existence, an estimated 50,000 people had entered the building.
That afternoon, MGM released a statement asking those without reservations to avoid the area.
"Due to an overwhelming response after our successful Thursday grand opening, the MGM National Harbor casino floor again reached capacity during the day on Friday.  Guests with hotel and dinner reservations are encouraged to arrive early. . . Others without reservations for tonight or this weekend are encouraged to consider making plans to visit the new resort another time," MGM said via social media.
The property's 308 rooms, which range in nightly price from $399 and $599, were also all booked. MGM National Harbor is the sixth and final land-based casino authorized in Maryland.
Opening Gambling Gambit
Only time will tell if the MGM National Harbor hoopla is in response to demand or simply the "wow factor" of DC's newest landmark. Some gaming industry observers believe the Northeast is quickly becoming oversaturated with casinos.
Maryland officials are apparently also concerned, as the state's gaming office reduced taxes for Maryland Live! and Horseshoe Baltimore, two casinos that are expected to be impacted by National Harbor.
Maryland Live!, the state's top casino earner before MGM's entry, saw its slots revenue taxation rate drop from 59 percent to 51 percent. Horseshoe Baltimore went from 61 percent to 54 percent.
The varying tax rate system on gaming properties is largely unique to Maryland. The state determines tax levels based on the casino's location and adjourning population.
In Pennsylvania, Maryland's northern neighbor, casinos are in a legal battle with local counties over a nonconforming tax law that requires them to all share at least $10 million in slot revenue to their host municipalities.
Reason to Celebrate
Maryland casino operators have already generated over $2.1 billion for the state's Education Trust Fund, a trust that supports pre-K through 12 public education programs and initiatives. With National Harbor off to the races, there will be plenty more gaming income coming Maryland's way.
Few were more excited for the National Harbor opening than Prince George County liquor board Chairman Charles Caldwell. Just hours after MGM commenced play, Caldwell was arrested for driving under the influence, reckless driving, and other traffic citations.
Caldwell reportedly struck two vehicles while trying to leave National Harbor. Onlookers videotaped the booze boss going through the DUI protocol tests and being arrested.
A small fight also broke out inside the casino over the weekend, but MGM officials said it was quickly subdued. Traffic around the property was also hectic as expected, but by and large, National Harbor's debut was a riveting success for MGM.