Mexico Casinos Coming to Hotels and Resorts 
Posted on: February 21, 2015, 01:10h.
Last updated on: February 22, 2015, 08:44h.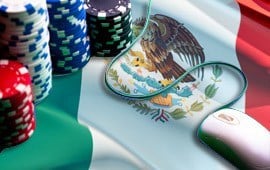 Mexico casinos will soon make popular tourist destinations in Acapulco, Baja California, and the Riviera Maya even more exciting.
The news is likely an effort on the country's part to appeal to international travelers who wish to partake in gambling, but remain skeptical of venturing to the urban, downtown areas where casinos are currently located.
There are 297 gambling venues spread across Mexico according to the Interior Ministry, but with the resort expansion that number could grow to upwards of 775 sites.
The US State Department has warned travelers over the last few years on the risks of visiting Mexico, specifically pointing to the dangers of gambling. "Of particular safety concern are casinos, sports books, or other gambling establishments and adult entertainment establishments," the alert states. Hotels have been prohibited from offering gambling or using a third-party casino operator on their property.
Don't Mind the Drugs
Beginning in 2006, Mexico's drug war led to a sharp decline in overall tourism. An ongoing violent and deadly conflict between the cartels and federal government, even the most confident international travelers became frightened. According to various estimates, over 106,000 people have been killed related to the war.
Pair that with the 2008 economic downturn and the H1N1 swine flu the following year, it's easy to understand why tourism in Mexico hit record lows.
However, with most of the turmoil now confined to the poorer areas and Mexico City, and also the 2014 arrest of cartel ringleader "El Chapo," tourism has rapidly returned to pre-2006 levels. In fact, more than 23 million foreigners went south of the border in 2014 bringing Mexico $13.8 billion in revenues, both record levels.
With tourism once again thriving, leaders have realized an untapped economic boost could come by way of offering casinos at the coastal resorts frequented by out-of-towners.
Much Needed Overhaul
Today's gambling regulations in Mexico were enacted nearly 70 years ago, so it's clear the laws are in need of a slight refreshing. The Federal Betting and Raffles Law, which is currently in the process of being passed, will likely be amended to include the resort language. The law has already gone through the House of Representatives, and will be taken up by the Senate later this month.
The new bill will not only expand gambling to resorts, but also crack down on illegal operations across the country. The Association of Gaming Equipment Manufacturers claims 15 percent of the current electronic gaming machines operate without an approved license due to the weak federal government.
The legislation will also increase the minimum gambling age from 18 to 21, and activate undisclosed new protections against money laundering. Whether online gambling will be addressed in the bill remains unclear.
"There have been many speculations and a lot of talks, but the truth is that we can't say anything until the new laws will be voted," Mexican poker pro Christian de Leon recently said.
Specifics of the law's language is expected to change, but that won't stop the resorts from taking action to bring casinos to their properties as quickly as possible. Implementing a gambling bill will take a minimum of six months, but hotel corporations are expected to commence construction and renovations immediately to accommodate casino space.