Mayweather vs. McGregor a Likely Knockout for Las Vegas Business
Posted on: July 12, 2017, 05:00h.
Last updated on: July 12, 2017, 11:56h.
The Mayweather vs. McGregor fight on August 26 kicked off its media circus in Los Angeles this week, and it quickly became apparent that this supposed boxing fight is more of a spectacle.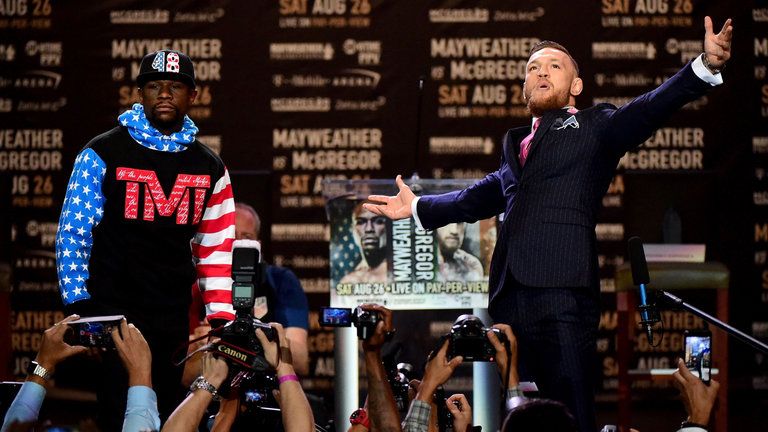 The two traded jabs and insults on stage at the Staples Center, the words "f— you" embroidered as pinstripes on McGregor's suit. Mayweather responded by telling his challenger that he looks good "for a seven-figure fighter. I look good for a nine-figure fighter."
Floyd Mayweather and Conor McGregor won't come to blows for more than a month, but the event is already generating much enthusiasm in Las Vegas. Typically a slow period at the sportsbooks, as the NFL football season hasn't yet kicked off, the event is delivering a nice bounty of wagers.
Mayweather remains the strong favorite at -750 to McGregor +525, per the Westgate SuperBook. At those lines, a $100 wager on Floyd nets the bettor just $13.33 should he win. The same bet on Conor returns $525 if the underdog comes out on top.
McGregor, however, isn't scared. He did most of the talking yesterday and said about Mayweather, "He's f—ed. His little legs, his little core, his little head. I'm going to knock him out."
The pay-per-view fight will air on Showtime for $99.95. Many experts believe true boxing fans will be disappointed. McGregor is a mixed martial arts star from the UFC who hasn't ever stepped in a boxing ring professionally.
Dan Rafael, ESPN's lead boxing reporter, explained, "If you are interested in the fight, cool. Enjoy. But manage your enthusiasm and don't expect a good bout."
Resorts Increase Rates
Las Vegas' T-Mobile Arena will host Mayweather vs. McGregor, and almost immediately after the fight was confirmed, hotels and resorts began jacking up their rates.
The day before the announcement, the average three-star hotel room between August 24-27 was going for $133 a night, according to LasVegas.com. But once Mayweather and McGregor came to terms, the same rooms skyrocketed to $233 a night, a 75 percent premium.
Over 11,000 people attended the news conference this week. Tickets for the event go on "sale" July 24, and will range from $500 to $10,000, with the average price likely between $3,000 and $5,000.
UFC President Dana White says interest is so high, even the White House made an inquiry. But the promoter said President Donald Trump won't be attending, but did say he'll be watching on PPV.
Money Needs Money
Floyd Mayweather is a master of promotion, and Conor McGregor is a quick learner. Only they could turn a man's professional boxing debut into one of the biggest fights in recent memory.
By combining boxing and UFC fan bases, the clash might break the all-time PPV mark set by Mayweather vs. Pacquiao. ESPN business analyst Darren Rovell believes the odds are likely that more than 4.4 million people will pay the $100.
That's good news for Mayweather, who owes the IRS $22.5 million in back taxes stemming from 2015. Money Mayweather is petitioning the revenue agency for reprieve until he gets paid next month.