Mandalay Bay Shooting Timeline Changes, as Stephen Paddock Past Testimony Comes to Light
Posted on: October 10, 2017, 09:20h.
Last updated on: October 10, 2017, 09:29h.
In a new twist, Clark County Sheriff Joe Lombardo revealed on Monday that the gunfire aimed towards a security guard from inside the Mandalay Bay in Las Vegas on October 1 preceded the shooting on the crowd below.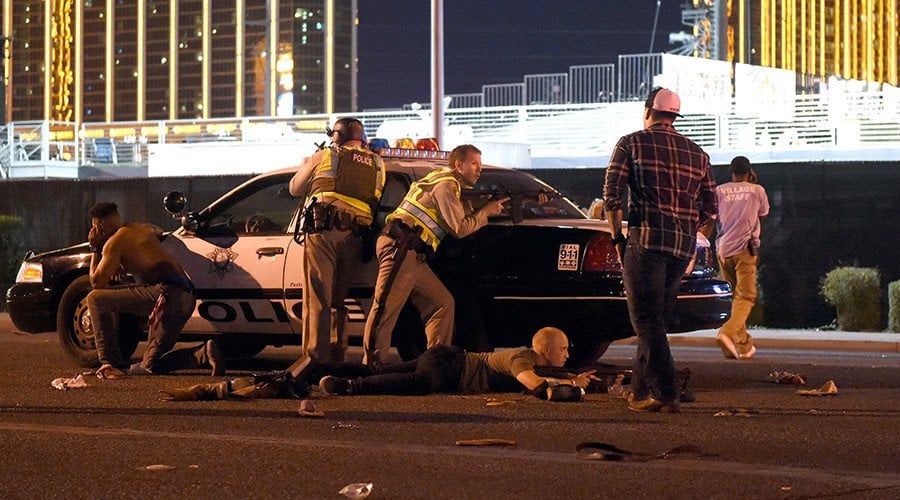 Gunman Stephen Paddock first discharged some 200 rounds at a hotel security guard who approached his room on the 32nd floor, wounding him in the leg, before he turned his weapons on the unsuspecting crowd below. The incident left 58 dead at the country music Route 91 Harvest Festival a week ago Sunday.
That differs from earlier accounts where law enforcement assumed guard Jesus Campos came to the floor after hearing gunfire erupt. Campos actually went to inspect an open door alarm at a nearby room. When Paddock saw him through his security cameras, which he installed to monitor the hallway outside his room, he began firing through the door at Campos.
Lombardo said this week that Campos radioed for police assistance after being shot in the leg, which allowed officers to quickly pinpoint where the gunfire was coming from inside Mandalay Bay.
Campos is being hailed as a hero. But the updated timeline brings new questions into play, specifically as to why there were momentary pauses during Paddock's firing, as well as why it stopped at 10:15 pm local time, despite police not breaching the suite until 11:20 pm. Lombardo said police were on the floor within 12 minutes of the first shots being fired at the concert, but didn't enter the room until much later.
Reviewing Previous Testimony
The sheriff says they still don't have a motive, and the investigation is frustrating due to Paddock's mission to disguise his actions and do his best to keep detectives in the dark as to what spurred his Las Vegas shooting spree. With the killer dead by self-inflicted gunshot wounds that same night, authorities must now rely on the next best thing to talking to the Mesquite killer directly: previously documented testimony on his lifestyle from Paddock himself.
In 2013, Paddock sued the Cosmopolitan in Las Vegas after he slipped and fell in 2011. During his deposition, he offered some information on his lifestyle, including his use of Valium, an anti-anxiety drug that comes with the potential side effects of "agitation," "irritability," and "unusual behavior."
"He's like on retainer," Paddock said in 2013 of the doctor who kept him in good supply on the medication. "I pay a fee yearly. I have good access to him."
Paddock told the court he gambled as much as $1 million a night, rarely consumed alcohol (which Steve Wynn confirmed in a weekend TV interview with Fox News), and was routinely comped rooms in Las Vegas.
Looking to Brother to Shed Light
Sheriff Lombardo maintains that there's still no evidence of a second shooter, nor of Paddock having any ties to terrorist organizations.
"Every piece of information we get is one more piece of the puzzle in this case," Lombardo explained. "We want to figure out the why to this, and we'd like to know the motive. That's our most important goal. To prevent any other action."
Brother Eric Paddock is hoping he can play a role in accomplishing that goal. The younger sibling of the killer arrived in Las Vegas over the weekend and was interviewed for hours by the FBI and other agents.
He told the Las Vegas Review-Journal, "I'm here to help. I'm trying to get them to understand Steve's mindset. I don't want them to chase bad leads."
Critics, however, argue that Eric is in Nevada to make sure his brother's money is secured. He did admit that he's working with a lawyer to form a trust funded by his late brother's estate, and said his mother will become the trustee. But Eric says its assets will be used to help victims of the Las Vegas shooting.