Mandalay Bay Security Guard Jesus Campos Breaks His Silence with Ellen DeGeneres Interview, Says He's Doing Better Each Day
Posted on: October 18, 2017, 01:00h.
Last updated on: October 18, 2017, 12:06h.
Jesus Campos, the Mandalay Bay security guard who was the first to respond to the 32nd floor the night of October 1, is finally opening up publicly, more than two weeks after mass shooter Stephen Paddock killed 58 people in Las Vegas at the Route 91 Harvest country music festival.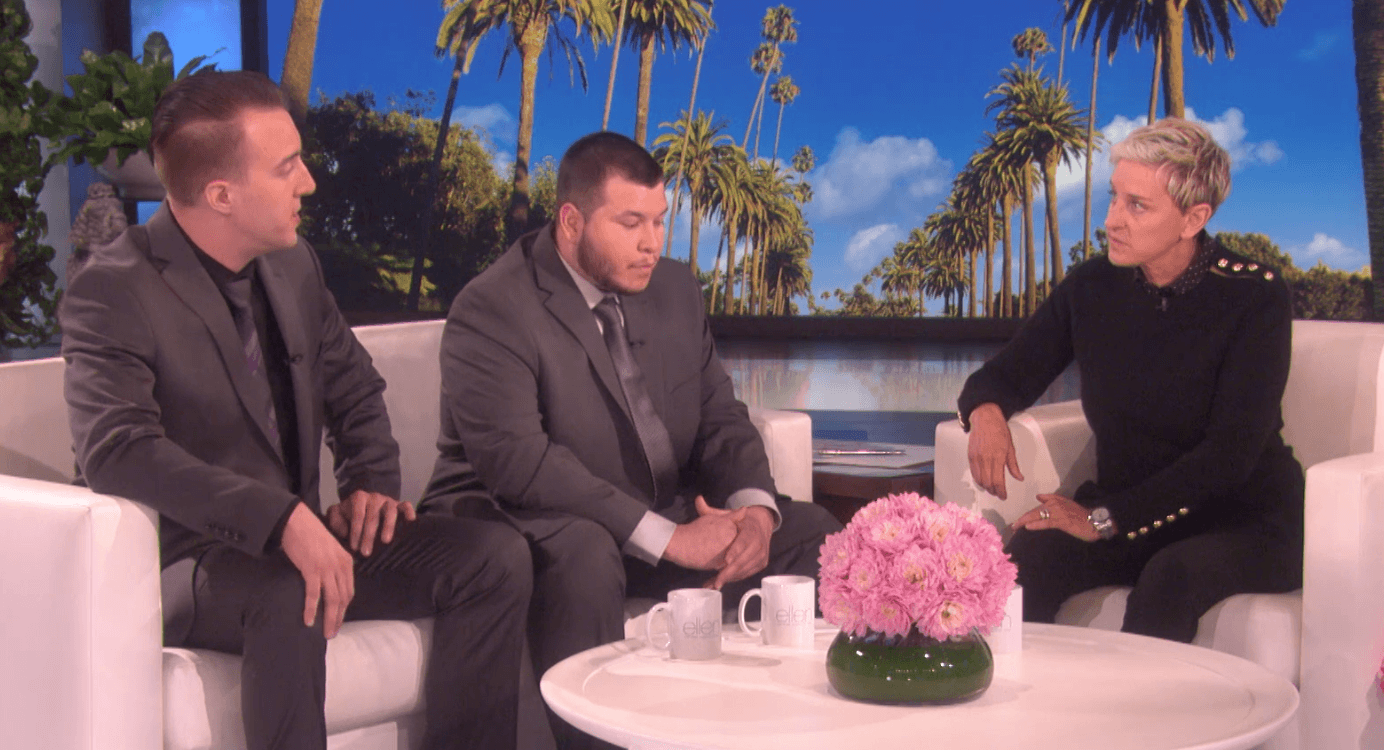 The media has been hounding Campos for his narrative regarding the deadliest mass shooting in modern US history. His house in las Vegas' Sunrise Manor area displays two warnings that read, "NO TRESPASSING" and "NO MEDIA ON PROPERTY."
But this week, Campos, along with Mandalay Bay maintenance engineer Stephen Schuck, went on Ellen to share his story. In a pre-taped appearance for the talk show's Wednesday episode, a soft-spoken Campos said he's getting better with each day.
"Slowly but surely," he explained. "Healing physically and mentally."
Ellen said both men refused to take any money for their appearances, but did accept NFL tickets. The Oakland Raiders said Campos will receive season tickets once the franchise relocates to Las Vegas in 2020.
Campos Confirms Timeline
DeGeneres wasted little time diving into the specifics of the night.
MGM Resorts and Las Vegas Metro authorities were presumably watching closely to learn whether Campos' story would contradict their newly formed timeline of events. But his narrative provides further support that Paddock shot at Campos around the same time that he opened fire on the outdoor concert (10:05 pm).
Campos said he was responding to an open-door alarm in an emergency stairwell adjacent to Paddock's suite. But when he arrived at the 32nd floor, he couldn't enter the hallway, as the door was heavily barricaded.
Campos had to take another route to access the floor, which took about six minutes, according to MGM and Metro. When he finally made access and investigated the locked security door, shots began firing from behind Paddock's door at the end of the hall, striking Campos once in the leg. He took cover in a doorway cubby, and once Schuck (who'd been called to investigate both what Campos originally thought was someone drilling, and the locked Exit door) arrived, he directed him to do the same.
Schuck said bullets were fired down the hall, and Campos saved his life, as well as another guest who exited her room to see what was going on. The duo remained in place until police arrived at 10:15 pm.
Questions Remain
Campos says his media appearance is a one-and-done affair, adding that he plans to stay out of the public eye as the investigation continues. While his story seems to align with law enforcement's, there are still plenty of uncertainties that police will need to explain in the coming weeks.
The primary concern is why it took authorities a full 10 minutes from the time Campos was first shot to reach the 32nd floor. He says he radioed in that shots had been fired immediately after being hit. Campos also told Ellen that he didn't stay on the radio to explain that he was hit in order to keep the airwaves open for the appropriate first responders to communicate.
Paddock's 10-minute shooting spree at the Route 91 Harvest country music crowd took place from the time Campos was hit until 10 minutes later at 10:15 pm. Paddock then killed himself.
With shots no longer being heard, police were meticulous in first evacuating guests from the floor. SWAT finally made entry into Paddock's suite at 11:20 pm.