With Casino Profits Sky High, Macau Still Wants to Be More Like Vegas
Posted on: December 3, 2013, 05:30h.
Last updated on: December 2, 2013, 11:53h.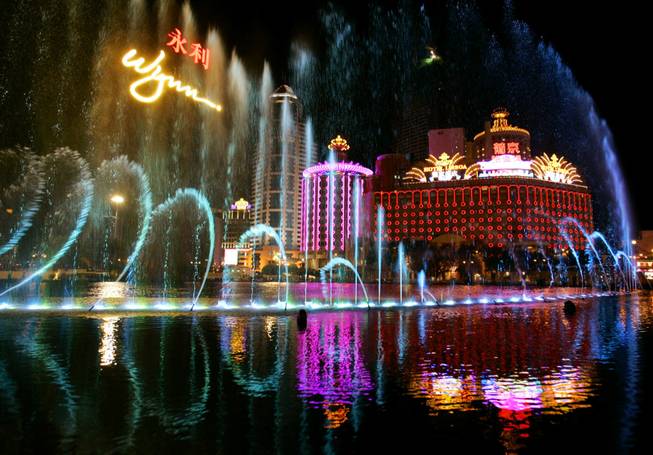 For decades, "Las Vegas" has been synonymous with "gambling mecca" – the sine qua non of the casino industry, the benchmark for how other gaming destinations wanted to mirror themselves. But in just a few years, Macau – the Chinese Special Administrative District that has left every other casino destination in the dust, including Sin City – has set a new standard in that regard, and 2013 looks to top the bar even higher yet.
Las Vegas Masters Non-Gaming Profits
While Las Vegas may still have a lock on non-gaming  revenues – with the world's most lucrative nightclubs, insanely high-end shopping and gourmet restaurants – Macau is now the hands-down winner in the pure gaming revenue department, worldwide. And as 2013 draws to a near-close, Macau's gaming numbers look to once again catapult above not only all competitors including Las Vegas, but also above its own previous year's financial influx.
In fact, by just the end of November, 2012's numbers are already being left in the dust. With November's $3.8 billion gross intake in the Chinese enclave, added to what Macau gamblers brought in for the 10 months prior, the gaming destination is already at $40.9 billion for year-to-date, versus 2012's $38 billion, according to the Macau Gaming Inspection and Coordination Bureau's recently released figures.
Basically, year-to-date, Macau is showing gaming revenue increases that are up 18.6 percent compared to last year; figures that any Las Vegas casino executives would  be drooling over. In fact, they probably are drooling, because most of Las Vegas' major players – with the notable exception of Caesars Entertainment, who managed to miss the Macau gravy train and now can't get their ticket punched due to limited licensing – have been in on the Macau casino picture from the beginning.
Business for American casinos in Macau has been so good, in fact, that Wynns Resorts Ltd., MGM Resorts International and Sheldon Adelson's Las Vegas Sands Corp. are all in the process of putting up additional casinos on Macau's chi-chi Cotai Strip.
November's remarkable 21.3 revenue spike was  partially attributed to high-profile sporting events like a Grand Prix racing event and a much-touted boxing match between superstar welterweight Manny Pacquaio and opponent Brandon Rios in the Venetian Macau's 15,000-seat sports arena. Both these events pulled in the kind of  big spenders that make gambling profits light up.
Better Than Expected
But one high-profile gaming analyst – Steven Wieczynski of Stifel Nicolaus Capital Markets – says even with all these factors, Macau is still performing at a higher margin than investors had been anticipating. Wiecynski attributes this reality to ongoing infrastructure upgrades that are making it easier for tourists from mainland China to access Macau when they get the gambling itch.
"As ongoing infrastructure projects designed to ease travel to Macau and further penetrate large Mainland population centers come to fruition, we believe Las Vegas Sands should be able to capture a disproportionate share of these incremental trips," Wieczynski said.
Key to this ongoing connection acceleration will be the $10 billion Hong Kong-Macau-Zhuhai Bridge, which is expected to reach completion in 2016 and open up major tourist sectors from the Mainland into Macau with an easy 20-minute drive across the thoroughfare. Right now, it's a one-hour ferry ride on the South China Sea for those who access from the Mother Country.
In addition to the bridge, new expansions and improvements on China's light rail system, ferries and Macau's international airport are also expected to greatly add to the tourism influx, and no doubt, to Macau's staggering gaming revenues as well.
Interestingly, even with 35 thriving casinos and eight more under development, Macau is looking more to the current Las Vegas model, which now brings in more non-gaming than gaming profits. Sin City has built an empire on insanely overpriced nightclubs, not to mention high-end restaurants and designer retail establishments, and now looks to those aspects more than the casinos themselves as their high-profit centers.