Macau Casinos In For More Stormy Weather, Analysts Say
Posted on: May 30, 2016, 12:52h.
Last updated on: May 30, 2016, 05:55h.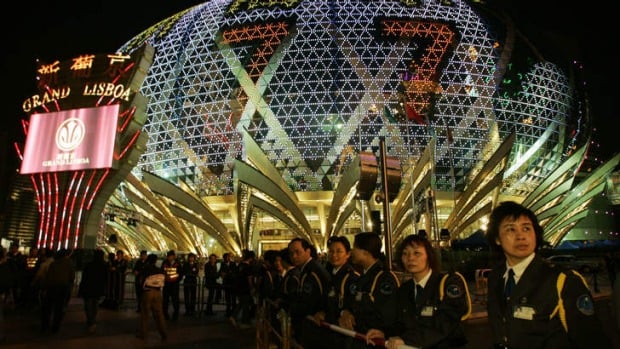 Macau casinos could be in for a rough ride, with more new resorts set to open, say analysts from Morgan Stanley. In the firing line is the gaming mecca's fragile mass market which could leave casinos scrabbling around for customers.
Junket operators are also in for a tough couple of years, analysts suggest, as VIP gambling in the region continues to drop.
Speaking to The Australian, Morgan Stanley's Mark Goodridge said:
"This [new casinos], combined with an increasing level of competition in attracting players, particularly in Cotai, suggests that without an acceleration in mass revenue growth, returns for the industry will decline."
Macau has been undergoing a huge transformation in recent years. Hit on all sides by a weakened Chinese economy, smoking bans, and a push to stop money-laundering and corruption, resorts have seen gaming revenue slump month-on-month. VIP junkets, which ensure millions of dollars are pumped into the semi-autonomous region's gaming firms, have been particularly targeted.
Mass Market Could Suffer
Macau's casinos are now being encouraged to invest in more mass-market attractions like shows and entertainment. Last year, James Packer and Lawrence Ho's Melco Crown opened Studio City in Macau. The multi-billion dollar resort features Asia's largest ferris wheel and a strong Hollywood theme. It is hoped that new "entertainment" complexes like this will placate a Chinese mainland government keen on diversity.
However, while the economy falters, casino developers have not held back. They have continued to build bigger and bigger integrated resorts in the hope that building their way out of the recession is the way forward. For Morgan Stanley, it's a foolhardy approach.
With the addition of up to 750 new gaming tables in the city, mass market gambling could suffer. However, according to Morgan Stanley forecasts, mass-market "remains stable".
Macau Casinos Hit By VIP Debt
The last thing Macau's casino empires need is more bad news on their VIP sectors. But that's just what they received last week as it emerged many chains face a huge volume of bad debt as whales retreat.
Junkets, VIP trips planned by middle men to bring in big gamblers from China and elsewhere, are being audited as part of a general crackdown on high rollers. Where credit risk wasn't a big concern several years ago, it's now a firm part of Macau's overall business plan.
"This increasing scrutiny and policy tightening, while positive for the segment's long-term prospects, will likely be detrimental to the shorter-term prospect for the junket operators, VIP revenue, and their related activities," Daiwa Capital Markets' Jamie Soo told the Las Vegas Review-Journal.
"Junkets facing further operating pressures may result in further VIP room closures."
Compared to Las Vegas, Macau still looks like a mammoth success story. However, despite being one of the world's leading gaming regions, revenues have fallen dramatically. Monthly revenues are likely to fall this month to mark two years of consecutive monthly dips. Overall GGR (Gross Gaming Revenue) is also predicted to slump a few more percentage points.
While Macau gets its house in order over bad debts, mass-market saturation, and just what to do over getting more VIPs in, operators are expecting more bumpy rides in 2016.