Macau Casino Smoking Fines Up Nearly 36 Percent in 2016, as Chinese Gamblers Keep on Puffing
Posted on: December 14, 2016, 02:00h.
Last updated on: December 14, 2016, 11:48h.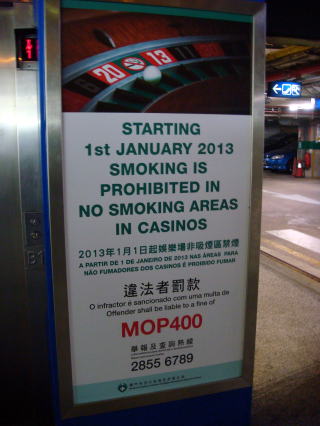 Macau casino smoking fines are up 35.7 percent through the first 11 months of 2016. Macau's Health Bureau reports that 585 people have been issued citations for smoking indoors on casino floors.
By a law passed in 2013, casinos in Macau must block patrons from smoking while gambling. Tobacco use is restricted to enclosed smoking lounges and outdoor areas.
The special administrative region's Health Bureau says it carried out 455 site inspections between January and November, and found plenty of gamblers in violation of the smoking code. Fines for smoking in open casino spaces costs offenders MOP600 ($75).
Several top Macau government officials including Chief Executive Fernando Chui are trying to push a full smoking ban on casinos, but the majority in the Macau Legislative Assembly supports retaining smoking lounges.
Chui has opined that the smoking crackdown has no impact on gaming revenue.
Revenues Going Up in Smoke
Macau is seemingly doing everything it can in order to restrain its casino market. Gaming revenues in 2013 totaled $45 billion in the People's Republic gambling zone, but will come in under $30 billion this year.
The main culprit is, of course, Mainland China. President Xi Jinping has initiated enforcement actions on VIP touring companies that have been bringing the country's elite to Macau in what's thought to be a crafty way to move money out from under the government's control.
But when it comes to the smoking regulations, that's all Macau. Cigarettes are widely used in China, much more so than in the United States. In fact, China is the largest consumer of tobacco products in the world, with an estimated 350 million regularly smoking. Roughly 50 percent of adult Chinese males smoke.
Lawmakers who support a smoking ban or at the very least restricting it to designated areas are responding to the influential Macau Federation of Trade Unions (FTU), the largest and most powerful workers union in the city.
Casinos employ some 87,000 people in Macau, and the FTU wants to protect their health by banning cigarettes, cigars, pipes, and other tobacco products. In a report released in late 2014, the FTU said three out of four of its members would prefer to work in a smokeless environment.
Smoking Debate Lights Up
When it comes to determining whether smoking bans help or hurt revenue, the discussion remains open for debate. Smokers predominantly argue it hurts, while clean air advocates contend otherwise.
But gambling and smoking goes together almost like America and apple pie. After all, you can't portray the Rat Pack without a butt.
Philippines casinos say gambling floors need smoking to survive. They are currently petitioning Philippines President Rodrigo Duterte to grant casinos an exemption from the ruthless leader's smoking ordinance that bans cigarettes to designated 54-square-foot zones.
Harrah's New Orleans agrees. The Big Easy venue says a city ban on casino smoking indoors implemented in 2015 has negatively impacted operations. Revenue figures seem to support the casino's claims.
Harrah's hasn't had a monthly increase in 2016 compared to the same months in 2015 since the smoking ban was applied. In October, revenues were down over 21 percent.
Similar Guides On This Topic