Los Angeles Bullet Train Would Ease California to Las Vegas Road Congestion, Expert Asserts, But Will It Ever Get Built?
Posted on: February 13, 2016, 11:28h.
Last updated on: February 13, 2016, 11:29h.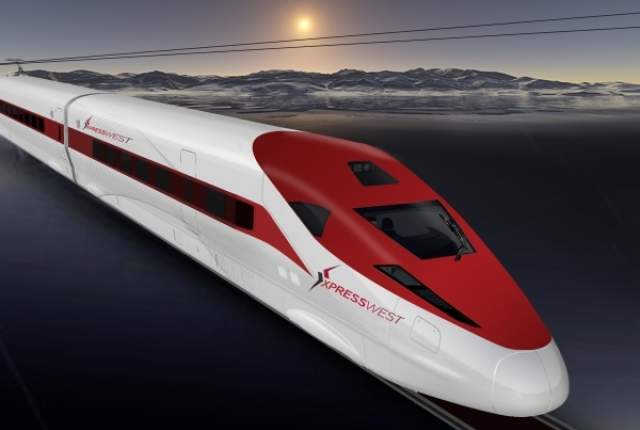 People have been talking about a Los Angeles bullet train into Las Vegas for decades, and now one expert has come out endorsing such a plan over the other option of expanding the 1-15 corridor that stretches from Sin City to the City of Angels.
Las Vegas transportation to and from Los Angeles would certainly change, should city and state officials finally move forward in constructing such a long-hyped high-speed bullet train. But projects like these have been bandied about for so long now, they've become almost mythical in the eyes of LV locals.
But the motivation to build such a project remains, because the market for one is definitely real.
Like Vince Vaughn and Jon Favreau's characters in "Swingers" and so many in real life, an excursion to Vegas from L.A. often seems like a fantastic idea, until 30 minutes into the trip you realize you still have over 3.5 hours of travel ahead of you, and that's on a good traffic and construction-free day.
The other option is to take a 60-minute flight from Los Angeles International to McCarran, but that doesn't exactly lend itself to impromptu decision-making, nor are last-minute flights typically the cheapest way to go. Throw in the TSA process and the cost of cabs to get around once you arrive, and that four or five-hour drive starts looking more appealing.
Las Vegas heavily relies on tourism from the sprawling Los Angeles metropolis, the nation's second-largest city with nearly four million residents and 10 million countywide. But traffic congestion on the 1-15 freeway, the only direct road in and out of Vegas, is increasingly becoming problematic.
And tourists aren't the only ones who fill up the 15. Massive trucks that carry all the things that make Vegas, Vegas, 365 days a year also go back and forth daily, carrying millions of pounds of food, booze, and probably just about anything else you can think of. And once they release their cargo to the waiting casinos, it's back to L.A., to fill up with more and do it all over again.
The solution, according to Tom Skancke, a transportation consultant to the Las Vegas Convention and Visitors Authority (LVCVA), is to build that high-speed rail at last.
Desert Road Not Deserted
During a meeting with the LVCVA board this week, Skancke said building additional lanes to the 113-mile stretch between the Nevada border and Barstow, California, would cost $879 million (and Barstow is still a far ways from L.A. proper). In addition, various environmental studies would need to be conducted, which would delay the project and cause the total expenditure to balloon to $1.5 billion.
That stretch of Interstate 15 navigates through the California desert and mountains en route to what's known as Stateline: the border between Cali and Nevada. It's not a necessarily heavily congested roadway, other than on major holiday weekends, but one accident or construction project, and cars can become backed up for miles, sometimes doubling the already long drive time.
The alternatives to waiting in the traffic are few and many hours between. Travelers would need to bypass the Mojave National Preserve by driving south, which adds at least an hour of time behind the wheel. That's assuming you don't get lost amid the numerous twists and turns and stretches of many miles with nary a gas station or fast food joint in sight.
Train Fast Track
In November, XpressWest wooed the Nevada High-Speed Rail Authority and secured the rights to build such a rail line, should the authority receive additional support from Nevada and California.
XpressWest would deliver passengers from Nevada to Los Angeles' Metrolink via the as-yet-to-be-built Southern California Station. Round-trip fares would be under $100, which would put it at higher than the cost of gas, but balanced by convenience and not having to drive.
Backed by $100 million in initial funding through a private venture between China Railway International (CRI) and XpressWest, the project is also enticing to local and state officials because it would not require public funding.
XpressWest's ultimate goal is to serve 22 million people by connecting Los Angeles, Las Vegas, Phoenix, Salt Lake City, and Denver via its planned Southwest Network. The US government has authorized the plan and might offer loans to XpressWest and CRI through the Federal Railroad Administration.
Return of the Rail
Commercial passenger rail service is largely a thing of the past in the United States, due to the expansion of air travel and its affordability to the average American consumer.
Amtrak is the country's leading passenger railroad service, but the federally chartered organization has been operating in the red for years, including a $1.1 billion loss in 2014.  Many political and economic observers have called on Congress to privatize Amtrak.
The Los Angeles-Las Vegas bullet train could be the first major test in determining if private commercial train travel has more glory days in its future.