Living Las Vegas: Best of Vegas' Casual Eats
Posted on: April 23, 2023, 10:19h.
Last updated on: April 23, 2023, 10:37h.
There's no shortage of gourmet food options in Vegas. Sure, you can indulge in endless fine dining options and new celebrity food concepts. But if you're looking for something a little more casual, check out some of the locations I recently visited below.
So many food halls and so little time. But make sure you head over to Proper Eats Food Hall at the Aria, which has replaced the hotel's buffet (a sign of the times).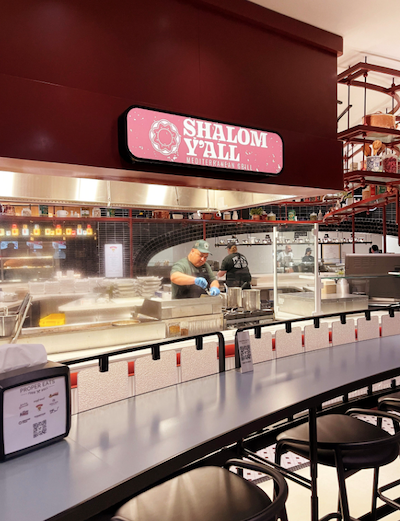 It features a gorgeous dining room with a circular bar and colorful booths. I instantly gravitated to the lovably named Shalom Y'all, originating in Portland, Oregon. Their chicken shawarma pita sandwich—with roasted cabbage, green chiles, and tahina—delivered exactly the spicy kick I was looking for.
On my list for future drop-ins are Seoul Bird from London, Egghead from NYC, Wexler's Deli from LA, and DJ/producer Steve Aoki's Pizzaoki. There's not a Subway in sight here.
For those who like to dig deeper, hidden behind the Easy Donuts space is a speakeasy (Easy's Cocktail Lounge), with live music, including performers like the deeply soulful and glamorous Skye Dee Miles, whom I've seen a few times light up the Ghostbar atop The Palms.  
Yukon Pizza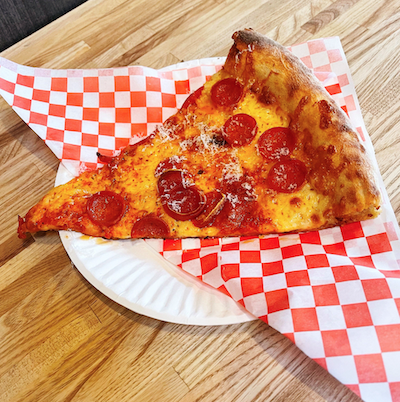 After generating a two-year pop-up buzz (at downtown's Vegas Test Kitchen) for their wood-fired sourdough pizza, Yukon Pizza opened recently as a brick-and-mortar at the Huntridge Shopping Center on Charleston east of the Arts District. Their special sourdough is a "125-year-old family heirloom" beginning during the "Yukon Goldrush of 1897."
The by-the-slice "N.Y. Style Pizza" with pepperoni was on-the-money, bringing a big smile to this Bronx boy's face on a rainy Vegas day. Also feeling the need to be guilt-free, I took home their excellent "The Meatless Lovers" pizza with "Vegan Pepp & Sausage" and "N.Y. Sauce" for dinner.
Chi Asian Kitchen, The STRAT
If seeing the wondrous technological dance revue "ILuminate" at The STRAT is on your itinerary, why not kick off the night at this relatively new Asian eatery?
It's uniquely designed—like a "bustling Chinese alley, with a street-inspired interior"—which would explain why one of the dining areas looks like a bicycle repair shop. The spicy cucumber salad, soup dumplings, pork belly bao buns, and "beef chow fun" were all irresistible dishes.
Sista Kim's Kitchen, New Orleans Square in Commercial Center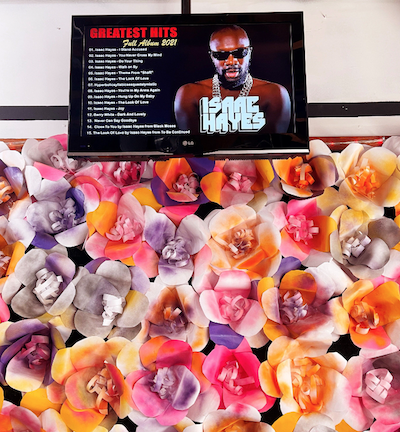 Wandering through hipster heaven New Orleans Square in the historic-and-reemerging Commercial Center east of The Strip, I was delighted to find this new soulful eatery; it's now a brick-and-mortar after establishing itself as a food truck and catering service.
Sista Kim Kitchen's feel-good sandwiches—shrimp po boi, pastrami, and fried chicken—plus burgers, wings and fries are a delicious cut above, and you can wash it all down with their unapologetically sweet tea.
I'm so enamored of this spot that I recently held one of my "People Need People" mixers here for an array of Vegas creatives, and Sista Kim obliged my request to pipe in lots of Isaac Hayes classics like "Theme From Shaft," which kept the soulful vibes going all afternoon.
Leticia's Cocina & Cantina at the Santa Fe Station Hotel & Casino
At this head-of-the-pack Mexican eatery in north Vegas, I scored a culinary winning lottery ticket by ordering the Pescado al Pastor. That's the seared sea bass with adobo sauce, served with tossed greens, arroz poblano (a white casserole rice with cheese), and habanero mango salsa.
My wife went in a simpler direction by going with what she described as a deeply satisfying burrito with potato, cheese, and refried beans. I returned to Leticia's a few weeks later, jumping headlong into the stratospheric Costeno Relleno—the chile poblano filled with shrimp and topped with salsa verde (which I opted for instead of the white creamy cheese sauce); it's served with black beans and standout cilantro rice.
Having already been to Leticia's groovy offshoot—the casual Letty's in the Arts District—it feels good to now be in love with the eye candy-rich and price-friendly mothership where authenticity rules the day.
I'll be headed back soon for their Sunday brunch because the tres leches French toast sounds like another winning ticket.
Have your own favorite spot? Drop us a comment below.
---
Each month, Mitch Schneider explores some of Vegas' most unique offerings. Schneider has a decades-long publicity career working with some of the music industry's biggest stars and was a rock critic for Rolling Stone in the '70s. He moved to Vegas from LA with his wife during the pandemic in March 2020. He's loved the city ever since.
Each month, he explores Vegas' most popular and best-kept secrets. Look for "Living Las Vegas" on Casino.org. Click here to read previous editions.