Leicester Wins English Premier League and Bookmakers Lose Millions
Posted on: May 3, 2016, 02:14h.
Last updated on: May 3, 2016, 03:44h.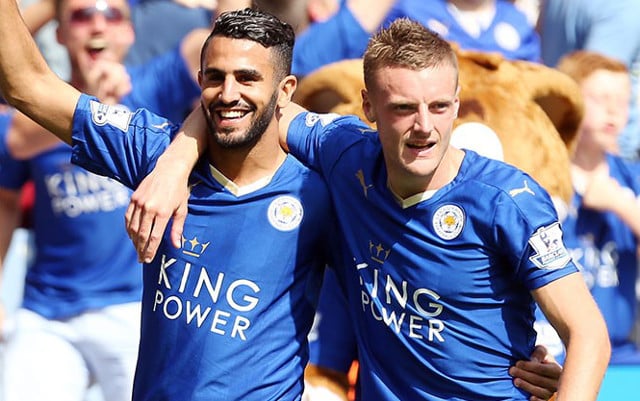 Leicester City won the English Premier League on Monday night as Tottenham's title challenge melted into mathematical impossibility following a bad-tempered 2-2 draw with Chelsea. The Foxes championship win is being hailed, without very much hyperbole at all, as "the greatest sporting achievement ever," or at least the most unlikely.
Up and down the UK and across the world Foxes fans and neutrals alike were celebrating the wonder of it all. Bookmakers, meanwhile, were less enthusiastic, and with good reason: they may have made one of the grossest miscalculations in betting history.
The odds were 5000-1 at the beginning of the season. To put that into perspective, PaddyPower is offering odds on the discovery of the Loch Ness Monster this year at just 1000-1. And while Leicester prepare to lift the trophy after their game against Everton on Saturday, Nessie remains conspicuous by her absence.
Losses Are Not PR
The received wisdom doing the rounds is that the hit the bookmakers are from Leicester's win will be handsomely offset by the thousands of bets lost by customers on favorites like Chelsea, Man City, Arsenal, et al. But don't be so sure.
"Quite often in these situations, it's the job of an industry PR man to exaggerate how much bookmakers have lost to make people think, 'Why don't I have some bets on the football,', " top UK poker player Neil Channing told us. Channing was once a bookmaker himself and is now a scourge of the aforementioned as a tipster for BettingEmporium.com.
"They don't need to do any of that today," he continued. "This is 100 percent genuine. Bookmakers are screaming. And they have profit warnings and whatever, and this has hurt them."
One source at a well-known high street brand told us that Leicester had cost the company £2.5 million. This is before savings from customers cashing out early had been calculated, as well as from multipliers that had been killed by the unlikely new champions. These refer to bettors who had attempted to predict the winners of several leagues across Europe at once, all of which would have been sabotaged by Jamie Vardy and his plucky crew.
£20 to £30 Million
Still, accounting for such deductions, our industry insider expects his company to take a hit of around $1.5 million. Industrywide, it could be £20 million to £30 million ($30 million to $43 million), an estimate, he says, that may well be conservative.
And these figures hurt because these pre-season markets, where people make long-term speculations about eventual champions, are actually smaller than you think, says Channing. The big markets today, in this age of hand-held, real-time betting, are about churning out bets in volume, week in, week out, game by game, and sometimes throw-in by throw-in. The edges are smaller for the bookies but the volume makes up for it.
Channing guesses that the average firm will probably take "below six figures" from pre-season betting, which is what makes the seven-figure losses so unpalatable, and it's also the reason why those losses won't be offset by people losing on the favorites. But it's not only losses from pre-season bets that bookies have to worry about, as Channing points out.
"We keep hearing about this 5000-1 but let's not forget, also, that Leicester was leading the league at Christmas and they were 20-1 and that's when a lot of other people latched onto them," he marvels. "People say whoever is leading the league at Christmas often go on to win the league so to have them at 20-1 is unprecedented. Had it been Chelsea in the same spot they would have been 1-5."
Bookmakers may have saved themselves a lot of money through the new "cash-out" option, which essentially allows bettors to hedge by withdrawing some or all of their winnings early at a reduced rate. But they have also made things worse by simply refusing to believe in the Leicester dream until it was way too late.
But to be fair to them, nor did anyone else. Except perhaps Leicester City.
Most Read