Legislators Vote to Ban Kiosk Wagering in Nevada Bars and Taverns
Posted on: June 4, 2013, 05:28h.
Last updated on: June 4, 2013, 02:29h.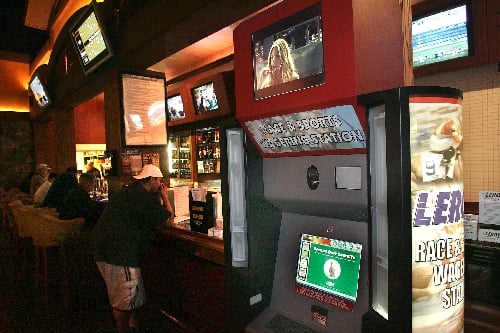 The Nevada Assembly has voted unanimously to ban wagering kiosks in the state's bars and taverns, as well as any other properties that hold restricted gaming licenses. The 41-0 vote was a show of support for the casino industry, who obviously would just as soon not have any neighborhood competition.  The new gaming measure, Senate Bill 416, has now passed both arms of the state's lawmakers and proceeds to Nevada Governor Brian Sandoval's desk for final sign off; his virtually sure-thing John Hancock on the bill will see it go into effect as of July 1 of this year.
William Hill Among Businesses Affected
Huge sports betting operations such as William Hill and Cantor Gaming will be among those businesses affected by the new bill, as both have betting kiosks sprinkled throughout Nevada in bars and taverns; in fact, William Hill has 84 such kiosks.  Needless to say, the news was not welcomed by them.
"We are disappointed that the Nevada legislature has passed this bill," said a statement from William Hill's Las Vegas-based subsidiary. "As technology continues to move forward, Nevada is now taking a major step backward…these kiosks complied with the regulations [of the Nevada Gaming Control Board] and [they] approved the installation of each of them.
"We invested considerable amounts of money and resources in reliance upon these regulations, only to see the rules change after the fact. We are evaluating our options, but most of all, we are sorry for the inconvenience this will cause our loyal customers." Not to mention the rift it will put in their revenue stream.
William Hill's kiosks are primarily found in local haunts like PT's Pubs, Buffalo Wild Wings and their ilk.  They have not yet stated if they will go to court in an effort to get the bill overturned.
Cantor Gaming, a Las Vegas-based division of Cantor Fitzgerald LP, had no comment about the outcome.
NRA Supports New Measure
The new bill has the support of the Nevada Resort Association (NRA), a lobbying group that represent's casinos and hotel interests in the state. The outfit's official position has been that the sports betting kiosks cross the line for restricted gaming license establishments, which are only allowed up to 15 slot machines by law. As such, the NRA maintains, the sports kiosks should never have been allowed to compete with fully licensed (i.e., casino) locales.
While the revenue loss is undoubtedly unwelcome at William Hill et al, it doesn't represent a huge loss for Nevada gaming per se; all in all, sports betting kiosks in the Silver State took in $600,000 in 2012, which amounts to approximately $7,142 per kiosk, out of Nevada's total gaming revenue profit of $170 million, which represents a 4.9 percent house win overall on $3.4 billion in wagers.