Las Vegas Rogue Cop Gets 12 Years for Armed Casino Heists
Posted on: October 17, 2023, 06:25h.
Last updated on: October 18, 2023, 10:02h.
A Las Vegas Metro Police officer convicted in July of robbing off-strip casinos was sentenced to 12 years in prison Tuesday.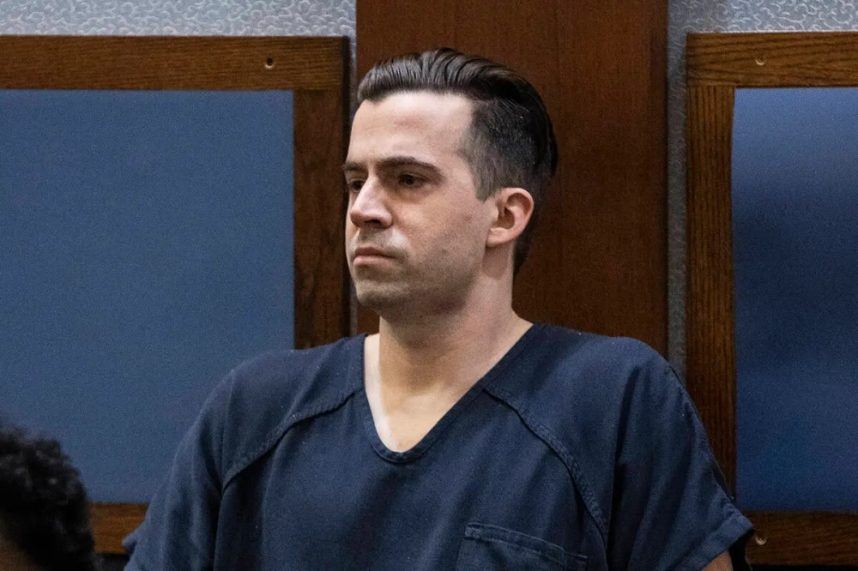 Caleb Rogers stole $165K in three casino heists at the Red Rock Resort, Aliante Hotel, and the Rio between November 2021 and February 2022.
During the February 27, 2022 robbery, Rio staff were able to wrestle him to the ground and disarm him, leading to his arrest.
Rogers had threatened to shoot Rio sportsbook staff if they did not comply with his demands for cash. Outside, he brandished a weapon at security guards and threatened to use it before he was subdued. It was his department-issued revolver.
Driven by Gambling Addiction
The incident saw him charged and convicted of brandishing a firearm during and in relation to a crime of violence, which comes with a mandatory seven years in prison and up to a maximum life sentence. He was also convicted of three counts of interference with commerce by robbery.
Federal prosecutors painted Rogers as a hopeless gambling addict driven to take desperate measures after spiraling into debt.
The star witness was Rogers' brother, Josiah Rogers, who testified in return for immunity that they had planned the first robbery at the Red Rock together. After that, Josiah said he had bailed out and returned to the brothers' hometown of Columbus, Ohio.
Rogers' lawyer, Richard Pocker, argued that evidence tying his client to the Red Rock and Aliante robberies was weak despite his brother's testimony.
Prosecutors noted the MO was the same for all three crimes. The perpetrator wore a face mask, dark clothing, and black latex gloves and walked with a noticeable limp.
'Pray for Redemption'
Before sentencing, Pocker asked for leniency. His client had a young son and helped homeless people, he said. Before becoming a police officer in 2015, Rogers had been an emergency medical technician.
Rogers told U.S. District Judge Andrew Gordon that all he thought about in his jail cell was "the effect this has had on my family and everyone," according to the Associated Press. "I do understand my mistakes, and I pray for a chance at redemption," he added.
At sentencing, U.S. District Judge Andrew Gordon acknowledged Rogers' previous good standing and service to the community and took his gambling addiction into account.
"You served your community well for a time," Gordon told Rogers. "Unfortunately, it appears your demons got the better of you."