VIDEO: Women Brawl at Encore at Wynn Las Vegas
Posted on: July 11, 2023, 10:50h.
Last updated on: July 21, 2023, 10:29h.
UPDATE: A newer  Casino.org news story about this melee identifies two of the four women involved and explains why it erupted.
---
EARLIER: A brawl at Encore at Wynn Las Vegas on Sunday night in which at least four women threw down near a poker tournament is only the latest example of something happening in Vegas that didn't stay there. The most popular of several videos of the fight has so far received 2.1 million views on Twitter.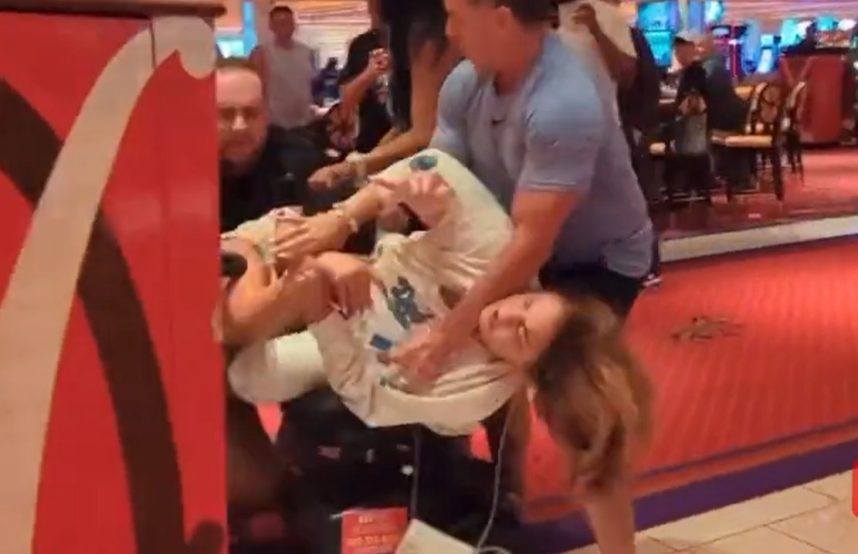 The videos all begin mid-fight, with a woman in a gold outfit pinning a woman in a black and white top and denim shorts to the casino carpet as a male bystander in shorts, sandals, and a blue T-shirt eventually separates them.
Britain's Daily Mail broke the story and published the clearest video, embedded below:
"
At one point, one of the women lunges for another woman standing nearby and throws a powerful punch. This video, posted to Twitter, shows the woman in the denim shorts attempting to pull a fourth woman off her scooter as she tries to enter the fray.
"Damn," a spectator can be heard saying. "Crazy."
Another angle on the action shows the reaction of the nearby poker players.
So far, none of the brawlers has been identified. According to the Las Vegas Metropolitan Police Department, no arrests were made, though at least one citation was issued.