Las Vegas Casinos Tone-Deaf on Resort and Drink Fee Outrage, Daily Housekeeping Could Soon Checkout
Posted on: September 11, 2019, 03:01h.
Last updated on: September 11, 2019, 03:41h.
Las Vegas resort fees are the ire of many guests, now reaching as high as $45 per day at luxury Strip properties, including The Venetian and Palazzo, Wynn and Encore, and Bellagio and Aria.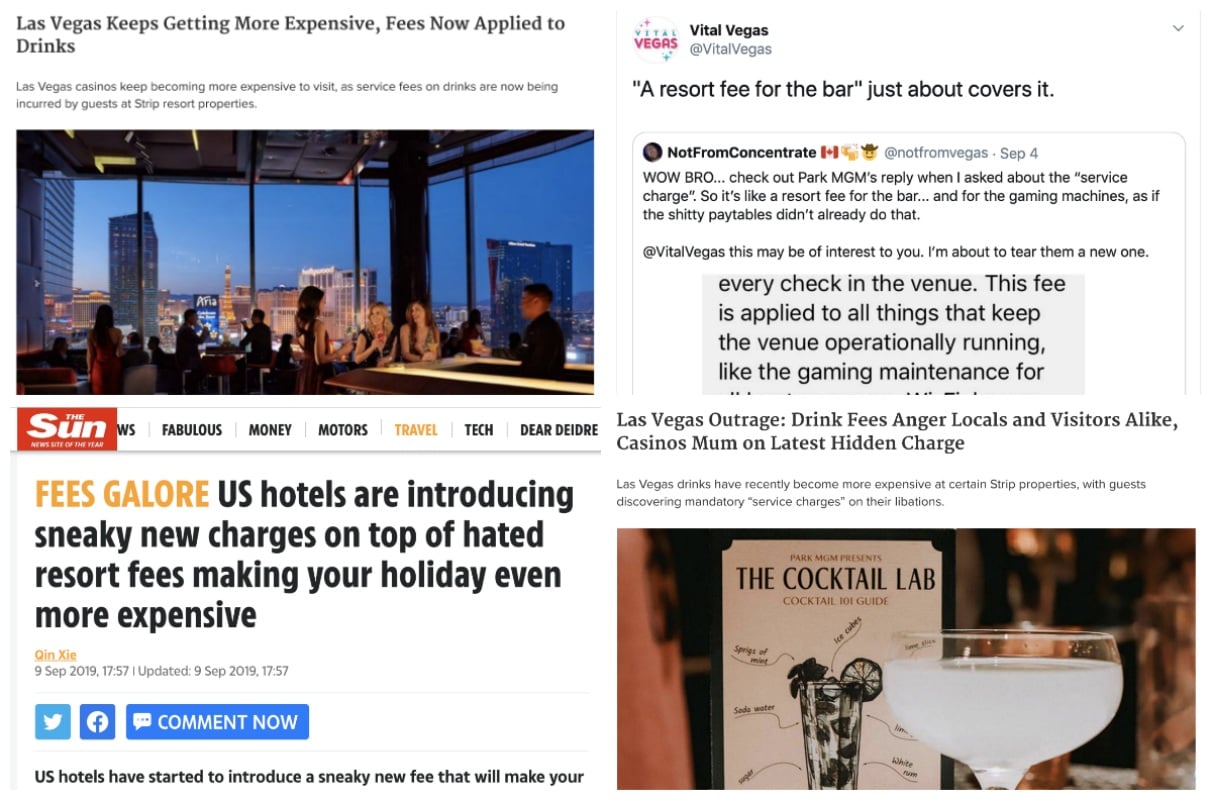 Along with the seemingly never-ending resort fee increases, free parking has morphed into fee parking at MGM Resorts and Caesars Entertainment properties. Wynn Resorts had followed suit, but restored free self-parking in April.
Now, casino guests are incurring "venue fees" even on cocktails. Where will it end?
MGM said the mandatory drink charge – quietly placed on the check without prior informing the guest  – is to keep the "venue operationally running, like the gaming maintenance for all bar top games, Wi-Fi, and lounge maintenance." A similar beverage charge was found at the new Sahara.
The resort and parking fees generated a strong backlash from both locals and out-of-towners alike. But the new drink charge has caused near pandemonium. Our Casino.org coverage has over 150 comments and counting.
Las Vegas local Jacob Orth read the article on YouTube, and the video has more than 36,000 views and nearly 1,000 comments. Our friend Scott Roeben at Vital Vegas has seen his tweets covering the casinos' latest money grab flooded with passionate responses from outraged Las Vegas critics.
"You can't keep nickel-and-diming us to death and expect us to come back," a recent Las Vegas visitor told Casino.org.
Another said, "I stopped going because of all the fees, hidden charges, and ridiculous prices. I can afford it. They used to make a lot of money from me. It just doesn't feel good to have your pocket picked at every turn."
Transparency Matters
I wrote an article for Casino.org in July on MGM Resorts upping its resort fee at the Bellagio to $45/day effective August 1. The casino giant was quick to email me and request the article be pulled because nothing had been confirmed.
MGM's media relations department said they would circle back if anything changed. They didn't, but alas, the $45/day resort fee at the Bellagio went into effect August 1.
The casinos need to do a better job of communicating, as a lot of frustration of changes in service, or fees, has to do with expectations," Vital Vegas's Roeben told me. "Vegas has to collectively commit to being transparent and providing value."
Roeben added that the country's gaming mecca "is at a turning point, as people seek out value and turn away from places they feel don't value their business."
Cleaning House
MGM is amid a cost-savings plan to improve shareholder value. More than 1,000 MGM employees have been let go, with the casino operator's goal to increase earnings before interest, taxes, depreciation, and amortization (EBITDA) by $300 million by the end of 2021.
Higher resort fees, plus parking and now drink add-on charges, will presumably help achieve that goal. Another potential avenue being considered is the elimination of daily housekeeping.
Nothing has been confirmed by MGM, but a housekeeper with the casino company told Roeben they aren't cleaning every room daily. The Concierge at MGM Grand said there is no daily cleaning charge, but such service needs to be requested.
With less rooms to clean daily, the housekeeping plan would presumably lead to a reduction in relevant jobs, or at least hours. The Culinary Union declined to comment at this time.
Caesars Entertainment told Casino.org that the company doesn't have any "plans to add drink fees or change our housekeeping policies."