Las Vegas Culinary Union 226 Implies Jim Crow Laws Being Used in Red Rock and Station Casinos Dispute
Posted on: May 17, 2016, 02:45h.
Last updated on: May 17, 2016, 02:55h.
Las Vegas Culinary Union Local 226 says the actions of the Clark County District Attorney's office in relation to the distribution of flyers by two of the union's Hispanic members inside the Red Rock Resort late last year are so egregious, they are reminiscent of the "Jim Crow" laws enacted in the South after the Civil War to enforce racial segregation.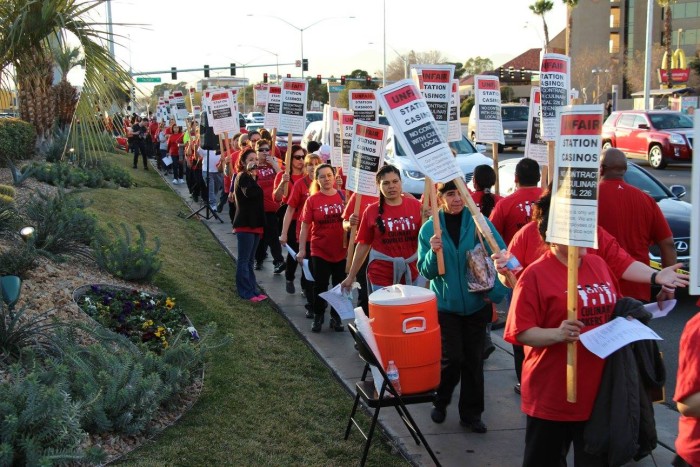 As reported by the Las Vegas Review-Journal's David Ferrara this week (and  oddly not covered by any other local Las Vegas news outlets that we could discern, including going unmentioned on the union's own website at the time of this writing), on December 15, 2015, two union representatives surreptitiously entered the five-star Red Rock Casino Resort & Spa's guest room floors. There they allegedly circulated flyers under customers' doors that decried the actions of the hotel's parent company, Station Casinos.
According to items reportedly obtained by Ferrara, the flyers warned guests that "Station Casinos, the owner of Red Rock Resort, is the worst labor law breaker in Nevada gaming."
Las Vegas Metro Police Department cited the two infiltrators that evening, after hotel security took the pair to its offices and handcuffed them.
But this is no simple trespassing case.
Vegas Vagrants?
Instead of filing only misdemeanor trespassing charges against the two, prosecutors for Clark County District Attorney Steven Wolfson added "vagrancy" to the allegations. That led defense attorneys for the union to question whether the district attorney's office was working for the people of Clark County, or for Station Casinos, said Ferrara.
"This amended complaint . . . resurrects the Jim Crow vagrancy laws of a segregated and bigoted United States," union defense attorney Tom Pitaro wrote in legal documents that Ferrara apparently had access to.
Jim Crow laws refer to the "separate but equal" segregation policies that were enforced following the United States' Reconstruction period in the post-Civil War era in the South, which continued to be enforced until 1965. "Vagrancy" was one criminal charge levied on many people of color for any number of vague transgressions, and has since been ruled largely unconstitutional by the US Supreme Court for its lack of clarity as to what, in fact, can be considered "vagrant" behavior.
Prosecutions for such charges must now be tied to specific and observable acts, meaning that security camera footage of the two union members putting flyers under doors would likely fill the bill.
But in general, Las Vegas hotels do not put security cameras in guest hallways, reserving them instead for watching where their money goes in casinos. This practice has been called up as unsafe by hotel guests in Sin City in the past, but whether Red Rock has installed such cameras, which might support its vagrancy case, remains unclear.
State of the Union
Union lawyer Pitaro is no stranger to controversial high-profile cases. Practicing law in Las Vegas for more than 40 years, he gained national notoriety for representing O.J. Simpson in 2013.
And like the case against Simpson, the Culinary Union defense will certainly be challenging for the experienced attorney.
That's because the duo doesn't seem to have much legal foothold to disseminate union materials in the hotel, let alone on guest room floors.
A common defense against trespassing and vagrancy is claiming the defendant was exercising their First Amendment rights, but the First Amendment generally doesn't apply to private property, which Red Rock Resorts is. A claim could even be made that guests might have felt threatened by the flyers, although there is no evidence one way or the other on whether this has been mentioned by any customers.
Casinos Call the Shots
Las Vegas has designated areas where citizens, groups, and unions can petition locals into backing their causes. However, regardless of merit, a group cannot freely walk into a private property to summon support without prior consent from the ownership.
That's because casinos, not unions, possess the right to dictate who enters their premises.
Nonetheless, the Culinary Union argues that Station Casinos is engaged in an aggressive anti-union campaign.
"Many of us have devoted over half of our lives working at Station Casinos," a Culinary Union pamphlet states. "We demand that Station Casinos Ownership and Management . . . agree to a fair process for us to decide whether to have union representation without management interference and intimidation."
Station Casino employees are currently non-union, something the Culinary Union hopes to change.