Las Vegas Casinos Announce Preopening Employee COVID-19 Testing Program
Posted on: May 20, 2020, 06:32h.
Last updated on: May 21, 2020, 10:55h.
Las Vegas casinos announced this week a COVID-19 employee testing program that will scan workers for the coronavirus before they return to the job.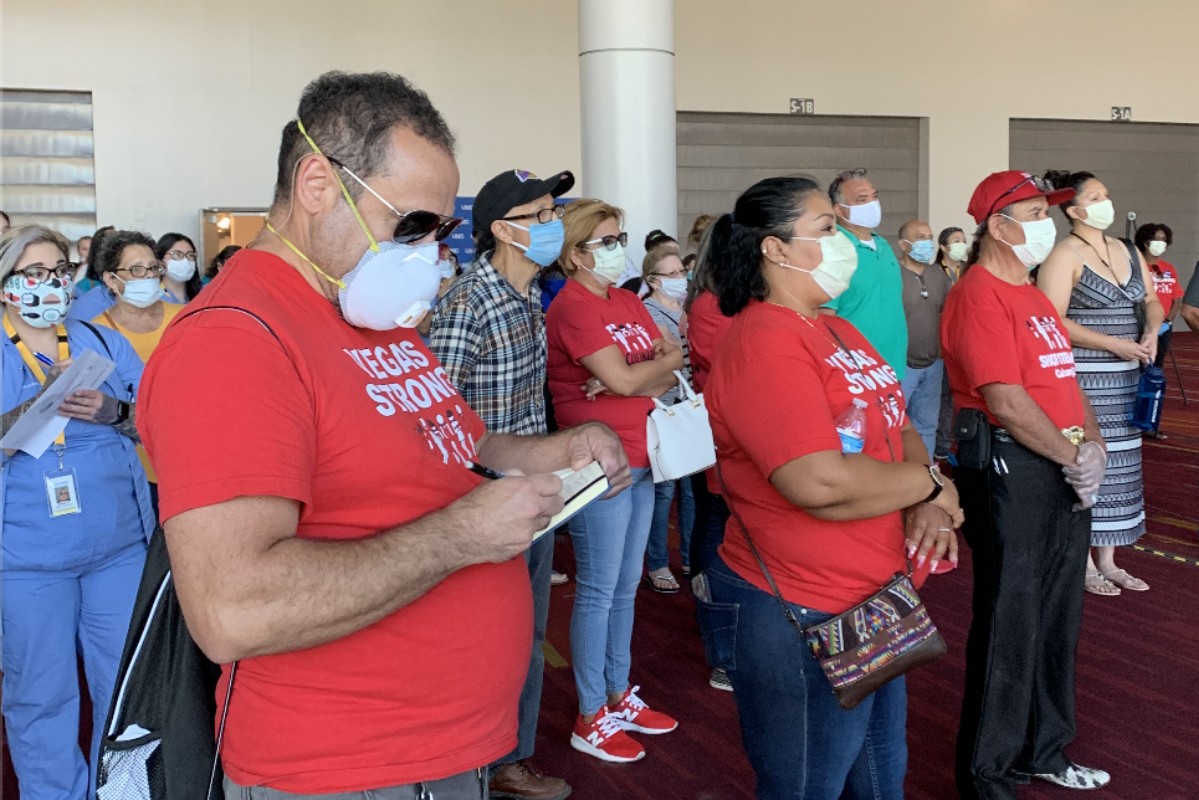 The Strip's two largest casino operators – MGM Resorts and Caesars Entertainment – as well as Boyd Gaming have partnered with the University Medical Center (UMC), Culinary Health Fund, and Las Vegas Convention Center to provide coronavirus testing for gaming employees.
The goal is to test 4,000 gaming workers per day in the lead-up to Las Vegas reopening casinos. Results will be available within 48 hours, and those who test positive will be referred to the Southern Nevada Health District (SNHD) for contact tracing.
The ability to safely reopen our properties has been our singular focus over the past several weeks," said Bill Hornbuckle, MGM Resorts International acting CEO and president. "This testing partnership will allow us to provide our employees and guests peace of mind that we are taking the greatest possible precautions to keep them safe."
All casinos in Nevada have been closed since mid-March. Nevada remains in Phase One of Gov. Steve Sisolak's (D) four-phase "Roadmap to Recovery." The governor hinted this week that the state could enter Phase Two as early as Saturday, but casinos aren't expected to reopen until the third or fourth phase.
Testing to the Test
Governors across the nation have expressed frustration with testing capabilities. Since the coronavirus crisis hit Nevada in early March, the state has performed 103,703 tests. That means the state has tested roughly 1,400 people per day. There have been 7,046 positive tests, and the virus has been cited for 373 deaths.
Performing 4,000 tests a day at one single location – the Convention Center – would be a monumental achievement. UMC CEO Mason VanHouweling said testing capabilities have been greatly increased as a result of the Governor's COVID-19 Response, Relief and Recovery Task Force, which is being led by former MGM CEO Jim Murren.
The Culinary Union, which has called on the Nevada Gaming Control Board to mandate casinos release their reopening plans to the public and set a uniform framework for safely resuming gaming operations, celebrated the COVID-19 testing plan.
"COVID-19 testing ensures that Culinary Union members are safe when they return to work," said union Secretary-Treasurer Geoconda Argüello-Kline. "The health and safety of both workers and casino guests is our top priority."
Program Begins Tomorrow
Starting tomorrow, employees who have been called back to work can schedule an appointment to be tested at the Convention Center. The program is free to all workers.
Workers will receive additional information from the Culinary Union on how to go about scheduling their appointment. MGM, Caesars, and Boyd are all union casino properties. The Culinary Union represents 60,000 members in Las Vegas and Reno working in casino resorts.
MGM and Caesars own the majority of the hotel rooms on the Strip. Both companies have furloughed some 60,000 employees.
Similar Guides On This Topic