Restaurant Impossible: Casino Eateries Will Struggle to Open Under New Nevada Regulations
Posted on: May 15, 2020, 09:26h.
Last updated on: May 15, 2020, 10:45h.
Nevada casino restaurants are permitted to reopen for business during Phase One of the state's COVID-19 recovery plan, but under strict regulations.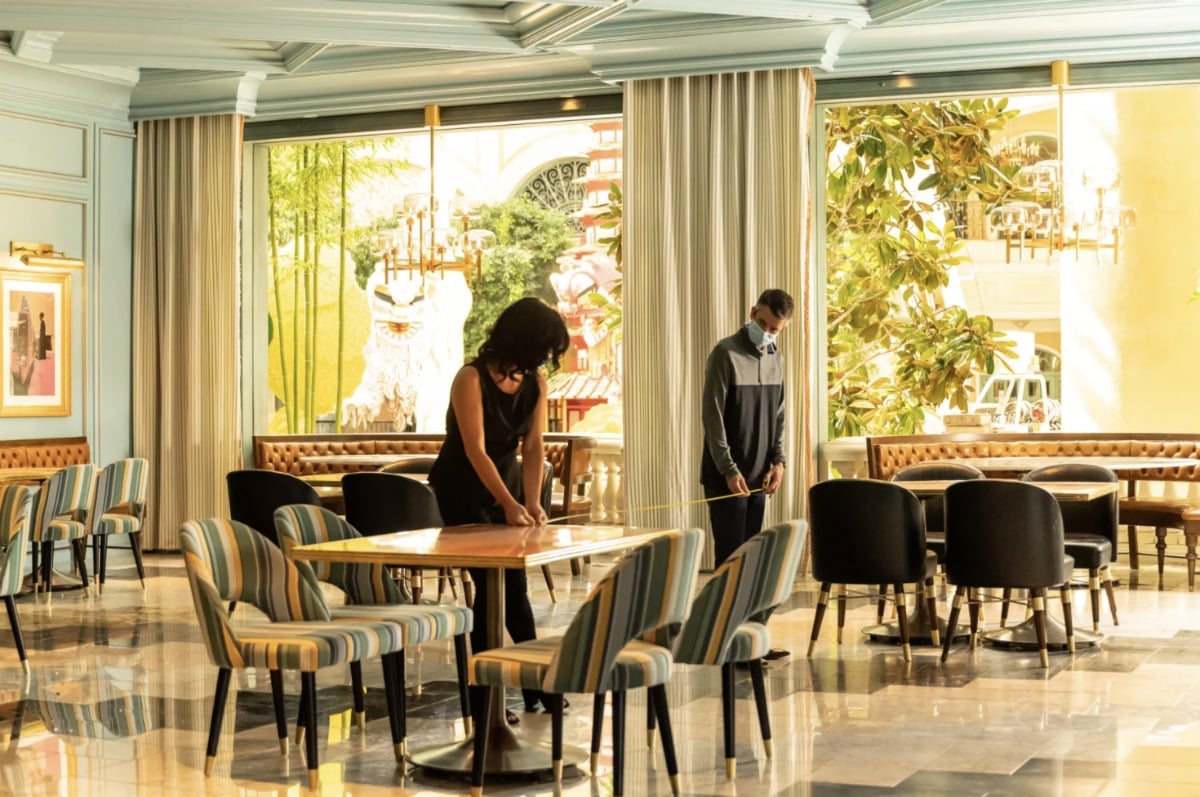 The Nevada Gaming Control Board (NGCB) yesterday issued a notice to licensees informing casinos that their inside restaurants are able to reopen in Phase One so long as they adhere to several conditions.
Last Saturday, Nevada entered Phase One of Gov. Steve Sisolak (D) and the state's four-phase "Roadmap to Recovery" plan. In Phase One, restaurants are allowed to open for dine-in service "under strict social distancing requirements."
Nearly a week later, now eateries inside Nevada casinos can reopen. But along with the state's Phase One directives, the casino restaurants must abide by additional measures.
Casino Floor Mustn't Be Touched
Nevada's Phase One rules for dine-in service mandates that restaurants practice social distancing. That includes keeping tables at least six feet apart, bar tops and bars areas must remain closed, and only 50 percent of the available seating is to be utilized.
For casino restaurants, they must also confirm an entrance pattern with the NGCB that adequately displays a path to the dining area that doesn't require traversing the gaming floor. The establishments must also relay to the state gaming agency how guests will access a restroom without touching the casino floor.
Very few casino restaurants have internal restrooms. Resorts have long wanted dining patrons to be forced to walk across the casino to use a bathroom, the goal being to entice them to sit down at a slot machine or table game before or after eating.
Also – since Las Vegas is in Clark County, home to a population of more than 2.2 million people, the restaurant casinos must additionally satisfy this NGCB condition: "If a licensee wishes to open a restaurant pursuant to these restrictions in a county with a population of 100,000 or more, the licensee must provide the Board with a plan by which it will prevent customers from congregating outside of the restaurant prior to entry."
Washoe County, home to Reno, also easily exceeds the 100,000 population threshold. Casinos elsewhere would be excluded from the congregating stipulation, as only Clark and Washoe have populations eclipsing 100K.
These safety measures will prove difficult for many Strip casino restaurants, as well as those throughout the county and in Reno, to open during Phase One.
Scott Roeben, Mr. Vital Vegas, summarizes, "The details are: Something about entrances, something about restrooms, something about directives, something about a population of 100,000 or more. Look, we can't do everything for you. We are a blog and we are quite possibly drunk."
Roadmap to Casinos
Sisolak's reopening plan says his office, as well as federal, state, and local health officials, will work with the NGCB to create policies to allow casinos to resume operations once appropriate.
The governor says, "All final decisions on how gaming establishments reopen in the State of Nevada will be determined by the Nevada Gaming Control Board."
The state's "Roadmap to Recovery" plan explains that the Phase One duration is estimated to last two to three weeks. That would put next weekend as the earliest date to enter Phase Two.
In Phase Two, there is to be a "broader opening of commercial/retail services." But that won't include casinos, or so says Sisolak. Phase Two is also expected to last up to three weeks. The governor says casino openings will be in the "third or fourth phase."
Similar Guides On This Topic