Las Vegas Casino Stocks Can Rebound, Says Analyst
Posted on: October 2, 2023, 06:39h.
Last updated on: October 2, 2023, 09:13h.
Following brutal performances since early August, some Las Vegas casino stocks are mired in bear markets. Still, at least one analyst believes that weakness will be short-lived as the medium-term outlook for Strip operators remains attractive.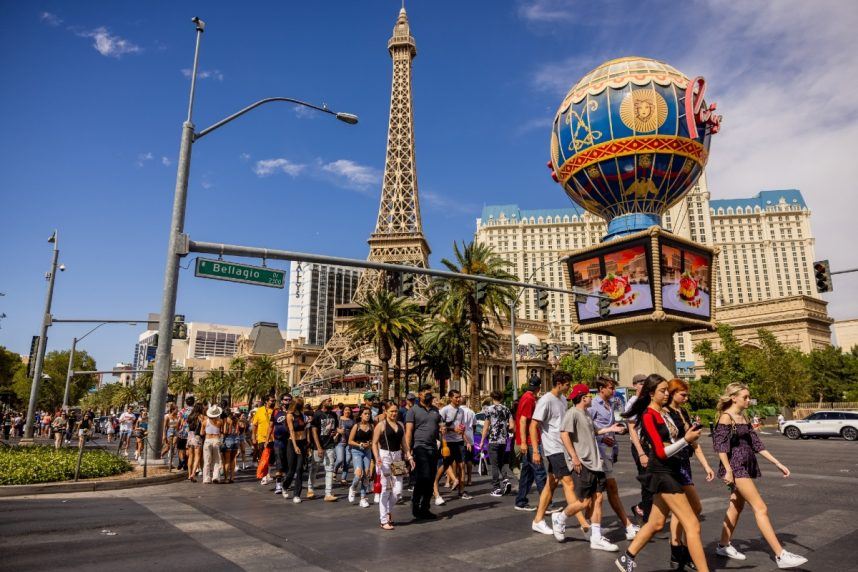 In a note to clients today, Macquarie analyst Chad Beynon observed that despite short-term disruptions, Las Vegas gross gaming revenue (GGR) in August was solid, implying the 2023 figure will come 5% ahead of last year's tally. He added that slot machine handle remains steady and that non-gaming sources, including revenue per available (RevPAR) are sturdy.
On the non-gaming side, STR data in Aug and through Sep 23 implies low-to-mid-single digit Strip RevPar growth for 3Q, ahead of consensus expectations," wrote the analyst. "As a reminder, July set records for passengers at Las Vegas' airport (+1.7% year-over-year), including the most international passengers since January 2020, while August numbers came in at -0.5% year-over-year, and overall TSA data in the US has trended higher recently."
Those data points could prove constructive for MGM Resorts International (NYSE: MGM) and Caesars Entertainment (NASDAQ: CZR). The pair are two the largest Strip operators and combine to control approximately 60% of GGR in that area.
Speaking of Disruptions for Las Vegas Casino Stocks…
The disruptions referenced by Beynon are likely the two recent ransomware attacks that targeted Caesars and MGM.
The same hacking group targeted both operators, and the methods used were eerily similar, but the companies' responses were in stark contrast to one another. Caesars opted to pay the ransom demand, which a cyber insurance policy covered. Conversely, MGM attempted to deal with the situation on its own, leading to 10 days of chaos at its casino hotels across the country.
If there's a silver lining for investors, the slumps incurred by shares of Caesars and MGM on the back of the cyber breaches may be too far or fast.
"For MGM, despite Sept's cyberattacks and potential short-term impact, we believe results had been trending above cons expectations," added Beynon. "While the event was disruptive and may cause room rate pressure into 4Q, we view the ~14% share declines for MGM/CZR since the announcement on Sept 11 as an overreaction (vs -4% S&P 500)."
Events Can Help Las Vegas Casino Stocks Bounce Back
Las Vegas casino equities have the catalysts, including an attractive event calendar with which to rebound.
"We think the return of conventions and a strong sports/event calendar over the next couple of years (e.g., NCAA men's Division I basketball tournament games, Formula 1, LV Raiders and Golden Knights games, 2024 Super Bowl and others) should provide some level of support/growth for Strip GGR and non-gaming revenues," concluded Beynon.
The issue will be avoiding a labor strike, which members of the Culinary and Bartenders Union have authorized.
With the F1 race six weeks away, the union may hold considerable power in negotiations with casino operators.